"44 Inch Chest": secondhand embarrassment galore
Posted on Thursday, January 21st, 2010 at 8:27 pm
Author: Mark Farnsworth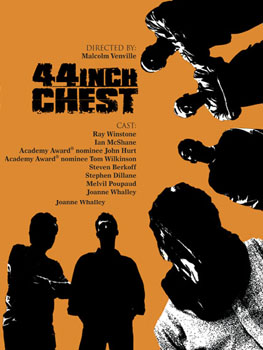 Watching "44 Inch Chest" is like being stuck in a bad karaoke bar with a pissed up divorcee screeching through "Without You" before breaking down into a crumpled heap on stage.
Imagine tugging at your collar uncomfortably as the tears and snot and sorrow stream down his boozer's face as he warbles, "I can't liiiiiive, if living is without you." You stare at your watch as the microphone rolls from his sweaty, sausage fingers, landing on the floor with a dull clang before feedback makes you clasp your ears in pain.
Ray Winstone's Colin Diamond is such a man. Cuckolded by a French waiter (oh the shame of it), Diamond dissolves into a quivering lump of testosterone as he faces life without his glamorous wife Liz. Her simple words, "I've met someone else" are delivered in Colin's immaculate kitchen inside his gleaming white bungalow, the kind that in the 70s used to have a wagon wheel outside and horse brasses hanging by the fireplace. Barely coherent, Colin gets on the blower to his pals and they kidnap the waiter from the aptly named "Papillion" restaurant.
"44 Inch Chest" shares its writers with the superfly "Sexy Beast," but this is more Harold Pinter's comedy of menace than gangster flick. Colin's mates are the kind of men who have lived their lives in pubs; they're foul-mouthed good-for-nothings who may have been villains but were most likely to have been on the periphery of serious crime. Everyone in the East End had an uncle who said they "drove" for the Kray Twins and these "chaps" fall slap bang into that category. These boys can spin a yarn about their legendary friend Brighton Billy all day long, but can they kill a man for real?
The lion's share of the action unfolds in a "Ladykillers" style house, which is decrepit and shambling, much like Colin and his friends, who are isolated from the gleaming new multi-cultural London. These Cockney dinosaurs badger and bait the inconsolable Colin with a cavalcade of abuse and advice in order to get him to do the deed. His friends are there out of habit, but they rather wouldn't be there at all. It's all too much of an inconvenience and slightly embarrassing to see a grown man not just cry, but lose all sense of himself over a woman.
"All I ever did was love her," sobs Colin as he tries to fathom why Liz would betray him. We're never given the reason, but Ray Winstone's brilliantly tortured performance hints at hundreds. Colin is like the T1000 in its death throes, desperately clutching at a form that will help him survive this fate worse than death, laughing it off as a joke, pleading for another chance, offering to change, spewing up insults, threatening the lover," I will tear the flesh from his face with my teeth and stick it in your handbag." Finally realising all his stunted emotional attempts are useless, he brutally attacks Liz. The action is relayed in his chilling monologue, "I hit her so hard I heard her teeth rattle."
Later, when Colin spills his guts to his battered love rival, we're not quite sure if his declaration of his love for Liz is a heartfelt confessional of what a marriage of 21 years really is, or the ramblings of an abusive husband looking to justify his horrific actions. "You spoilt my life," Colin tells the waiter after coming out of a surreal nightmare concocted somewhere between insomnia, grief and guilt washed down by cheap booze.
"44Inch Chest" will disappoint those falsely sold on its gangster credentials and its clever writing is not clever enough to elevate it to the status of "Sexy Beast." The heavyweight cast are bang on: John Hurt, Ian McShane, Tom Wilkinson, Joanne Whalley and a welcome cameo from the towering Stephen Berkoff all make the grade. But the little known Stephen Dillane is the real find in this study of the bruised male ego. One is left wondering if perhaps all this would have made an excellent television play, rather than just an interesting film, as director Malcolm Venville never quite gets to grips with his vast array of talent.
Altogether now, "I can't live, if living is without you…"