Award shows pull in viewers with "shocking" stunts on a rolling basis and the American Music Awards is no exception. On Sunday, former American Idol contestant Adam Lambert took the stage in all of his Boy George wonder and performed the song "For Your Entertainment," the new single from his debut album of the same name. Surrounded by an entourage of back-up dancers, Lambert danced, sang, and gyrated seductively for the camera, crooning, "I told you I'ma hold ya down until you're amazed / Give it to ya 'til your screaming my name." Surprisingly, the sadomasochistic lyrics were less offensive to audiences than Lambert's showmanship: his simulation of receiving oral sex from a backup dancer and his kiss with a male keyboard player have sent shockwaves of outrage throughout the media this week.
Television network ABC was flooded with over 1,500 calls of complaint. The Parents Television Council, a U.S.-based media watchdog group, wants parents to call and write in with their complaints to Dick Clark Productions and the broadcasting advertisers. "Good Morning America," a daily talk show which appears on ABC, cancelled Lambert's scheduled appearance on Tuesday this week, claiming that, "Given his controversial American Music Awards performance, we were concerned about airing a similar concert so early in the morning."
Lambert was quickly able to book another talk show, CBS network's "The Early Show," and he immediately launched into pop star mea culpa mode. "Those [moves] were not rehearsed and came from more of an impromptu place," he said. "I got carried away, but I don't see anything wrong with it… That wasn't my intention, I wasn't being sneaky. It got the most of me, I guess."
The network helpfully replayed the scenes from the night before, with blurred-out censorship to bring home the point of just how objectionable a little oral sex and kissing is to the American public. Yet, when asked by the show if he would offer an apology to the children, Lambert switched gears and refused to say "I'm sorry" for being sexually explicit: to do so would have meant apologizing for his identity, as though being an out gay man who kisses and caresses other men is something to be sorry for.
Although Lambert only briefly addressed the inherent homophobia of being singled out as the most risqué and "adult" performer at the 2009 AMA broadcast, he did point out that his performance was hardly the most graphic or mature content of the night. "Just to play devil's advocate: Lady GaGa smashing whiskey bottles; Janet Jackson grabbed a male dancer's crotch; Eminem talked about how Slim Shady has seventeen rapes under his belt. I haven't heard one peep about that. There's a lot of adult material on the AMAs this year and I know I wasn't the only one."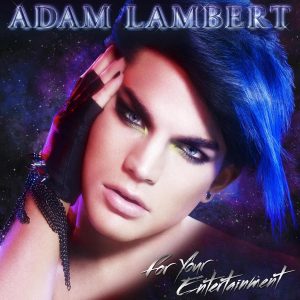 As usual, the focus of the nation's collective moral outrage is not the would-be rapist Eminem, but the gay man who (gasp!) made-out with another dude on camera. The commercial consequences of a boycott from parents may leave his record company wary of similar repeat performances. And unlike Madonna and Britney Spears, who shared a far less passionate smooch at the MTV Video Music Awards in 2003, Lambert's kiss will not send droves of heterosexual men (ages 18-30) to record stores, eager to shell out their hard-earned cash for his new album.
Never mind that Entertainment Weekly has hailed Adam Lambert as "the belle of what turns out to be one heck of a glitter-pop ball." Forget about The New York Times calling Lambert "a national sensation" or The Washington Post praising his album as more successful than Susan Boyle's debut, which has also released this week. As far as the world is concerned, Lambert's sexual orientation is far more compelling than any song he could belt out. And his flamboyant sensuality seems to make a lot of straight people feel very, very uncomfortable.
Of course, Lambert has faced criticism in the past for his performance antics, particularly his photo shoot with semi-nude women as part of the Details magazine headline, "Why Does Every Woman in America Want to Sleep with the American Idol?" While his appeal to multiple markets is undeniable, including teen girls and older women who are entranced by his image, Lambert has been taken to task for his performances, publicity stunts, and his loose-cannon expressions of sexuality. It's true that Lambert's fame could eventually be used in the service of political and social change for the LGBTQI community in the U.S. But as an entertainer, Lambert's artistic self-image reflects his unique point of view, one which is clearly just as comfortable with the eroticism (and objectification) of women as well as men.
Yet, why should Lambert feel forced to play to one audience or the other? His material has cross-over appeal to straight and queer audiences, so Lambert's decision to market his music to multiple groups is hardly cause for criticism. In a satiric open letter to Adam Lambert that was recently posted at The Huffington Post, signed by "The Gay Thought, Fashion, and Culture Police," author Joe Vogel makes a case for Lambert's entertaining opposition to the political and social agendas of the American LGBTQI community. He warns Lambert:
"…you can either be a cog for the mainstream music machine or the gay community. There are no other options. You cannot be complex, you cannot be both masculine and feminine, you cannot resist labels or boxes, you cannot experiment, you cannot form your own identity, you cannot just be. You must always match stereotypes, meet expectations."
Lambert actively courts controversy, as do many of his pop star counterparts, but his sexuality as a gay man will always be viewed as the single aspect of his persona which must be challenged, negotiated, overlooked, amplified, or downplayed, depending on the audience. Yet his tendency to divide fans and viewers will undoubtedly fuel record sales. Billboard.com reports that "For Your Entertainment" has been projected to sell 225,000 units in its first week, which will outperform previous expectations for the album's debut. It was Pink who sang, "I'm not here for your entertainment / you don't really want to mess with me tonight" and I'm beginning to think Lambert has taken a cue from her and played it both ways – he may titillate and entertain you, but he won't apologize if you don't like the show.