Al Nakba in the Arab Spring: The Egyptian March on Palestine
Posted on Monday, May 16th, 2011 at 12:07 pm
Author: Feature Writer
Gc contributor: Anna Lekas Miller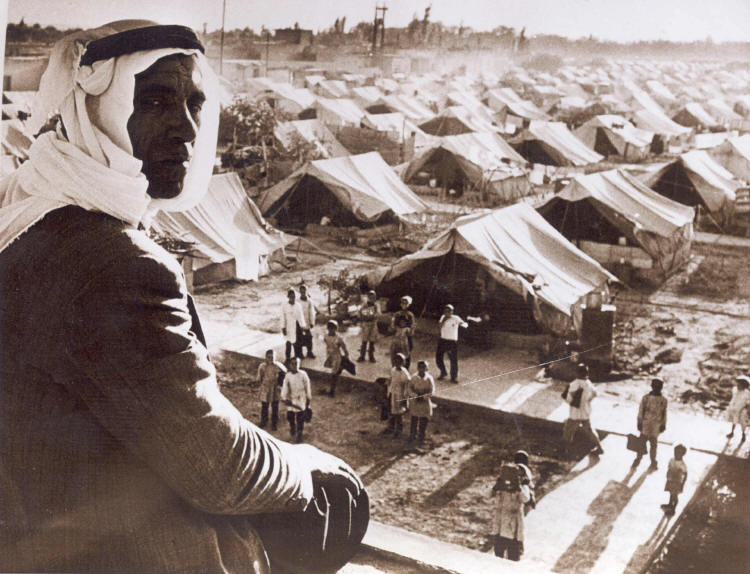 May 15th marks the simultaneous anniversary of the creation of the state of Israel, and the mass expulsion of over 700,000 Palestinians from their land. While Israelis celebrate their independence day, Palestinians and Palestine sympathizers mourn and commemorate what has come to be known as, "Al Nakba" or "The Catastrophe."
The Nakba was not simply one event, but a sixty-three year process of continuous loss. What was once the tragic image of a depleted Palestine immediately after the Nakba is now the idealized 1967 border lines symbolizing "peace" and a successfully implemented two-state solution.
On May 15th, Palestinians and activists from around the world traditionally rally in front of Israeli embassies and other politically significant monuments or gathering places, recognizing Al Nakba and demanding an end to the occupation and the right of return for all displaced Palestinian refugees. Despite the noticeable shift in public opinion in favor of Palestine and the increasing common knowledge that many Israeli policies explicitly and repeatedly violate international law, little has changed in terms of foreign policy or political practice.
Is this year different?
Palestinian rivaling political factions Hamas and Fatah recently agreed upon a historic unity government. Egyptian authorities permanently opened the Rafah border crossing, allowing aid convoys to reach Gaza. Perhaps most importantly, Egypt, a historic ally of Israel, is liberated from Hosni Mubarak's reign of terror, destabilizing many slimy political arrangements that authorized the illegal Israeli occupation of Palestine.
On Friday, hundreds of thousands rallied in Cairo's now legendary Tahrir Square, claiming that the liberation of Cairo would not be complete without the liberation of Al-Quds (Palestinian Jerusalem). Egyptian activists from across the country planned to march from their respective cities to Gaza for a revolutionary commemoration of Al Nakba. Egyptian doctors compiled an aid convoy, the first that would successfully pass through the Rafah crossing since the numerous, sometimes catastrophic attempts following attack on the Mavi Marmara at the end of May of last year.
This year's Nakba was supposed to be renamed, "The Sunday of Liberation."
On Saturday, the day that Egyptians were slated to begin their march from Tahrir to Gaza, the Egyptian army blockaded the bridge connecting Egypt to the Sinai Peninsula and Gaza. Travelers were only allowed to pass through the checkpoints if their identification cards specifically stated that they resided in North Sinai. Though activists organized a sit in at the Al-Salaam or "Peace Bridge" which crosses the Suez Canal connecting Egypt to the rest of the Middle East, threats of attacks from thugs quickly dispersed the otherwise peaceful demonstrations.
Many of the demonstrators back in Cairo had flashbacks to the original January 25th protests as tear gas and rubber bullets were shot at protestors demonstrating in front the Israeli Embassy.
This didn't stop the numerous protests at Israeli embassies and consulates around the world. This didn't stop Palestinians from rallying at their haphazardly drawn borders, demanding the right to return and proclaiming that this is their "Third Intifada." This didn't stop soldiers from the Israeli Defense Force from responding with unusually excessive violence, threatened by the Palestinians' persistence and worldwide solidarity. The BBC reports twelve deaths and dozens more injuries.

What next?
It is clear that the Egyptian people consider justice in Palestine a priority issue. Aside from showing enormous solidarity with the Palestinians and the Palestinian struggle for statehood, many Egyptians are demanding an end to gas exports to Israel, as well as "any and all humiliating agreements with the Zionist state." Strategic alliances are destabilizing and dissolving, making the Israel more vulnerable and its government and army less likely to get away with the same extreme violence and egregious violations of international law.
Does Egypt hold the key to a Palestinian-Israeli peace? Egypt's revolution has produced by far the most dramatic, and potentially influential changes in foreign policy and international relations. However, as activists and advocates for justice, we are faced with an unpleasant truth. Although the Egyptian people successfully overthrew Hosni Mubarak, Egypt has yet to be completely liberated. Many institutions that upheld the Mubarak regime are still in place and either institutionalized or externally motivated to continue the same repressive tactics. Until institutions such as the army and the police force are reorganized, dissolved, or otherwise overthrown, business will continue as usual.
This is not to say that we should give up hope. It is simply to say that a revolution cannot take place in eighteen days. Egypt's revolution is not a fait accompli –it is a continuous process of progressive changes, many of which have yet to come. In order to realize these changes, Egyptians must continue fighting their revolution, demanding social justice with the same fervor that they demanded an end to Mubarak's regime. One of these social justices will inevitably be the end of the Israeli occupation and the liberation of Al-Quds. The long-anticipated Third Intifada will happen, and as Egyptian journalist and political analyst Abdelhalim Kandil said, "unlike the first two Palestinian uprisings, the Third Intifada is meant to involve the entire Arab world."
This revolution is just beginning.
Front page image: A man looks over a school in the Nakba, Palestine 1948. Photo by Adnanmuf, licensed under the Creative Commons Attribution 3.0 Unported license.