"Precious," based on the novel Push by Sapphire, tells the tale of Claireece "Precious" Jones, an illiterate, dark skinned, fat, Black teenager who is a survivor of physical, emotional and sexual violence. Though the majority of abuse happens off-screen, the film is vivid enough to make the viewer want to dive into Precious' escape fantasies just to side-step the realization of how horrifying her life is.
Several supporting characters help Precious negotiate her miserable existence. Ms. Raines, played by Paula Patton, is a teacher at the Reach One Teach One alternative school. Precious is sent to the school after she is forced to admit that she is pregnant again — by her father. Precious' condition is the result of being abused from the age of three. Ms. Raines is one of the few who comes to know the stark reality of the girl's situation and is able to play a major role in the healing process. At first, the interaction between Ms. Raines and Precious seems very reminiscent of the popular tale of a straitlaced teacher saving a child from the ghetto. This story has been popularized in films like "Stand and Deliver," "Lean on Me," "To Sir with Love," "Dangerous Minds," "Freedom Writers," etc.
In each of the above instances, the teachers are straight and cisgender, thus serving as a normalizing force in the lives of their students. The message that they convey is meant to uplift their students, yet encoded within the lesson of the importance of striving for change is the admonition that to improve one's life, a student must adhere to a strict definition of "normalcy." Much like in real life schools, conformity is part of the agenda.
When Precious gains the courage to leave her mother, she breaks into the Reach one Teach One School to wait for Ms. Raines. Instinctively, she knows that this woman is the only one with the ability and desire to help her. Unable to find suitable accommodations for Precious and her child, Ms. Raines takes her into her home, where Precious learns that Ms. Raines is a lesbian. When we consider that African Americans have recently been painted as uniquely homophobic, what takes place in the film at this point is quite significant. Not only does this challenge the idea of homophobia as being inherent to African Americans, it provides a visible representation of Black Lesbianism, something that's regularly ignored by the media.
Upon realizing that her teacher is a lesbian, Precious says to herself:
"Mama says homos is bad people. But Mama, homos ain't ones who rape me and what do that make you? Homos aren't ones who let me sit in class all them years and never learn nothing and Homos not ones who sell crack to people in Harlem. I wonder what Oprah got to say about that? Ms. Raines is the one who put the chalk in my hand, make me clearer the ABC's."
Even with all of the negativity in her life, Precious does not reach into the master's tool box to oppress someone to obtain a minimal form of power for herself. To Precious, Ms. Raines is more than her sexuality, she is the woman who shines a light for all to find a way out of the darkness.
When Ms. Raines and her partner attend a school function, the nature of their relationship is immediately clear and yet no homophobic commentary is made. In this instance, the lesbianism of Ms. Raines is treated as just another aspect of her being.
In much of the conversations regarding the impact of the movie "Precious," the debasement of Black motherhood, incest, rape, and poverty feature as primary topics for discussion. The presence of a clearly out Black lesbian, meanwhile, has received little to no attention. In most films, Black women are invisible unless they are playing the role of long suffering victim, poverty stricken mother, servant or hooker. While there are many negative stereotypes discussed in the movie, the affirming positive role given to that of a Black lesbian character has been virtually ignored.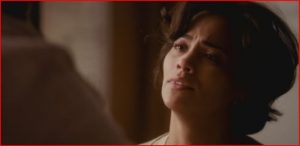 Not since "Set it Off," have we seen Black lesbians so unafraid to be themselves. Yet within a culture in which lesbians are marginalized unless they serve as titillation for heterosexual men, the silence on the high visibility of Ms. Raines works to effectively eliminate her importance in the film. This is further problematised by the fact that same gender loving women of color are particularly ignored within the GLBT activist movement. Phrases like "gay is new the Black" erase people of color from the GLBT community, and in this light, a character who directly challenges the status quo represents a watershed moment.
Due to our rampant heterosexism, a gay or lesbian identity is still treated as deviant. In "Precious," all of the abuse the title character suffers is perpetrated by heterosexual people. From the father that rapes her, to the mother that sexually, emotionally, and physically abuses her, it is clear that in this instance, the patriarchal family model that has been idealized as a moral good and an obligatory vehicle child rearing, has lead to nothing but suffering and abject misery in Precious' life. In the end, it is Ms. Raines, the Black lesbian, who must become the face of love for Precious. It is her life that Precious will use as a model to guide her.
Audre Lorde famously said, "The quality of light by which we scrutinize our lives has direct bearing upon the product which we live, and upon the changes which we hope to bring about through those lives." In choosing Ms. Raines as her female role model, Precious finds the love that she had been denied and courage to strive for more. It is rare for a popular film to make the case that those possessing the social advantage of heterosexuality aren't always the good guys. So when we talk about "Precious," how about we mention Ms. Raines a little more often? She certainly deserves it.