I shouldn't start by saying I remember being in New York last summer. I was walking twenty five feet above West 19th Street, slack-jawed at the effort and enthusiasm that went into transforming a decaying and fractured hulk of a railway line into one of the most delightful public spaces I've had the pleasure of visiting.
I don't remember thinking about post-digital design, I don't remember thinking about the politics of interaction, I just remember thinking the views were stunning, the experience a fabulous novelty; staring down on traffic, feeling at peace, feeling connected to the historic use of the line and in tune with the slowed and warm environment the park perpetuates.
No, I should start with the reason I remembered; on a wall in a corner of The Design Museum's second floor is a selection of shots of The High Line. The park has been nominated as one of the Brit Insurance Designs of the Year, a potential icon of architectural excellence. It didn't seem out of place at all, it just triggered very tactile and peaceful memories.
Somewhere to my left is an exhibit featuring The Repair Project, Linda Brothwell's physical engagement with the broken surrounds of Lisbon, while to my right C.P.'s Goggle Jackets sit in situ, Aitor Throup's celebration of the design classic and a monument to functional wear. I am being taught that reclamation takes many forms and that it moulds to these forms as it progresses.
We're getting to grips with the concept of post-digital design much quicker than we got to grips with digital design, but most people aren't talking about it. The abstraction of screens as an interface for information brought with it a slew of challenges (visualisation, coherence, languages and a thousand more) that were overcome with workmanlike tenacity, but they have become boring. As Russell
Davies, co-founder of post-digital design agency Really Interesting Group noted last year;
"It's really hard to impress anyone with stuff on a screen any more…they've all seen better stuff in ads and movies anyway… the stuff that digital technologies have catalysed online and on screens is starting to migrate into the real world of objects. Ideas and possibilities to do with community, conversation, collaboration and creativity are turning out real things, real events, real places, real objects."
During my work for Newspaper Club, another of this year's nominees, one of the highlights was standing in the facility where the newspapers were printed. To witness the vast, clunking machines clack-tack away was genuinely inspiring, not least because at the other end of it the product distributed has been a communication format that hasn't changed in hundreds of years. Newspaper Club, a product of Really Interesting Group, does nothing more than place in the hands of their users the key to this means of production. They don't reinvent journalism/marketing/propaganda/archival/literature, they just provide another method of broadcast, repurposing the machine that creates the thing.
That's one of the recurring themes among the Design of the Year nominations in 2010, one The High Line epitomises; the process of reclamation. Repurposing the tools of mass industrial production occupies a special place in the minds of contemporary designers, who see huge halls of machinery lying dormant while new production and distribution techniques take their place. These are the machines that make your pallets, forge your steel and print your newspapers, and the instruction manuals are looking for new owners.
Nina Tolstrup's Pallet Furniture literally provides that manual. Her instructions allow people to build their own furniture from discarded wooden packing pallets, creating aesthetically clean and unique fittings that have a worth beyond novelty; in areas of deprivation the furniture can be assembled in a manner that bypasses an expensive and unsound supply chain. A concept that operates at the other end of the spectrum is Thomas Heatherwick's Extrusions, an experiment in design and production that squeezes single-component aluminium furniture out of huge machines. Here a practical application is hard to spot, but as a proof-of-concept it remains impressive. It's the kind of furniture The High Line might embrace.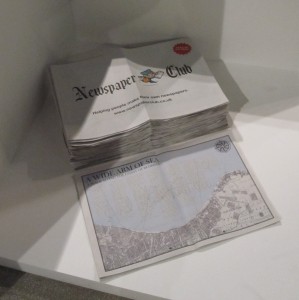 Another theme of some post-digital design, and one that the Design Museum's exhibition emphasises, relates to recapturing the 'thing-ness' of objects and wrapping that around incorporeal information. Datashadows and spimes are becoming part of everyday objects – if not conversation – tracing the meta-data of a product to an extent previously unimagined; this article could be meta-tagged with the soundtrack it was written to, but what possible use could that be?
Here again Davies' articulation of the post-digital landscape is useful, because it repeats one of the most intriguing aspects of the field's success, "doing stuff in the real world still seems to delight and impress people. Really simple stuff with objects looks like magic. Really hard stuff with screens still just looks like media." Finding a way to articulate meta-data without resorting to the screen is critical to the success of a product or concept.
Pachube is a service that allows users to monitor 'plugged in' sensors in real time, extracting, interpreting and sharing data to better understand systems and environments. The potential impact on design and the tools for making the most of such data is huge, but as a non-user and non-programmer I find the technical interface daunting.
Without fluency in the language required to interpret Pachube and without the tools to hand to shortcut it I find myself put off, drawn instead to mischer'traxler's The Idea of a Tree, a solar-powered mechanical production unit that responds to fluctuating weather patterns to create objects from the sensor's input. Essentially, I don't need to interpret a lampshade.
The public understands very well the wealth of things that a screen cannot do; the question of why the public shows every sign of enjoying new interfaces rarely needs to be asked anymore.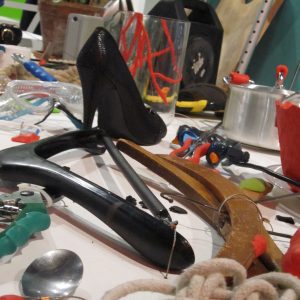 For the lip-service paid to post-digital design within the industry, it is show-and-tell events like The Design of the Year exhibition that really demonstrate how meaningful an impact the field can have. Deployment – the product's civilian application – becomes the prove-all, scouring significance into devices far harder than sterile articles and debate. It really affirms that 'The thing' is the thing, and people who understand what uses we may have with reclaimed machinery, information and space may create an industry that changes how we live.
For those involved it is incredibly difficult. To use an awkward analogy, the people taking steps forward in this field have to be as at home in a greasy spoon as a boutique coffee shop. They have to move into a space where form, function and application are hand-in-hand at every stage, because in its ideal state the designed product only reminds users about the implications of decision making accidentally, while doing something meaningful at the same time.
Because someone's probably walking The High Line right now, thinking about the view, thumbing their nose at all the pace, traffic, data and chaos they – for a moment – don't belong to.