I was excited to explore this city after having heard so much about Budapest from my Grandmother, Pempe Aitken, who once joined Queen Juliana of Holland on her honeymoon here.
It was the celebratory weekend of St. Stephen, the first king of Hungary. All weekend long fireworks lit up the city which consists of two sides: the Buda side and the Pest side.
Buda is the mountainous side with all the castles. The Pest side is flat, newer, and more industrial. On the plane, I had finished Michael Kaufman's biography of George Soros and discovered what Budapest was like during Soros' childhood (miserable). Yet communism has long since died, and I was hoping for a friendly welcome. I was not disappointed, to say the least.
First, I headed toward the famous green cupola of the Gellert Hotel to experience Hungary's spa culture. Hungary is famous for its medicinal waters and there are roughly 1,300 thermal springs that have been discovered so far. The mineral composition of the waters at each spa varies, resulting in different spas specializing in curing different ailments.
Even if you are totally healthy you can benefit, because we all need a bit of tuning up. Budapest spas offer very cheaply priced beauty treatments. It's no mistake that Estée Lauder had Hungarian blood – Hungary is not only beautiful but its spas will keep you beautiful too!
There are drawbacks for heading to the most famous spa in town, because tout le monde was at the Gellert. One could hardly move, it was like Fulham Pool on a Saturday. I promptly checked out and moved from the Buda side to the low-key Mercure hotel on the Pest side.
After finding a less famous (i.e. quieter) spa, I soaked up the thermal waters and enjoyed the best massage I have ever experienced. My masseuse did not have Western European training – which teaches one to follow a formal massage pattern that can end up feeling mechanical. Here, masseuses follow their instincts and find knots you never knew existed.
Finally, I was relaxed and ready to experience the festivities. The biggest socialite in Budapest, Elena Ernst (she runs the Ernst gallery), was throwing a party.
After showing me her impressive gallery, Elena whirled me off to Tom George, the most famous restaurant in Budapest. Elena had thrown a mishmash of guests together, including the owner of the restaurant, Sztano Tamas (who owns other five-star restaurants in Budapest), two Italian art collectors, the owner of V magazine, and an American businessman.
Tom George is very modern and the tables are high, which is excellent if one is prone to backaches. Robbie Williams ate at this restaurant every night when he was in town. Last year, famous blue-blood party girl Francesca Hapsburg threw a big charity party there; uests included Biaca Jagger and others. What makes the restaurant even more unusual is its three chefs: Indian, Japanese and Hungarian.
Tom George serves amazing Hungarian specialties such as the medallion pork – Magarom (the only meat without cholesterol), Veiner Schnitzel, Hungarian Goulash (not at all like German Goulash), goose in all forms, and so on.
In Budapest, other great places to eat include the Liszt Ferenc tér – a pedestrainised zone full of bars, restaurants, and cafes, many of them with live gypsy bands.
After dinner, Mr. American businessman walked me along the Danube to my hotel. We passed the Gothic Parliament made of Hungarian limestone, which, apparently, is not the best in the world. Today the building seems always to be under restoration, I am told.
Budapest is a romantic city, so I was not surprised to discover on the Buda side a beautiful yellow house where Casanova lived for a few weeks, doing what he did best. On a sadder note, we walked past heart-rending statues of shoes, sculpted in memory of those who were shot on the riverbank in 1945 and had to take off their shoes in preparation for their deaths. Around us, fireworks exploded into the night.
The next day, I ventured out for more sigh-seeing. I saw the amazing market hall where each floor specializes in different foods. Diagonally opposite it stands the largest synagogue in Europe: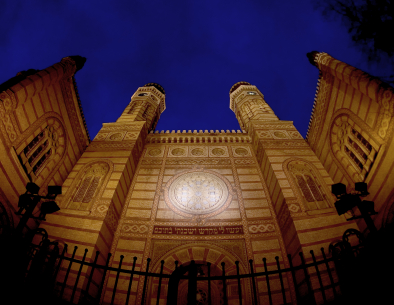 I walked through the theater district, and past many neo-renaissance buildings in Liberty style, yet noted that Gothic buildings and narrow streets feed the city's distinct Eastern European vibe. Mixed in were ugly communist-era block-buildings which were privatized after communism crumbled. There is often little money to maintain the outside of these monstrosities, so graffiti was everywhere.
I soon realized nobody around me spoke much English and that my Slavic language background (I speak Serbo-Croatian and Russian) ensured that I could not understand a thing! This was when my German came in handy.
If you don't speak German the best way to see the city is a guided water cruise, especially since traffic can be a nightmare. Also, do make sure to visit at the right time; temperatures can drop down to -15 centigrade in these parts, and chucks of ice usually float down the Danube in winter.
When you choose your water cruise opt for a human-guided tour, as opposed to the pre-recorded headset version which has a pompous actor's voice mixed with bad background piano music. You will enjoy going under the Chain Bridge, the first to join Buda and Pest, and will see the Buda castle in all its glory. Make sure to stop for a picnic or visit a café on Margaret's Island.
I had a wonderful festive weekend, which also included a street fair and several Klezmer concerts. Even when things get quieter around here, the city of Budapest remains a great destination for a traveller keen on discovering post-communist Eastern Europe.