Burning Lake of Fire: New Orleans sinks and Montecito burns
Posted on Sunday, November 16th, 2008 at 1:49 pm
Author: Feature Writer
Gc contributor: Renee Martin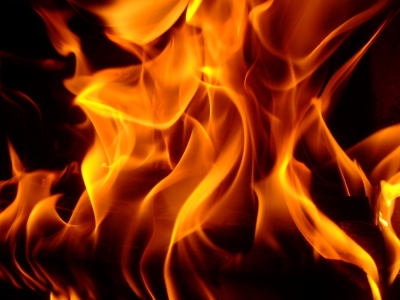 Katrina was a catastrophic event and the American government stood by impotent and unaffected while many were left to suffer. What the Katrina victims had in common was that they were largely poor and black. Katrina made real in a human sense the cost of the soci-economic inequality that has become normalized as part of the American system. Wealth affords more than creature comfort; wealth can translate to life and death.
Today there is yet another disaster burning its way through the United States. As I write this, Santa Barbara is ablaze. The owners of homes in the Montecito area which have suffered the most damage have long since fled. Unlike so many Katrina victims they did not have to stay behind and risk life and limb because they are wealthy enough to own transportation.
When you earn the kind of money that Rob Lowe, Oprah Winfrey, Jeff Bridges and Michael Douglas do, a natural disaster can mean the loss of literally millions of dollars. Unlike the Katrina survivors, other than personal items like family photos and heirlooms, most other possessions are easily replaceable. It is in fact more than likely that the fire victims will not have to dig into their personal finances to replace their losses because most will have insurance.
In a country where many do not have health insurance, insuring property is not even a thought for the poor and disenfranchised. When a natural disaster occurs wiping away your meagre possessions, it can be impossible to recover from. Add to this the economic downturn and poverty becomes a black hole from which there is no escape.
Black leaders were very aware of what caused the apathy towards the survivors of Hurricane Katrina. The eminent and highly respected Dr. Cornell West commented:
"Poverty has increased for the last four or five years. A million more Americans became poor last year, even as the super-wealthy became much richer. So where is the trickle-down, the equality of opportunity? Healthcare and education and the social safety net being ripped away – and that flawed structure was nowhere more evident than in a place such as New Orleans, 68 per cent black. The average adult income in some parishes of the city is under $8,000 (£4,350) a year. The average national income is $33,000, though for African-Americans it is about $24,000. It has one of the highest city murder rates in the US. From slave ships to the Superdome was not that big a journey."
Some privileged elements have already begun to show a lack of support for the Katrina victims. Even though we have all seen the horror that the superdome became, and watched in disgust as the government did nothing; somehow these people are supposed to overcome this great setback and pull themselves up by their bootstraps.
Isn't meritocracy wonderful?
Despite all of the aid, very few low-cost housing units were ever rebuilt. There has been no organized effort to create education programs, job training or counselling for those living with post traumatic stress.
The problems that existed in the black community were only worsened by Katrina. How can someone pull themselves up by their bootstraps from less than nothing in a system that was designed to exploit the poorest amongst us?
The rich that are newly homeless due to the fire will not be forced to reside in shelters and cramped trailers while they try to piece back together some form of life. They will be able to afford comfortable lodgings while they wait to discover what is left of their property. None of the residents of Montecito will be breathing in toxic mold, further risking their health and safety.
Homelessness does not carry the same stigma for the rich that it does for the under/working class. Due to class privilege, it does not translate to waiting for government handouts; in the form of food, clothing, or medical care.
Though technically Montecito residents are homeless, they will not know what it is like to store newspapers for warmth. They will not find themselves sleeping in lots with all of their possessions piled high in the trunk of their cars. They will not taste the bitterness of true disenfranchisement that comes with homelessness, though they will technically own the label.
Many who were residents of New Orleans for generations have still not been able to return to their homes. They have found that their land has either been sold out from under them, or that the subsidized housing in which they resided has still yet to be rebuilt.
Society is ensuring that the disparity of worth and value will never again make itself obvious in the event of another hurricane, by making it extremely difficult for those who are poor to be able to own their homes.
The residents of Monticeto will be able to return to their homes as soon as the fires are quieted and the insurance checks come in. They will look back on this event as a terrifying yet brief disruption in their level of comfort.
Class will have shielded them from the worst of the disaster.
They will not be called looters because they will not be forced to forage for supplies. They will not have the police turn their weapons upon them in their most vulnerable moment. The survivors of Montecito will loose their homes just like the Katrina victims, but their wealth will prevent them from being treated like savages run amok in a time of need.