Chris Rock was driving his daughter and her friend home, when his child began to comment on how nice the little White girl's hair was. On "The View," Rock stated that he has made a conscious to tell his children that they are beautiful and he was therefore troubled to hear his child's fascination with White hair. In a desire to discover where the characterization of White hair as good hair originated, he decided to research Black hair. This research became the newly released documentary, "Good Hair."
In conversations with Black celebrities like Dr. Maya Angelou, Nia Long, Ice T, Raven Symone and the Reverend Al Sharpton, Rock attempted to discuss how Black women feel about their hair. With the exception of one actress, each woman presented either wore a weave or had her hair relaxed. This gives the impression that Black women do not embrace their natural hair, thus perpetuating the idea that we are forever envious of White women. In a world in which beauty is conceived of as a specifically female power, investing White women with the sole ability to marshal said power is deeply problematic.
Casting Black women as envious of White women serves patriarchy and the White supremacist state. In "Good Hair," Dr. Maya Angelou commented that "hair is a woman's crowning beauty." If Black hair is forever considered unfeminine, it cements the social understanding of Black women as "other." If Black women cannot be understood as women, they are necessarily unrapeable, easy to stereotype as hyper sexual, angry and ugly.
In "Good Hair," it was suggested that Black women are seeking the idealized attributes of White women and therefore the chase in and of itself, is confirmation that we (read: Black women), affirm our second class standing. One does not seek change, if the present form is acceptable and loved.
Rock reports that so desperate are Black women for change, that the Black hair care industry earns a multi-billion dollar profit yearly. It is quite possible that given the right resources, a woman is capable of spending thousands of dollars each year on hair and products alone. One beauty shop featured has a layaway plan where customers could pay for a thousand dollar weave over time. It was suggested by Al Sharpton that the Black men are expected to subsidize the cost of said beauty treatment and that this leads to a breakdown in relationships. Chris Rock mirrored this sentiment in an interview with Screen Crave:
"The big thing really was how it's not good for relationships. The money spent. It is almost like dating somebody with a drug habit, almost. You know what I mean? It's like dating a guy who spent 10 grand a year on baseball cards. You know what I mean? It probably wouldn't work, would it?"
It is well known that the number of intact Black families is low. To suggest that hair has the potential to ruin Black relationships is ridiculous when we consider the high incarceration rates for Black men, the increasing success of Black women in higher education, and inter-racial marriages. The Black man has always viewed the oppression of Black women as a symbol of masculinity however, yet the Black woman is the rock upon which the community is built.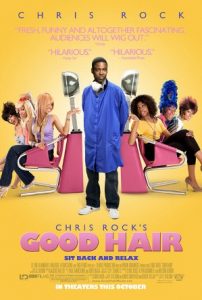 When there are complex reasons for a social phenomenon, we are encouraged to always blame the marginalized group, even when they exist with the least social power. Because the Black woman has no institutional power, she ultimately is to blame, even though she is the least likely to create and or support any social organization. It cannot be argued that Black women do not invest a lot of money into their beauty regimen, yet so do White women. Why is their expenditure not fodder for commentary? They are not all going to "First Choice Hair Cutters" for a cheap trim, after all.
While decrying the effort of some Black women to conform to Euro-centric beauty standards, Rock points out that those that refuse to concede are considered less desirable, and even radical. If a Black woman who weaves or straightens her hair is considered to be high maintenance and pandering to Whitenes and a natural hairstyle is considered repulsive and aggressive, how can Black women ever be understood to be acceptable to the larger society? The point is to ensure that whatever our decision regarding our hair care, the possibility exists to hold Black women up for ridicule. One cannot exist with agency if there is never any possibility of affirmation or acceptance. Choosing between two socially understood negatives will always render a negative.
Chris Rock asserted that this movie was for the Black community, and yet it has revealed nothing new. Since Madame C.J Walker made her riches creating relaxers, we have known exactly how toxic they are. The burn of the chemical itself speaks of the damage that we are inflicting on our bodies.
Barbershops and Black women's beauty salons have always been gathering places. From these hallowed institutions we have discussed everything from current events, to sports, to our place in the larger society. These conversations have been going on for decades and all Rock did in this documentary is to minimize the dialogue to ridiculous sound bites that amount to coonery.
"Good Hair" was not a movie for Black people. It was a slanted take on our stories for the consumption of Whiteness. Even as I sat in the theatre, filled with rage at the reduction of Black women for profit, the White couple who sat directly behind me laughed repeatedly. It was as though this movie gave them permission to publicly ridicule the all too serious struggles of Black women.
Whiteness cannot be reduced in this manner. Even though White women are quite capable of spending a serious amount of money on their hair and have their own beauty rituals to which they adhere, their stories are not deemed entertainment. Whiteness is so normalized, that the dyeing, teasing, or tapering done to their hair is not deemed comment worthy. It is Blackness that must be explored and laid naked for all to see. We do not like to think that there are those that support the continued marginalization of people of color, but "Good Hair" proves that even within our own community, there are those that are willing to share our most private moments of communion for a buck.