Julie Powell has lead a charmed life. A former government desk-slave who turned to cooking and writing in a bid for a more exciting life, she took on the task of cooking her way through Julia Child's famous 1961 cookbook, Mastering the Art of French Cooking. Powell's popular blog, The Julie/Julia Project, garnered enough of a cult following to warrant attention from print publications. Her subsequent book, Julie & Julia: 365 Days, 524 Recipes, 1 Tiny Apartment Kitchen (Little, Brown and Company), was published in 2005 and eventually became a New York Times bestselling memoir, as well as inspiring this summer's blockbuster "Julie and Julia," starring Meryl Streep as Julia Child and none other than the perky and lovable Amy Adams in the role of Julie Powell.
All in all, it would appear that Powell had it made: her biggest problems seemed to involve little more than burned food and the occasional tiff with her doting husband, Eric, over her obsession with Child's recipes. Of course, not everyone thought Julie Powell was worthy of the attention heaped on by her adoring public. Cookbook author Virginia Willis belittled Powell's talent ("What the hell did she know about food? Had she even heard of poulet au Bresse?"). Even Julia Child offered a scathing critique: she didn't think Powell was a "serious cook," but was instead "somebody… doing it almost for the sake of a stunt." But literary critics, for the most part, embraced Powell's style. Booklist hailed her first book as "joyful [and] humorous," while Publisher's Weekly decreed that Powell's writing was "feisty and unrestrained… her voice is endearing… Both home cooks and devotees of Bridget Jones–style dishing will be caught up in Powell's funny, sharp-tongued but generous writing."
But the Julie Powell we knew and loved (or loved to hate) is no more. Her new book Cleaving: A Story of Marriage, Meat, and Obsession serves as a meditation not only on Powell's surprising six-month apprenticeship with a New York-based butcher shop, but also on a two-year extramarital affair with D*, a lover who engages Powell in BDSM (healthy) and emotional self-mutilation (not so healthy).
As an author with a history of using extensive personal projects to work through her internal issues, Powell's foray into butchery allows her to symmetrically examine fractured pieces of meat and her changing marriage with Eric. The book is a frank, difficult, and revealing look at both her carnivorous and carnal desires, at once wincingly funny and unexpectedly tender. Yet, few critics this time around are willing to embrace Powell's journey.
Much of the criticism Powell has received for Cleaving relies on all-too-familiar sexist tropes of female authors as mentally unstable (think: Sylvia Plath and Virginia Woolf) and unworthy of serious consideration. Newsday called the new Powell "unhinged," while The New York Times wrote that "The woman who came across as simply whiny and self-absorbed in the film reveals a dark, damaged persona. Nora Ephron won't be touching this one with a 20-foot baguette."
Of course, infidelity and PETA-worthy descriptions of dismembered animals aren't for everyone. But why is it that Raymond Carver and John Updike can write about adultery and enter the literary canon, while Powell struggles to maintain credibility? Her sanity has been openly called into question, but it's hardly crazy for a memoirist to draw from life and write about the painful, wrenching experiences of a rocky marriage and adultery.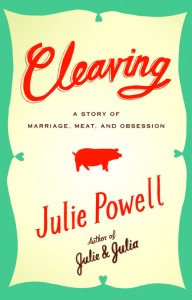 In a recent Double X article, Powell expressed chagrin over a review published in her hometown newspaper, the Austin-American Statesman, where columnist Addie Broyles argued, "There's something to be said about modesty when it comes to writing about extramarital sex, the painful details of which I'm too embarrassed for her to share, just in case her family or friends are reading this." Never mind that Powell actively pursued publication and is promoting her work in a U.S. book tour: infidelity is apparently just too shameful for a female author to write about or for a female critic to discuss.
Even BUST, a trendy U.S. feminist magazine, claimed that the book "should have stayed on [her] hard drive." Apparently, women aren't supposed to publicly express the same adulterous desires that prolific male writers often describe, at least not without being savaged by critics.
What's equally interesting about the reviews is not only the condemning judgment passed onto Powell for confessing her adultery, but also a lack of consideration for the existence and legitimacy of polyamory. Though Powell's relationship with D* is initially fraught with lies, she soon confesses to Eric and continues the affair with Eric's full knowledge and consent; in retaliation, he develops a similarly extramarital relationship with another woman. This would suggest that their marriage was an "open relationship," which Dossie Easton and Janet W. Hardy, co-authors of the book The Ethical Slut, define as "a relationship in which the people involved have some degree of freedom to fuck and/or love people outside the relationship."
As much as we'd like to think that marriage leads to monogamous happy endings, it's not always the case, yet women like Powell continue to be stigmatized for going against the grain of single-partner relationships. In her book Open: Love, Sex, and Life in an Open Marriage, Jenny Block wrote about the difficulty of finding hard numbers and statistics on the adultery rates of women in the U.S.:
"Studies don't often elicit honest answers and are often found flawed and biased in both design and execution. I found statistics stating that anywhere from 12 percent to nearly 70 percent of women cheat. Anecdotally, there's evidence of these higher numbers in a bevy of successful websites that facilitate cheating, and magazine headlines about women who stray." (Emphasis mine.)
Given the prevalence of infidelity, the practice of polyamory, which encompasses a wide range of sexual preferences – including both casual flings and committed loving relationships – makes sense for many couples. Ultimately, Powell was able to reconcile her marriage, although it's unclear if either her or her husband's ties with other partners have been fully severed.
Both Cleaving and its critics insist on a view of romantic love that only allows for one significant other to prevail. It's true that Powell may have lost status in the eyes of the public, as she morphed from a bubbly Amy Adams-like chef to a fallen, fallible woman and butcher. But her important, critical dissections of meat and monogamy, as rendered in Cleaving, are not to be dismissed.