Director J-P Passi Diagnoses "The Punk Syndrome"
Posted on Tuesday, May 1st, 2012 at 8:44 am
Author: Feature Writer
Gc contributor: Lauren Wissot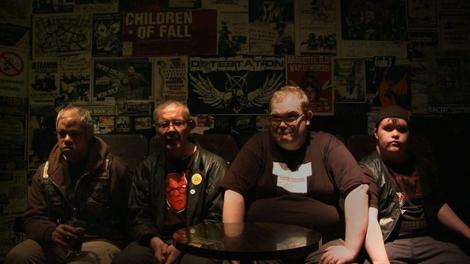 The word "punk," like the word "independent," has been so oversold and misused it's practically meaningless. So when a film bills itself as "the saga of the last true punk rock band in the world" you have to sigh and wonder whether it's just more marketing hype. Fortunately, there's not one false note in "The Punk Syndrome," co-directors Jukka Kärkkäinen & J-P Passi's thrilling portrait of Pertti Kurikka's Name Day, a socially minded and politically incorrect quartet of kick-ass musicians – who just so happen to be mentally disabled, and the real rebellious deal. Prior to the film's Hot Docs premiere I spoke with Finnish director Passi about redefining "normalcy" and upending preconceived notions, and got the scoop on shooting in arts-supportive Scandinavia.
Lauren Wissot: So how did both the band and the doc originate in the first place?
J-P Passi: The band Pertti Kurikan Nimipäivät was originally established for a film – but not for this one. A couple of years ago there was a feature film, "Vähän kunnioitusta," which was done with mentally disabled people. They needed a rock band for a small role and asked if Kalle Pajamaa (manager of PKN) could help them, and he thought that it should be a punk band with Pertti in command. And as usual, after the film the band started to live a life of its own and had a couple of gigs before Jukka saw them in the culture news on TV. He went to see the guys in their workshop and asked if the idea about the documentary would be possible, and it could. I went to see their show and pretty soon we just started to shoot.
LW: What surprised me most was how much Pertti Kurikka's Name Day resembles any other band. You've got the charismatic lead singer who lands the chick, the humble sensitive songwriter and guitarist at the heart of the quartet, the cocky controlling bass player who causes tension between members, and the happy-go-lucky drummer who just wants to rock out. The doc (and its subjects) does an amazing job of truly "normalizing" the mentally disabled. It's fascinating to observe the band's dynamic – these diverse characters whose interactions allow them to cut through dehumanizing stereotypes and emerge as identifiable individuals. Were you conscious of this "normalcy" while shooting or did the structure emerge during editing?
J-PP: We were conscious of the somewhat typical setting already during the shooting. Each band member has his own story and character, and we respected and followed those things without thinking what are the diagnoses or IQs. I think that the normalcy was such the obvious point of view that we didn't even discuss it.
LW: So what was the greatest challenge you faced working with subjects who are mentally challenged?
J-PP: With those guys even the greatest challenges were just some easy and funny situations. There were only two scenes we couldn't shoot, namely the visit to the psychiatrist of one of the members, and the meeting of relatives and social workers to discuss Kari and Sirkka moving in together. There was also a bit more ethical thinking to do because we had characters who showed everything we wanted to see and shoot. But that wasn't too difficult either because the guys are so lovely and sincere that you don't have any choice but to respect, admire and empathize with them.
LW: One scene that made me self-consciously aware of being raised a monolingual American was the one in which Kari speaks English to a woman while on tour outside of Finland. And then I read in the press notes that bass player Sami – a "politically conservative NGO activist and a member of the Centre Party of Finland" – speaks English as well. Even the mentally challenged are bilingual (not to mention civic-minded) in Scandinavia! What, if anything, upended your own preconceived notions about what it means to be disabled? What did you learn from spending so much time with these passionate punk rockers?
J-PP: This is our third film with mentally disabled people (in fact, the second one is not finished yet and nobody knows if it ever will be) so I think that we knew enough about them and about our own attitudes already. If the process would have been very educating and eye opening for us, it would have been impossible to be totally honest in the situations and with the people we encountered, and the result could have been (too) adoring.
LW: I covered DocPoint NYC 2011, but didn't manage to catch "The Living Room of the Nation," your award-winning previous film that turns the lens on your homeland's everyday folks. There seems to be some sort of nonfiction renaissance going on in Scandinavia (and terrific narrative flicks coming out of Denmark in particular as well). Do you notice this, too? Is it the result of generous government funding? Stellar film schools?
J-PP: I don't know about Sweden and Norway, but in Denmark it is about policy in film school, and in Finland it definitely is not. In fact we don't have very many professional documentarians that have attended the official film school, but rather motivated people who come from other schools or behind the bushes. We have quite good funding when and IF we have it, meaning we have the money or at least a big part of it beforehand. So we don't have to make films at our own risk, which apparently is often the system in the U.S. The money here isn't too big, though, but that means only that we can't be lazy.