Having taken home the 2010 Sundance World Cinema Documentary Special Jury Prize earlier this year, "Enemies of the People," Rob Lemkin and Thet Sambath's subtle look inside the atrocities of the Khmer Rouge through interviews with the killers themselves (including Nuon Chea, a.k.a. "Brother Number Two," co-ruler with Pol Pot and the highest ranking member still alive) now arrives in NYC, premiering June 18th at the 2010 Human Rights Watch Film Festival where it is this year's recipient of the Nestor Almendros Award for courage in filmmaking. It's also a case study in investigative journalism done right.
Co-director Thet Sambath himself is a reporter for a Cambodian newspaper, a personable, confident and happy-go-lucky sort of guy with a wife and two kids who for the past decade has spent his weekends probing the minds of mass murderers. What Sambath doesn't reveal to his subjects is that the Khmer Rouge slaughtered both his father and his brother, while his mother was forced to marry one of the militiamen after her husband's death. Yet no one ever suspects this dark secret because Sambath is also one of those rare individuals actively seeking answers openly and honestly. In other words, he truly listens to these killers and in doing so acts as a sort of nonjudgmental priest. Which allows him to get confessions equal parts riveting and mundane.
The doc begins with the simple question of "Why did this happen?" Combining historical footage, present day interviews, and shots of the tranquil countryside (literally showing us where the countless bodies are buried) the film brings us along on Sambath's existential journey that takes him not far from his home in Phnom Penh yet deep inside Cambodia's psyche. It has taken patient years for Sambath to earn his reluctant subjects' trust, assuring them "This is not for journalism. It is for history." Once he has it, the access allowed is astounding.
The filmmakers bear witness as the now elderly but still sharp Brother Number Two reacts to archival images of his propagandistic press conferences, notes that he was the one who suggested to Pol Pot that he lead the party since Pol Pot could better attract the intellectuals. Nuon Chea even claims that the Khmer Rouge was a peaceful collective regime until the "enemy's spies"
attacked and sabotaged them from the start.
At the killing fields, a sweet grandmother type passing by reminisces about the bodies decomposing and "boiling" as if she's describing the most ordinary of everyday occurrences – which it was in the mid to late 70s. Smartly, the filmmakers leave the camera not on the woman but on the faces of the men sitting nearby, the same men who did the killing and are now haunted and forever tortured by their deeds.
Even these assassins for the regime admit to feeling "embarrassment, shame and regret." They like Sambath want answers and seek closure through digging up the truth. They too want to know why they'd been ordered to kill. Which also makes "Enemies of the People" a suspense story as Sambath dangerously makes his way up the chain of command to their fearful female boss once tasked to solve the "ethnic minority problem."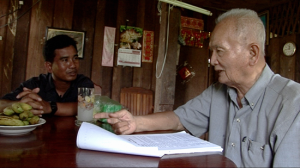 When Sambath reaches that fateful rung he asks not just "Are you sorry for the killing?" but even more importantly, "Are you sorry you made these men into killers? (The making of which included dispensing wine to the militiamen to loosen them up for murdering, separating them from their families, and instituting a cult-like ritual of drinking human gall bladders – all of which disturbingly echoes the present day situation in Africa with the drugged up children of the Lord's Resistance Army.)
Ironically, most revelatory are the interviews with the dethroned despot himself, a man who knows he must weigh his words carefully, and in that sense presents not the Cambodian historical truth but his own personal truth. Nuon Chea discusses "investigating people gradually" before deciding to destroy them as if the process was essentially bureaucratic (which is an eerie admission considering Brother Number Two also tells Sambath that he'd been investigating him for a number of years).
"This was the end of a patriot in an unjust society," Nuon Chea laments while watching Saddam Hussein being hanged. In a perfectly orchestrated move, Sambath even brings the men with blood on their hands to meet with the ultimate leader who gave those orders, writing his own script to add to history. Surprisingly, Brother Number Two expresses a heartfelt benevolence that so far he's reserved only for his immediate family, telling the broken men that they had no "intention" so there is no "sin," reminding them that they were simply following orders. He's a genocidal holy man offering absolution.
By the time the UN criminal court begins to close in on Nuon Chea, prompting Sambath to speak his own truth to the man responsible for his personal horrors, what could have been a dry document has blossomed into a lovely living conversation. The ruthless leader seems truly moved, while a decades-heavy weight has been lifted from Sambath's shoulders.
Proving truth is stranger than fiction, that emotion is never black-and-white. When Brother Number Two is finally arrested, Sambath expresses sadness since after ten years he'd gotten to know the man behind the headlines.
Having put a face on the genocide, made the political personal to the highest level, Sambath has broken ground so that reconciliation can now begin on both sides of the killing fields.