By the time my birthday rolled around this year, I was away from Moscow for a while – taking care of family business, mostly. Because the situation surrounding the health of a relative in Kiev was rather dire, I did not have the time to check the news for a few days. As birthday greetings began to trickle in for my 26th, I was struck by the comments from a colleague: "Happy Birthday!… By the way, we're in hell here."
An unprecedented drought, combined with some of the worst heat that Russia has ever seen, has resulted in a number of wildfires in the country. At the end of the July, even residents of central Moscow began to suffer from the acrid air. And it only got worse from there.
There was plenty of blame to go around for the environmental situation in Moscow – but peatbog fires in particular are notoriously difficult to put out, especially with different natural phenomena ganging up on you. Plenty of people, though, have pointed out that human and state negligence (and what can be more human than state negligence, in a way?) has greatly contributed to the overall damage. Deputy Director of the Institute of Geography under the Russian Academy of Science, Arkady Tishkov, told Itar-Tass, for example, that mismanagement and neglect of grasslands and peat layers is directly responsible for much of the fire damage across Russia.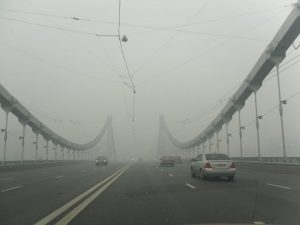 On YouTube, this video of volunteers nearly getting killed in a rapidly spreading wildfire in the country quickly went viral (don't watch if you don't think you can't handle it).
In the meantime, a friend calling from Moscow earlier this week complained about his trip to Red Square with his nephew. "The kid is from the country – you want to show him what the capital is all about. You get there, and it looks abysmal. It looks like the Apocalypse is coming. Or is already here."
The weird visuals of smog-blanketed Moscow are certainly worthy of a very good horror movie – which is a small consolation. It's a haunting scene. Watching the news one day, I recognized the embankment I live on. My building was rising out of the dirty cloud like a ghost – a 1947 Stalin-era beauty, gazing out at the surrounding carnage. I suppose that immediately following after WWII, things in Moscow were a little more complicated than they are now. Or maybe I'm wrong. Maybe there was clarity then – of the sort that we do not have today.
Years later, people will at least be able to tell their grandkids that they survived the Great Smog-Over of 2010. It's just too bad that Yury Luzhkov's career (the Moscow mayor went on holiday on August 2nd, while smog choked the city – and although he cut his trip short and returned on the 9th – people have remained pissed off with him) appears to be doing the same.