Election Night in the UK: What does 'change' mean?
Posted on Friday, May 7th, 2010 at 5:11 am
Author: Feature Writer
Gc contributor: Matthew Sheret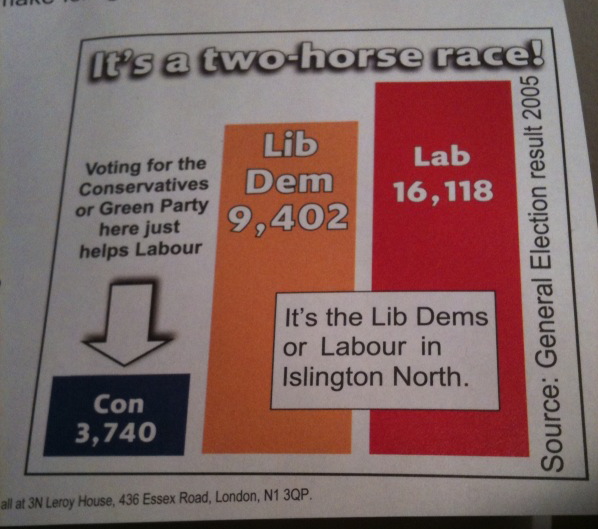 Within forty-eight hours we might have a picture of what the next five years will look like in the UK. Might. It could well be that we don't even know how the UK electoral map has finally turned out. But in terms of the next Parliamentary session we have next to no idea what will happen now.
The background to tonight's election result is phenomenal; Athens is burning under reaction to newly approved austerity measures while the DOW went into freefall, after what Paul Mason has described as 'fat finger trading'. Meanwhile voter turnout has rebounded after historic lows, possibly due to the televised debates, and those voters have found themselves locked out and turned away throughout the country, their votes having little effect.
For me tonight began innocently enough, with reflection on the campaign to date. On Gillian Duffy the room drew inevitable parallels to The Thick Of It, trading jokes that would later be mirrored in Channel 4's election coverage; on the debates each of us mimicked Brown's "winning" "smile"; we critiqued the newspaper cartoonists; we drew up catchphrase bingo cards.
And then The Long Wait began.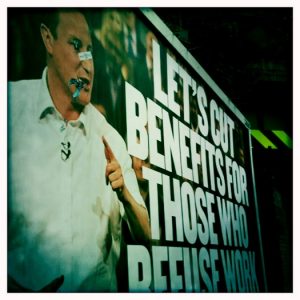 ±±±±±±±±±±
Fair to say, it might not have felt this close to the wire two months ago. Even a month ago, on the announcement of an election, the Conservative party were confidently predicted to take marginal seats not only from Labour but from the Liberal Democrats too. This on the back of the expenses scandal, the economic crisis, the Iraq war, tuition fees, the digital economy bill… a whole raft of policies almost strategically targeted to alienate and engender disenfranchisement among first and second time voters. Until a month ago we were on course for the lowest voter turnout on record.
The debates put paid to that. Turnout – in the constituencies that announced their results early – has ranged upwards of 15% higher than the 2005 election, and while the impact those votes have made on the overall result is still incredibly murky the fact remains that engagement has been reignited. Even Arnold Schwarzenegger joined the debate, in a manner of speaking.
From the very outset the buzzword of this campaign has been 'Change'. 'Change' was a useful rhetorical tick to borrow from Barack Obama's campaign, because his team successfully wove 'Change' and 'Hope' into the same semiotic puddle. 'Change' has become a good thing, bringing with it only positive connotations. 'Change' doesn't have to be specific, it just has to be different.
Comedian David Mitchell, in an unusual stab of insight on Channel 4's Alternative Election coverage, nailed Cameron's version of 'Change', claiming that it appeals to people because he doesn't really mean it. When the Conservative party talk about mending a broken economy they mean stripping out as much public spending as possible, crippling the economic recovery for those depending on government development. When they talk about social recovery they mean dismantling the progressive measures brought about by the Labour government, measures that include Sure Start, Tax Credits, civil partnerships and pro-European policies. Everything about the Tories still screams regression, not hope.
And yet by 10 PM we were seeing exit polls that looked almost identical to the pre-debate predictions. The source of the numbers was clearly kinky, a lot left to hold out for, but we still all caught sight of Vince Cable looking shellshocked on BBC news stumbling though a projected result far worse than expected. His party, on a crest of Cleggmania, were promising a very different kind of change, something they now have absolutely no possibility of fulfilling.
±±±±±±±±±±
Evan Harris (Lib Dem, Oxford West and Abingdon) got voted out at 4.15am. 176 votes in it.
A thought for someone else to pick up; if we've lost anything this election, it's the scientists. At a time when evidence based policy needs to bolster strategic spending, at a time when we need strong advocates for science, we'll have few, if any, in Parliament.
±±±±±±±±±±
It's worth turning to Twitter for a moment. Tonight it broke news of crippling problems with voting procedures, with users like @Raksky reporting being held inside the polling station before being told they simply couldn't vote. Sit-ins were staged, some stations stayed open, regional variations rupturing the Electoral Commission's tight claim to uniform procedure.
(On the surface there seems to be no reason for it. The surge in votes shouldn't have been enough to cripple the procedure this badly, but that it did is likely to drag these seats into the spotlight for weeks to come. Newscasters and politicos alike looked aghast at the thought of British voters being disenfranchised in such a manner, leading the veteran Dimbleby to mumble his way through a link before stopping and conceding to camera "It's a rum job sometimes… hmmmm…")
Twitter lit up in reaction, spreading like lightning to Facebook, doing once again what it has done so well in the last six weeks; fire uncorroborated information like lightning. No actual grass roots movement, no dominant ideology. It has ripped apart propaganda statements, decimated manifesto promises, fired laughable quotes and awkward snapshots to a mass audience in seconds. But it celebrated no-one. It was, surprisingly, mainstream broadcast and print media that led the discussion, and from whom web-literate Britain took its lead.
This election has seen every party test the water of the internet. They are all learning how to use it, and will spend the next five years building teams who can nail it next time around. But if they want net-roots then they need to start cultivating them now.
±±±±±±±±±±
What happens next? As the votes stand now it could well be the Independent MPs who stand to kingmake the Tories, with allies in Northern Ireland poised to back a right wing power grab. The Conservative line all night has been to claim victory, branding Labour and the Liberal Democrats a 'coalition of losers'. The party will use every tool in their power to cast aspersions on the conventional authority that would favour a Labour-led coalition government above any Conservative attempts.
I'm still not entirely sure why I wanted to wait this one out, to hang on until dawn. It feels important, it feels like I have a personal investment in this one, but at the same time the polling of a month ago isn't wildly dissimilar to the exit polls of this evening. With crushing inevitability the country is slouching towards a Conservative government.
On the night of the 2008 U.S. election I found myself having a roast dinner with port at 3 AM, enjoying the sight of Simon Schama drunkenly railing at John Bolton on BBC news. Tonight I have energy shots and solemn friends quietly contemplating the next five years. I'm watching champagne socialites toasting the end of Labour on a BBC boat party, while harping endlessly about the promise of Cameron. It's horrible.
But it can only get worse. The markets haven't reacted to the DOW, our own austerity measures haven't nearly kicked in, the election results might be challenged in court and the likelihood of any single, coherent government coalescing by the end of Friday is looking increasingly tiny.
But at some point I have to go to bed.