New Visual Kei singer Kanon Wakeshima has a lot going on right now. Plucked from obscurity as the result of an impressive Sony audition tape by Visual Kei and Gothic Lolita icon Mana, she already has the theme song to a major anime series to her credit and a growing number of fans in the Gothic Lolita community. At only 19 she's just beginning her career, and it will be interesting to see where she ends up.
Kirsty Evans sat down with her after a recent performance in San Francisco to talk about what she's up to and where she's headed.
Kirsty Evans: How and when did you develop your current style of playing cello and singing at the same time?
Kanon Wakeshima: I've been playing the cello since I was 3 years old. Initially my parents got me started, but then after middle school I started to write my own music as well, and that's when I started to make demo tapes and sending them out to labels.
KE: Middle school in Japan is the same age as it is in the States?
KW: Yeah, it's from 13 to 15. So since I couldn't really play the piano or the guitar that well, and I do play the cello, I was playing cello and dancing at the same time, and that's how I formed the style I have now.
KE: Is it difficult to concentrate on both singing and playing cello at the same time?
KW: It was very difficult when I first started. What I did at first was start talking while I was playing, and from there when I got used to that I worked up to singing.
KE: Obviously your parents started you out in classical music. At what age did you start developing an interest in other types of music? Once you got interested in those how did you make the transition from "I want to listen to this kind of music" to "I actually want to make this kind of music myself"?
KW: Again it was in middle school. I grew up with classical so it was kind of late to get into pop and rock, but it was very fresh for me because of that, so that's how I got started exploring other styles and trying to adapt them into my own music.
KE: Since it was your parents who started you out in classical music, how do they feel about the switch?
KW: They were very supportive. Not just in music – whatever I wanted to try they were very supportive.
KE: How did you end up getting interested in Lolita style?
KW: My music is produced by Mana, and he's actually the one who opened up that whole scene for me. He produces the costumes as well, so basically it's due to his influence.
KE: How did you come to his attention? How did you two meet each other and decide to work together in the first place?
KW: It was through the demo tape that I did for Sony Music. I already had that style of playing the cello and singing, and Mana saw the video footage. At that time he was thinking of forming a new project with a female vocalist, and my style caught his attention.
KE: I notice that Mana wrote most of the music on your album. Are you interested in composing for yourself? Is that something you have plans to do in the future?
KW: Definitely. I'm currently studying and eventually my goal is to do this by myself, to produce myself. Eventually I'd like to share my own music with my fans.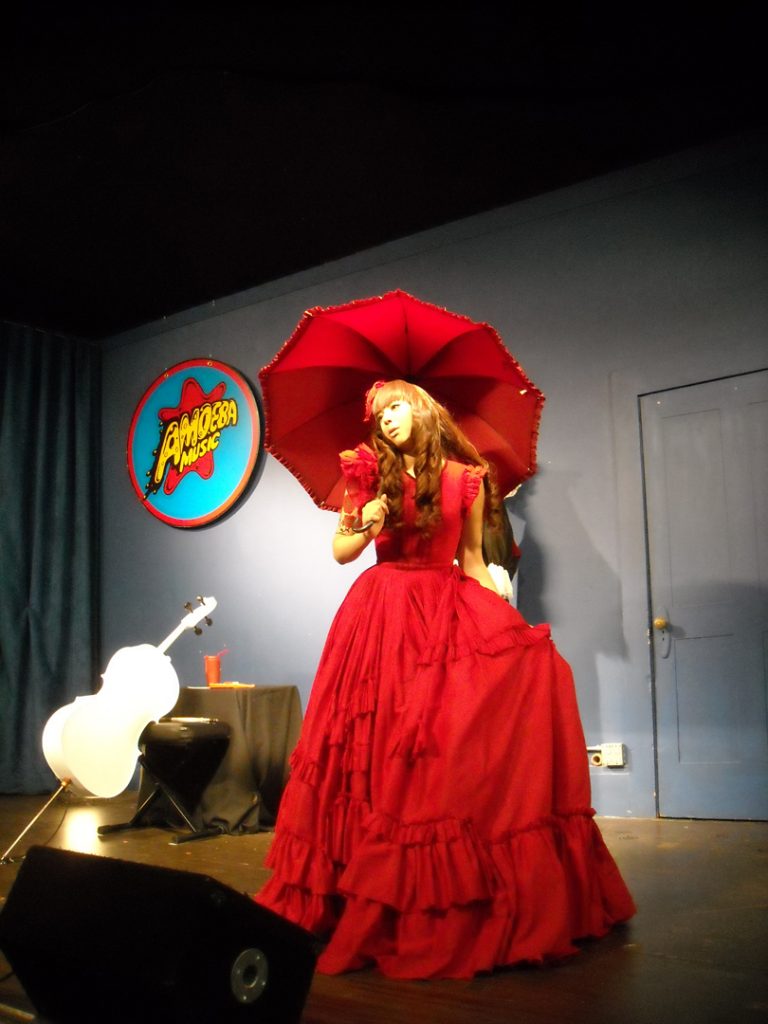 KW: I don't really wear it that often offstage but I do like to look at it, through a magazine or in shops.
KE: So at some point in the future do you plan to take over the visual aspect of your performance too?
KW: Yes! I actually do illustrations too, so that could definitely evolve into something like fashion design in the future.
KE: Actually that was sort of my question, given that you like to draw, in terms of videos, is that something you'd like to get involved with the visual aspect of too?
KW: Right now my visual imagery is definitely all about a Gothic and Lolita style, but I'm definitely interested in exploring other options in the future.
KE: It seems like most of the fans of the whole Visual Kei scene and Gothic Lolita style are girls, but there have been very few female artists. How does it feel for you to be one of the very few women in that genre? And also launching the way you did with Mana's support, that's not launching on a small scale, that's sort of jumping right in at the deep end. Have their been challenges? Is it harder to get people to take you seriously because you're a girl?
KW: For me, the fact that the Gothic Lolita fashion is mostly for women doesn't mean much. I'm just so appreciative of being able to travel overseas as an artist. And I think that the behind of all that, a wonderful artist, Mana's efforts and the increasing popularity of an anime series named "Vampire Knight." I just think that it is so wonderful that Japanese culture is spotlighted in the world because of anime and the Gothic Lolita fashion movement.
KE: What sort of audiences are you playing to in Japan, and then what sort of audience in the States?
KW: In Japan, people are more calm and focused on the music, here they're a lot more excited, there's a lot more energy. My music doesn't really have an up-tempo rock feel so that was something unexpected that I discovered here. Both are fine, it's just different.
KE: When you're in Japan are you getting much opportunity to talk to fans?
KW: I've actually only performed in Japan 3 times, and there the reaction of the audience to the performance was the only communication there was. There signing sessions in America are the first ones I've ever done.
KE: Was it scary, especially since you can't really talk directly to most of the people?
KW: (Laughs) Not at all, actually it was really fun. Especially at the convention all these cute cosplayers who came in asking for autographs, and there were even a couple of people who brought in their cellos for me to sign. I was a bit scared about that!
KE: Now that's commitment, to bring a cello with them!
KW: I felt the same way – am I the right person to sign this? But it was really fun in general.
KE: How did you end up getting involved with the "Vampire Knight" anime in the first place?
KW: "Still Doll" was just chosen as the theme song.
PR Manager: Still Doll had just been recorded and it caught the attention of the anime industry people.
KW: With Still Doll they approached us. Then, later, with "Suna no Oshiro," they wanted us to write another song for them and that became the ending theme. So by the time we did that Mana actually had the anime in mind when writing the song.
KE: Now when an artist does a theme song for an anime like that, is it expected that she'll help to promote the series? Is that part of the deal?
PR Manager: Can I explain a little about how this process works in Japan?
KE: Please do.
PR Manager: Well in Japan there's lots of anime so it's very common for the producers to pick a song…
KE: And does that then mean that there's a relationship there going forward between them and the artist?
PR Manager: It depends on the anime and the artist. With some they just pick a song and that's all, and in other cases the artist and the anime producers will cooperate together and co-promote their work. So it really depends. In the beginning in this case there wasn't that much of a commitment, but then at the convention they had a panel for "Vampire Knight" and we were sort of involved with that, so that did end up working out really well in the US, but not in the sense of being a real commitment.
KE: Now once this little US tour is done, what's next? Are there more tour plans?
KW: I have a big performance coming up in Japan in August, so that's the first thing that's going to come up. It's a one-woman show. In addition to that I'm working on a few new tracks and we're aiming to release those as a new single some time in the fall.
KE: I'm curious what kind of venues you play at in Japan. I mean, a girl with a cello, I can't picture it in some dark little club.
KW: (Laughs) What's coming up next is a venue in Shibuya called OWest. We're planning something special, because I have my music side and my illustration side, so I'm trying to work out something special where I can show both.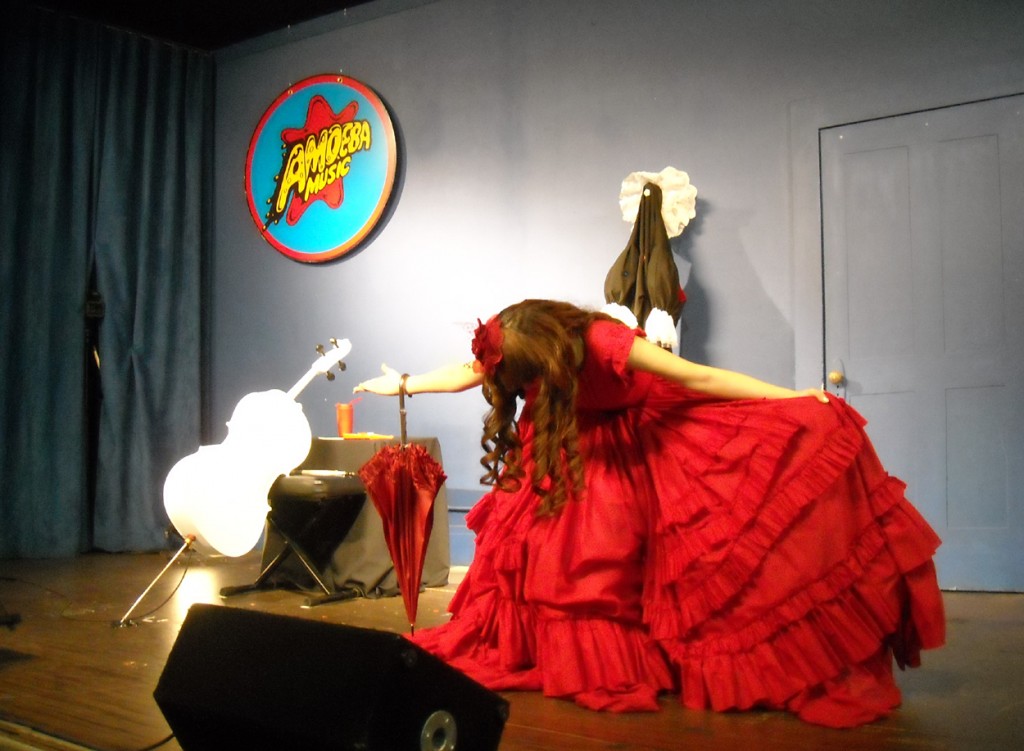 KE: It almost seems like someplace like an art gallery would be ideal.
KW: That's actually a good point, I'm doing something like that tomorrow, at a café in LA that's more like a gallery space. In addition to that I'm going to do something in Tokyo that's similar where I'm going to try to work with both aspects and create a unique kind of performance.
KE: Going forward for you, this is still very early in your career. Where would you like to see yourself a year from now, or five years from now? Do you have any long range sense of where you're going with all this? It's a unique idea, someone who's doing art and singing and has the cello. What's your vision for how you want things to be?
KW: Both the music and the artwork are just a medium for me to express myself, so that definitely won't change, so there are all kinds of possibilities depending on how I feel and what I'm working on.
KE: Do you think there will always be a classical music influence because that's what you grew up with?
KW: Classical music is definitely a fundamental aspect of my life, so that will always be there.
KE: Just to wrap things up, is there anything you'd like to say to your fans?
KW: Hi, I'm Kanon Wakeshima. Thanks for all your support. It's been really fun performing overseas. For those who've checked out my music, thank you very much, and for those who haven't please take a look, and I'd really love to come back to the US and perform again.