Playing Politics: How the Struggle Between Ecuador, the US and UK Leaves Women Behind.
Posted on Thursday, August 23rd, 2012 at 10:34 pm
Author: Feature Writer
Gc contributor: Flavia Dzodan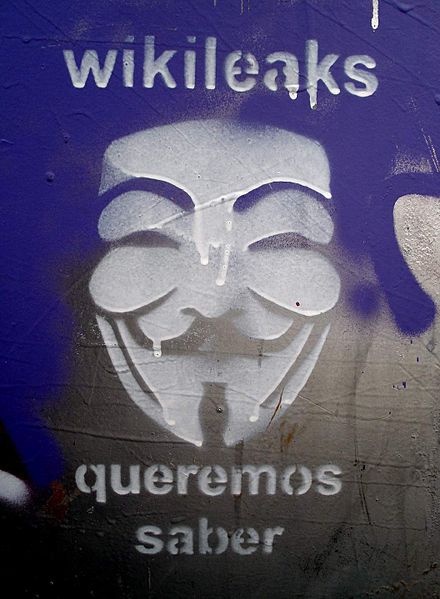 It seems to be a recurring theme when politics and rape allegations mix: women's bodies become the battlefield where access to justice is secondary, a mere afterthought or a nuisance. Julian Assange, currently locked in an embassy in London, was granted asylum in Ecuador while his alleged victims in Sweden are denied their day in court because "more important matters" take precedent in a political game eerily similar to the situation with Roman Polanski's extradition request. Both cases, while differing in circumstance and details, share a commonality based on rape culture values. The bodies of raped victims are not treated as valuable as the political circumstances that surround their cases.
This past week Ecuador's President Rafael Correa made statements that were featured prominently in Spanish language media. Journalists from all over South and Central America asked the President for the reasons behind Assange's asylum and his response was that Ecuador did not want to interfere with the investigation of possible sexual crimes. According to Correa, he wanted a reassurance that, during this investigation, Assange would not be extradited to a third country. Since they never received such reassurance, Ecuador believed it was important to give priority to Assange's safety. President Correa then added that he believes Assange could very well be guilty of sexual misconduct and that not everything Assange does is for freedom of expression. Correa said "He could have very well committed sex crimes, however, we want due process for his alleged misconduct".
For Ecuador, Julian Assange is no mere diplomatic fuss with the United Kingdom, he is part of a wider political struggle that started months ago when the Wikileaks founder handed President Correa the secret memos and correspondence between the US Ambassador and Washington.
In Ecuador, Rafael Correa expelled US Ambassador Heather Hodges after the press reported on a secret cable revoking the US visa of former National Police chief Jaime Aquilino Hurtado, who had "used his office…to extort cash and property, misappropriate public funds, facilitate human trafficking, and obstruct the investigation and prosecution of corrupt colleagues." Some embassy officers, according to the cable, "believe that President Correa must have been aware" of Aquilino Hurtado's corruption, but appointed him anyway because he wanted a National Police chief "whom he could easily manipulate."
Since the Wikileaks memos were revealed, diplomatic tension between the US and the rest of Latin America has somewhat escalated. The memos showed a political style reminiscent of the days in the 1970's, 80's and 90's, when the US supported, encouraged and even sponsored brutal military regimes in the continent, interfering with local politics and pushing for an agenda of what, at the time, was dubbed US Imperialist interventions. With the gradual shift to more leftist governments in the region, such interventions have become more difficult for the US, however, the rhetoric and intentional interference in South American politics that were revealed in the Wikileaks cables were met with swift protests from regional leaders. Rafeal Correa's support of Assange can only be fully understood in the context of this resistance to US intervention.
Some US media are currently painting a very biased picture of this regional solidarity, jumping at the chance to discredit South American presidents as mere demagogues or prone to "theatrics", while the continent offers wide and unrestrictive support to President Correa's decision to grant asylum:
By a vote of 23-3, the countries of ALBA (Bolivarian Alliance for the Americas) and most of Latin America voted to convene a meeting of the OAS (Organization of American States) this Friday to discuss the diplomatic impasse between Ecuador and the UK. The United States, Canada and Trinidad and Tobago were the only countries to vote against Ecuador's proposal to involve the OAS, arguing that the matter should be settled bilaterally.

The OAS meet will be the first big test of ALBA's mettle and diplomatic savvy since the Honduran coup crisis, when the leftist bloc was exposed as mostly emotional, incoherent and ineffective at conducting foreign policy.
This US-held stance of Latin American countries as "incoherent and ineffective" is at the very core of Assange's asylum case. Rafael Correa's involvement and support of Assange is also a demonstration of political will towards the United States and Europe. That Correa even stated his doubts about Assange's innocence only re-enforces the fact that Ecuador is using Assange as a political pawn in a larger dispute.
Meanwhile, in Sweden, two women who claim they were raped by Julian Assange await their opportunity to confront their alleged rapist. Once again, rape becomes a political tool and women's bodies are used as the battlefield where political maneuvers are enacted for male politicians, leaders and journalists to further their agendas. This is the stuff that rape culture is made of. Women's bodies are used during wars and political struggles to make a point; access to justice is denied because confronting ideologies push for each side to "win". In the end, however, no matter from which side, they both share the same disdain and contempt for women's bodies. Rape culture is so pervasive that regardless of the political ideologies, it is ever present. Assange is granted asylum, Latin American leaders join to stand against the US and the UK, Assange fans and journalists of all nationalities discuss the controversies but women the world over are given again and again the same message: rape is inconsequential when men need to settle their disagreements