For all of its nationally based competition, and the feelings of pride (the Netherlands) and shame (France) that the World Cup stirs up, the competition does nothing more than show the flimsiness of the national construction. Take the Germans. Please.
A quick scan of the roster finds: three Polish born players, including two star strikers; a Bosnian and a Brazilian on the bench; four players with one immigrant parent; and two sons of Turkish Germans, including one of the young sensations of the tournament.
Move beyond the pure make-up of the team to the way they play. Announcers and writers still like to point out the solidity of the German back line, the way they strike quick on the counter, and their level-headedness throughout, but Germany has been the closest to a successfully exciting side we've seen at this World Cup (their trouncing of Argentina made it clear why Argentina missed out on the "successfully" part).
Germany is not the only team to subvert stereotypes or open up the meaning of nationality. As far as styles go, many South American squads played a tight European game, either getting the most out of their talent (Uruguay, Paraguay) or restricting themselves overly (Brazil). Meanwhile, the triumphant Dutch have both a more boring style than normal and several members with national ties to South America or Africa.
The U.S. is a multi-ethnic team as ever (and will continue to be: a New York Times Magazine preview story on the World Cup about the future of the U.S. squad almost solely featured 1st-generation Americans), and though Spain are mostly patching together their own nationalities at this World Cup, they had a Brazilian play a vital role in their European Championship run two years ago.
This blurring of national lines for the sake of representing a country is neither new nor unique to football. For two small examples, see the American J.R. Holden starting for the Russian basketball team, or take a glance at the rosters for a given European or World Championship for Wrestling, where the Russian Diaspora apparently spreads to Sweden, Turkey, the UK, Australia, and beyond.
Just as vague are the allegiances of fans around the world. While the World Cup is the pinnacle event of the global game every four years, only 32 countries are involved. That leaves a lot of free hearts out there to win.
Obviously, there is great pride and joy in cheering for one's own. But the freedom to choose is fundamental to agency and identification in sports – basically, the liberated fandom that the basketball blog Free Darko has been pushing for years. And with so many countries losing dogs in the fight before the fight starts, or increasingly quickly during the tournament, it becomes easy to latch onto new bandwagons, identify with new lands, and believe in new stories.
The decision-making process here is the beauty of the World Cup from a fan's perspective. One can easily call upon their ancestral ties to substitute their nationality, at least if they didn't choose ancestry in the first place. There are some who go for mere proximity; the African support for Ghana through the quarterfinals or the South American support for Uruguay in the semifinals are signs of continental pride (as many have pointed out, this wouldn't happen in the U.S., nor Europe for that matter).
Favorite players from a particular club can draw eyes to the respective national team, though a ton of stars did flop this go around. And style has in the past made Brazil and the Netherlands perennial favorites, though Germany and sometimes Spain at their best have usurped the joga bonito throne.
In a few days it will end and seem like it was all so fast, but the World Cup offers a full month to fall in love, which romantics know is more than long enough. The every three or four days constancy makes it easy to follow stories, and as they develops, fans find a place to call home.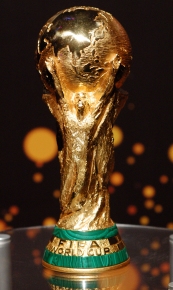 Many American fans were no doubt crushed over the close loss to Ghana; many of those and other Americans saw the charm in Ghana's underdog story, or else preferred the grittiness of Uruguay's garra charrua. India's hearts were divided between Brazil and Argentina; no doubt some of those hearts lean towards Germany or Spain, only to be broken again.
It's easy to question whether this means anything. Surely, one can't be naïve enough to think that all this fluid support, all this lovey-dovey choosing of a football team will lead to some kind of better world? A place where we move beyond fighting over territory and resources, where the only fights are on the pitch, where they remain passionate yet civilized? Where the bad blood is left on the field and that's the end of it? 99% of the transitory supporters for Uruguay, Paraguay, Ghana, South Africa, or anybody else will forget everything about their temporary allegiance and the country they pulled for, and the remaining 1% won't do anything but cheer for those teams next time. No changed world, no better place.
In his book, How Soccer Explains the World, Franklin Foer wrote a chapter about the Futbol Club Barcelona and the delights of bourgeois nationalism. His point was that Barcelona fandom and Catalan nationalism are inclusive beliefs, open to all who are willing to convert. In this case, nationalism seems less a disease or an inevitable lesser evil and more a benign option, a choice offering a group of like-minded people without necessarily taking on crushing burdens or hatreds of the other.
The World Cup gives us these options, if just for a month. Maybe the allegiance won't last past this Sunday. Maybe we'll have forgotten all these little flings. But each romance lives on, one way or another.
The willingness to get behind another nation makes that nation just a little bit closer, a little bit more like us. These little connections add up, and all of a sudden this little globalized world feels a little smaller, a little closer. That may be a small thing, but it's still pretty special, and unique to the World Cup. We're all better off for it.
Well, maybe not the English. Sorry, lads.