Since its first screening in Tel Aviv, "Phobidilia" was screened in Berlin, Cannes, Toronto, Istanbul, Singapore and Los Angeles.In Israel, Ofer Schecter, who played the role of an agoraphobic man in the film, won "the Best Actor Award in Feature Film" in Haifa International Film Festival last year.
I interviewed the Paz Brothers through email. Before producing their first moive, the Paz Brothers worked as commerical and television directors.
Jonathan:First of all, can you tell our readers what the film is about? Where did you get the idea of producing the film? Why did you produce a film about a socially-isolated man living in an old apartment in Tel Aviv?
Yoav and Doron Paz: The film is about an agoraphobic guy who can't leave the apartment because of a nervous breakdown he had 4 years ago. One day the land lord tells him he needs to evacuate the apartment and from that point all hell break loss.
The movie is based on a Book by Izhar Har-Lev and he is a good friend of ours. After doing a lot of music videos and TV Promos in Israel we were looking for the first feature and he was kind enough to give us the book.
We wanted our first film to be Universal and Global. Not a political movie like most of the Israeli movies these days. We think anyone in the worked can relate to our Protagonist.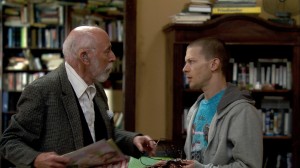 In the film, Grumps (Shlomo Bar-Shavit) demands that the man (Ofer Schecter) must leave the apartment in two months. Grumps tells that the landlord would like to sell the apartment. At the end, it turns out that Grumps lies since he wants the man to face the reality.
Jonathan:I watched the film in Hong Kong. Most audience turned out to be Jewish. Yes, the film was screened in Berlin International Film Festival and Toronto Film Festival. Other minor festivals showing the film included Istanbul Film Festival and Singapore Film Festival.  What do you think about receptions of different viewers outside Israel or Jewish viewers in Los Angles Jewish Film Festival?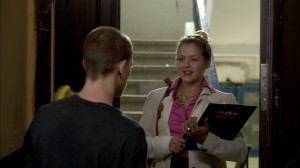 Daniela (Efrat Baumwald) serves as a customer service officer for a cable television company. Daniela tries to build up an intimate relationship with the man as a way of helping him get out of his "world".
Yoav and Doron Paz: We see a lot of differences by the way people are watching the movie. You can see how different countries response to different jokes and small details in the movie. Like Germany – they took the Holocaust Monolog that the land lord has, they took it really sinuously. People in Israel are amused from the dark Irony in it.  ( Note: In the film, Grumps, the Holocaust survivor, laments that the world has only been interested in the plight of Anne Frank, instead of survivors like him, who had to stay in holes for three weeks with only water.)
 Jonathan: Let me turn to Israeli movie industry. Yes, it has outstanding works such as Beaufort and Waltz with Bashir. Both were nominated for Oscar in Best Foreign Language Film in 2008 and 2009. Beaufort won the Silver Award in Berlin International Film Festival in 2007. Waltz with Bashir won the Best Foreign Film Award in Golden Globe Awards in 2009. What do you consider major challenges for Israeli filmmakers in film production?
Yoav and Doron Paz: The biggest Challenge for an Israeli film maker is to believe in your project without no hesitation and bringing it to life without hold backs. The Israeli film Industry is so small. That's why the process with the film funds is so long. But I think the Israeli Cinema is heading to a great place in World Cinema.
Jonathan: Finally, what is your next project?
 Yoav and Doron Paz: Our next project is a musical drama about a singer who's heading for a tour while his dead lover's memories are hunting him. It's lighter but yet still a drama.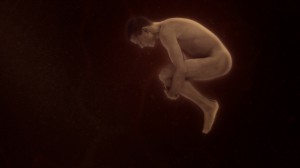 The End: The man has stayed enough in his own world and realized that he needs to go out to experience the "real world".