The International Documentary Film Festival Amsterdam is the Cannes of nonfiction filmmaking, so just nabbing an invitation anoints a doc amongst the best of the best. Don Argott and Demian Fenton's "Last Days Here" not only screened the prestigious event this past November, but beat out a handful of other stellar flicks to win the IDFA PLAY Competition for Music Documentary. None of which came as a surprise to this critic who's been following the two since their riveting doc "The Art of the Steal" – about the dirty battle over the Barnes Foundation's 25 billion dollars in art – rocked my world back in 2009. Now the Philadelphia homeboys have trained their lens on another Pennsylvania subject, Pentagram lead singer Bobby Liebling, a hard rock legend and hardcore addict who, as one of Liebling's friends puts it, sold his soul a long time ago – and is now fighting like hell to get it back, one piece at a time. I spoke with the gung ho co-directors prior to the film's NYC opening on March 2nd.
Lauren Wissot: So, first things first, how did you two get involved in this project initially? Are you big Pentagram fans?
Demian Fenton: For awhile now I've been listening to tons of old 70s rock. When you initially begin digging through some of the lost heavy bands of the early 70s, one of the first – and best – bands you find is Pentagram. With a little more digging you begin hearing stories about their "crazy" lead singer Bobby Liebling. Then you see old pictures of Bobby with his bulging eyes and wonder – who is this maniac? Years later I met Pellet (Sean Pelletier) at a poorly attended metal show. Reverend Bizarre was the band. So damn good! Anyhow, I had heard through friends that Pellet was involved in releasing some compilations of Pentagram's earlier material and that he had a personal relationship with Bobby Liebling. After a few beers we began cooking up a scheme to make a documentary.
Don Argott: Dem brought the idea for the project in and we all felt it had enough potential to at least go down to Bobby's house and film him for a day. I remember leaving the shoot coming back to Philly just in a daze about what we had just shot. On one hand, we knew Bobby was an amazing character and his story was incredible. And on the other end, spending a day with him we were convinced that he might not have much longer to live. There was something undeniable there that allowed us to stick with the story for years.
LW: Yeah, the film is really a track-marks-and-all depiction of addiction. Many images seem straight out of a horror flick, yet the camera never flinches from the gruesome physical toll drugs have taken on Liebling's body. I imagine the entire production must have been an emotional endurance test, but which scenes in particular were the hardest to shoot?
DF: While many of the earlier scenes in the film were emotionally draining to shoot, I feel that as a documentary filmmaker it is really important to maintain perspective. These moments we were capturing were very real for Bobby and his parents – so it was critical that we, rather than place judgment or stand there gawking in shock, constantly continue to ask how and why someone's life could lead to this place.
DA: I agree. I think the film is a reflection on how we try and approach making documentaries. We never want to approach things like, "Hey, look at the freaks in the circus." It's important to establish trust with your subjects so that they never feel like you're trying to exploit them.
LW: One of the things I find most thrilling about the doc is that you really keep us on the edge of our seats from frame to frame, never sure whether Liebling will crash and burn for the final time, or pull himself back from the edge of the abyss, like he's been able to do over and over again. And in so doing, the doc becomes an honest presentation of the chronic roller coaster that loved ones of addicts ride on a daily basis. (Conversely, narrative films rarely show functioning or even semi-functioning addicts – i.e., the vast majority in real life.) So how did you two approach the editing to achieve this? Since Demian has been a longtime editor on your films, Don, was the process the same or different?
DA: We've been very fortunate to have a great working relationship that has continued to evolve on every project. We've done five films together so there is a lot of unspoken trust that we all have working with each other. Since this was a project that was really done as a labor of love, meaning we self-financed it with no outside investors, we had to try and make time to put the film together. We tried raising funds so that we could dedicate ourselves to finishing the film but that proved an uphill battle. Dem was just coming off editing "The Art of the Steal" and I felt that he was a little burned out from that project. Having shot the majority of "Last Days Here" I decided to just dig in and put a rough assembly of the film together. Once there was a foundation and a skeleton of the piece to work from, then we were able to dive in and commit ourselves to finishing the film.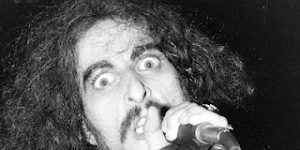 LW: Another reason I found the film so touching is that over the course of the movie the doc becomes less about Liebling and more about those hell-bent on saving him (in particular Pellet, his fan-turned-manager, who pretty much sacrifices his own life to rescue Liebling's). You highlight the biblical elements of good and evil – the Satanic allusion in the band's name, Liebling as a Jesus figure to be resurrected, etc. – but what makes "Last Days Here" truly unique is your focus on the followers. Liebling is full of dreams and delusions, and inspires both in others, like any great rock star or religious leader. Was this a conscious choice to explore those who use a loved one/cult figure as a canvas on which to project, or did the doc just organically develop in that direction?
DF: When you are around Pellet for any amount of time you realize that he completely believes in the power of music and it to affect one's life. Quite naturally, his goal is to lead Bobby to salvation through music. It took us a little time to understand that he and Bobby were envisioning this "resurrection" quite differently. Pellet was looking for Bobby to have this triumphant musical revival, when Bobby really wanted to simply begin living some sort of normal life. Much of the film is spent with Bobby and Pellet trying to understand one another, and the conflict that arises while they work out the plan to achieve everyone's goals.
LW: Finally, as a big fan of your 2009 doc "The Art of the Steal," I'm wondering what projects you're working on, or hope to tackle, next? You've both been quite prolific lately, having just premiered another doc that Don co-directed and Demian edited, "The Atomic States of America," at Sundance.
DF: We have some very cool projects floating around that I will be editing and I always have wacky ideas about other docs I'd like to direct – most of which will never get funded, so I really do need to start playing the lottery.
DA: We've been really fortunate to make a "living" making docs together, and we are actually already in production on our next film, tentatively titled, "As the Palaces Burn," which is a doc about the metal band Lamb of God's 2012 world tour and a profile of their fans around the globe. We also have a bunch more films in development, so stay tuned.