LFF Dispatch 3: The Ides Of March, Terri, Wuthering Heights.
Posted on Monday, October 31st, 2011 at 11:44 am
Author: Mark Farnsworth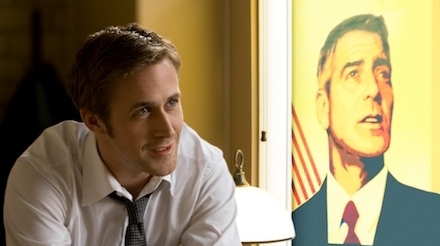 Early on in George Clooney's super-cool, super-dark spin on American politics The Ides Of March, Ryan Gosling's wunderkind campaign manager, Stephen Meyers is playfully called "the big man on campus." Is it life imitating art or art imitating life, as Gosling is certainly scaling the heights of mount Hollywood quicker and smarter than any other actor in recent memory? A trio of hits in as many months, with Drive, Crazy, Stupid, Love and now Ides anointing him into Clooney's inner circle, it's as if Gosling hired his screen-self from Ides to mastermind his campaign of cinematic dominance.
Meyers works for Clooney's Governor Mike Morris, a Democratic presidential candidate. Morris is smart, urbane and handsome. He's for the underdog – he's for healthcare, he's for free college education. Early on Clooney zaps Morris with the best traits of Clinton and Obama and Meyers believes in him. Loves him. Is besotted with him. If Morris wins in Ohio and goes on to become president, Meyers tells Ida, a reporter for The New York Times, "It says more about us than it does about him." A sassy realist, Ida responds, "he will let you down sooner or later." You just know from that point on it will all end in tears.
Clooney drives his movie so deftly that we barely notice the tonal gear changes. One moment Evan Rachel Woods' sexy, well-connected intern, Molly Stearns trades Bacall/Bogart zingers with Meyers, the next we're in a gangster movie and finally a Faustian tragedy. As the film darkens so does Morris, his halo slowly sliding into Hades dragging Meyers under with its weight of expectation. Clooney as Morris exploits his own Hollywood persona brilliantly by casting Philip Seymour Hoffman and Paul Giamatti as rival campaign managers Paul Zara and Tom Duffy. Both men are obviously far more intelligent than their masters and by their inclusion Clooney highlights America's obsession with style over substance in its politicians.
The main character in Azazel Jacobs' Terri is the total antithesis to the overachieving Stephen Meyers. 15-year-old Terri is a rotund loner who goes to school in his pyjamas. Dirty Jack bullies him spectacularly, a rap obsessed sleazoid who has a genius for the ridiculous. At home Terri cares for his Uncle James who is suffering from Alzheimer's. Uncle James has better days than others but clearly loves his nephew and the two live out their isolated existence in a ramshackle shack straightoutta The Lost Boys.
When John C Reilly's irrepressible Vice-Principal, Mr Fitzgerald takes Terri under his wing Terri slowly begins to emerge from his solitary life. At first Mr Fitzgerald seems an embarrassing crank, big on cod psychology and big on shouting. Yet as the film unfolds Reilly's performance is both hilarious and touching, so much so that when Terri hugs Mr Fitzgerald it feels so spontaneous, so well deserved that you could quite easily feel yourself bursting into tears. Newcomer Jacob Wysocki invests Terri with a principled dignity so that he demands our respect not our sympathy.
Although uneven in places, the den scene is suspenseful but a tad too long and we miss Reilly whenever he isn't on screen, Terri is a fresh take on teenage growing pains and the alienation those years can cause young people. Jacobs' film evokes fond memories of "Kes," Rushmore, and even My Bodyguard. However it is the central relationship between Terri and Mr Fitzgerald, so surprising, so eloquently drawn that it will linger in the minds of the audience for some time to come. As Mr Fitzgerald says himself, "the Principal needs a high five." You better believe that.
In Andrea Arnold's eagerly anticipated version of Wuthering Heights she has, of course, the ultimate outsider in the Byronic Heathcliff. Arnold casts black actors to portray her lead, James Howson as the older Heathcliff and Solomon Grave as his younger incarnation. This change reinvigorates the old classic; further emphasizing Mr Earnshaw's Christian beliefs, Hindley's hatred for Heathcliff and goes someway to explain the extraordinary bond Heathcliff shares with Catherine.
Arnold shoots the Yorkshire Moors like an inhospitable alien world. The wind is remorseless, the breath of giants blasting the boggy earth to pieces. Rocks jut forth like Pagan stones, a hotline to the ancient gods that stalked the land before Christianity. Rain threatens to find a second Noah. The young Heathcliff is dumbstruck, awestruck by his new surroundings. Catherine is his only connection to this hostile environment; an almost wordless relationship perfectly captured by Arnold's undoubted visual genius. Every creak of a door, every stone in a wall, every bead of sweat from the horses tells Heathcliff and Catherine's story.
Solomon Grave and Shannon Beer as the young Catherine are faultless for the first hour or so and so is Arnold's film. What a shame then that this perfection is stunted when the older actors take over the reins. James Howson and Kaya Scodelario seem to be in a different adaptation all together. Any chemistry has been washed away on the Moors, any sympathy for their doomed affair tucked away in the drawing rooms of Thrushcross Grange. We simply don't care about them any longer and their brooding pain plays like a couple of spoilt brats throwing a tantrum.
Both older actors don't seem to have picked up on the idiosyncrasies of their younger counterparts. Small links to the past would help the audience connect with their characters despite the radical evolution in class both experience in the narrative. A bolder casting choice would have been to have the younger actors portray Heathcliff and Catherine throughout the entirety of the film. As it stands Andrea Arnold's Wuthering Heights is very nearly a great film, its starkly beautiful setting highlights sexual repression and lust in a way reminiscent of the Japanese film, Onibaba. Still a flawed Andrea Arnold movie is always worth considering such is her talent.