LFF Dispatch 4: Miss Bala, Hors Satan, Michael
Posted on Monday, November 7th, 2011 at 9:56 am
Author: Mark Farnsworth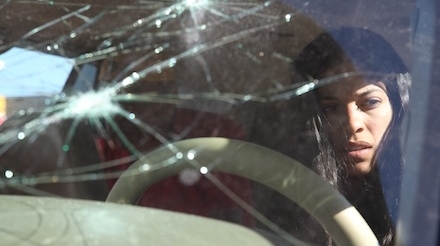 "Miss Bala" is a bad trip into the dark Wonderland of Mexican drug-cartels. Our Alice is Laura Guerrero, an innocent girl living with her father and brother, who dreams of entering the Miss Baja beauty pageant with her best friend Suzu. On Laura's wall is a collage of beautiful stars, Madonna, Shakira and Audrey Hepburn, merged with her own happy snaps of carefree days. In the centre a cutting in bright pink reads, "Fashion Victim." If only Laura knew how much she would have to suffer for her art she'd stick to selling clothes.
Laura's Kafkaesque nightmare begins in a fleapit nightclub, lights on, patio chairs, tacky house music and CD curtains for decoration. Suzu insists on Laura meeting some lecherous DEA agents who can help them win the pageant. Laura beats a retreat to the bathroom where she sees men armed to their gold-teeth with automatic weapons. The silent way they drop down into shot is appalling, gripping. A bloody massacre ensues, largely off screen as director Gerardo Naranjo keeps the audience up close and personal with Laura for the entire duration of the film.
This claustrophobic approach smothers Laura and we identify with her plight entirely. We are witness to her ingenuity and her suffering as she is manipulated by Lino, the leader of the ruthless La Estrella drug gang, and the criminals behind the slaughter in the club. Naranjo deliberately avoids Hollywood's death by a million jump cuts in favour of elegant long takes, steadicam shots that Kubrick and Clarke would be proud of. One street battle that Laura is lead through is a vicious ballet of bullets, bodies and vehicles that pull up in a dazzling formation to cover La Estrella's retreat.
Corruption threatens every frame: the pageant, the traffic cops, the DEA and the military all conspire to seemingly manipulate every facet of Mexican life. Naranjo uses Laura as a metaphor for the Mexican population as she is driven to more desperate measures in order to survive her tortuous and humiliating ordeal. The actress who plays Laura, Stephanie Sigman, was found in a shampoo commercial by Naranjo but her astounding central performance should catapult her into international stardom sooner rather than later. In "Miss Bala" Mexico have a worthy entry into that canon of films that deal with urban power, poverty and conflict: "La Haine", "City Of God", and "Gomorrah."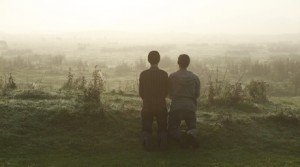 Bruno Dumont's "Hors Satan" deals with an even more ambiguous depiction of morality amongst the blasted beauty of Northern France's Cote d'Opale. A nameless odd couple played by David Dewaele and Alexandra Lematre shuffle from one wordless close up to another wordless long shot to pray or just to be. The Guy rebuffs any sexual advances from The Girl but will pull the trigger of a shotgun in a heartbeat on her abusive father. The murder largely disappears into the marshland with the Police only ever seen on the periphery of Dumont's film. Further acts of violence punctuate the sedate pace of life leading us to question motif, justification and our own complicity of thought in viewing these episodes.
Unfortunately "Hors Satan" is far too worthy for its own good. The tranquilly of pace at times is terminal as Dumont strips his directorial style down to its bare bones. Dumont credits his audience as able to fill in the blanks" nd has faith in their retrospective abilities  but a film needs to connect in some way emotionally with its spectators for them to be bothered to even use these cinematic superpowers (how about intelligence?) in the first place. Watching a Vincent Cassel look-alike with crack teeth and a shoddy Goth mooch around the French countryside for a couple of hours regrettably reinforces the old stereotype of French Cinema as pretentious and impenetrable-something it clearly is not.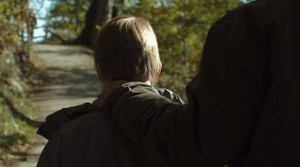 In contrast Markus Schleinzer's masterful, disquieting film, "Michael" never puts a foot wrong. His haunting character study of Michael, a 35 year old who works in insurance and keeps a 10-year-old boy, Wolfgang, captive in his cellar is restrained and utterly convincing. This is largely due to Michael Fuith's flawless performance as Michael. Fuith plays him as any other stereotypical insurance worker, he's quiet, polite and even wears clothes that help him blend into his work surroundings. He's the invisible man in full view of everyone, helping neighbours look for a cat, buying a Christmas tree and singing "Sunny" by Boney M badly when he gets promoted at work.
However it is exactly this mundane mediocrity that cuts the audience to the quick. At home he prepares dinner for two behind electric shutters, helps Wolfgang to do his chores in the cellar and even plays practical jokes on his captive by launching buckets of snow at him and then running away and locking the door. Surprisingly Schleinzer finds a great deal of black comedy in "Michael" largely in Michael's own juvenile, twisted sense of humour that is one manifestation of his stunted, disturbed personality. This is most shockingly revealed when he tries out a line from a horror film on Wolfgang at the dinner table in another badly conceived attempt to lighten the mood. As if it ever could be.
What makes "Michael" truly frightening is how completely reliant Wolfgang is on his captor and how close he comes to death without even realising it. When Wolfgang becomes ill Michael realises he cannot take him to the hospital if it is serious so begins to plan of Wolfgang's disposal. Schleinzer shows the everyday practicalities of keeping someone captive and how difficult and how easy it is simultaneously. An accident to Michael could also spell the end for Wolfgang if he is left undiscovered. "Michael" unfolds with this deliberate restraint, much like a Haneke film allowing suspense to carefully cultivate and shocks when they come to take you completely unaware. A tracking shot where Michael tries to make off with a second boy at a go-cart track is as haunting as anything seen in cinema today.