[rating=5]
Viv Richards, the peerless genius of West Indian batsmen, fixes the camera with his steely glare. The very same one he used when joining combat with the best bowlers in the world before hammering them all over the boundaries. Impervious to pain and chewing gum he would stand defiantly, proudly at the crease taking whatever bruising punishment came his way. Richards stares at the camera, "My bat could have been my sword at that time."
Stevan Riley's superb film "Fire In Babylon" documents the rise to power of the West Indian Cricket team in the 1970s to their total world domination of a sport that was originally used by their British colonial masters as a means of subjugation and humiliation. Undefeated for 15 years, Clive Lloyd's team became a focal point for West Indian independence, black consciousness and the fight against apartheid.
In 1975, Lloyd's young, hopeful team were decimated by the "military assault" of the ruthless Australians. Led by the fast bowling tag team of Thomson and the wild boar wrestling Dennis Lillee, the Windies collapsed under their brutal overs. In the stadium, the partisan Australian crowd yelled "Lilly, Lilly, kill, kill, kill!" – amongst even more hurtful racist abuse. Their confidence destroyed after a 5-1 drubbing, "the quiet thinker" Lloyd had a plan.
At this point, "Fire In Babylon" becomes a curious mix of "The Seven Samurai" and "The Dirty Dozen" as we follow Lloyd's odyssey to recruit a deadly quartet of fast bowlers, Garner, Croft, Holding and Roberts, to back up his hard-hitting batsman Richards and Greenidge. The footage of "The Four Horseman of the Apocalypse" unleashing 95 mile an hour deliveries, cracking bones, faces and ribs is astonishing and the audience will feel every single one.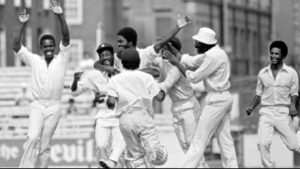 Now with monstrous monikers like Master Blaster, The Hitman and the ingenious Whispering Death, Lloyd's team defeated all comers in all four corners of the earth. Home or abroad Riley's film captures the team's relentless pursuit of perfection against the backdrop of the socio-political context of the time. The annihilation of England in 1984 to Bob Marley's "Could You Be Loved" is spine tingling as Greenidge mounts his famous innings comeback.
"Fire In Babylon" is an exhilarating mix of talking heads, dynamic sporting footage and a killer soundtrack. It's heroic, funny and moving – and if you hate cricket you'll come out loving it and worshiping at the feet of Sir Isaac Vivian Alexander Richards, cricket's very own Mohammad Ali, not just the guy you used to watch on "A Question of Sport."