Anna lives the simple life of a novitiate in a Polish convent. Her meals are plain; her days are silent like the snow that frames her tranquil existence. Orphaned in World War 2 Anna knows only god and her fellow nuns. Out of the past emerges Anna's wayward aunt, "Red Wanda" soaked in booze and cheap men. She was once a judge of some notoriety, exacting revenge on war criminals and collaborators alike. Having annihilated the enemies of the state, she is a broken cynic crushed by the weight of history, crushed by the guilt of surviving when so many of her family were massacred. Wanda reveals she is Jewish; reveals to Anna that her real name is Ida Lebenstein.
Initially rejected by Wanda, Anna is enough of a delicate curiosity for her aunt to help find her mother's grave and the truth behind her murder. They are unlikely travelling companions, the innocent and the intelligentsia, on their sombre road trip through Communist Poland of the 1960s. Wanda probes the depths of Anna's faith, "What if you go there and discover there isn't a god?" As they draw inexorably to their entwined fate this question will come to haunt both women. Monochrome and deliberate, "Ida" is a minor masterpiece of understatement, never more so than when Anna tries to connect with Wanda by listening to the last record she played before deciding if she should finally embrace god.
Rob Brown's "Sixteen," an intelligent and restrained take on the British urban thriller, also makes his young lead confront the past before he can move forward. Jumah is shy and awkward, unable to make eye contact, words lost before he can speak them. When he does he blurts out statements, not in the Jamaican dialect of his new friend Alex but in a clipped version of his white adoptive mother's middle class accent. Jumah explodes with violence, but it doesn't quite fit, torment and regret etched into his face after he head-butts a fellow pupil or attacks his girlfriend in his sleep. Jumah harbours a secret that has been scarred into his body; he was a child soldier in the Congo.
Jumah is pursued by a roving Steadicam and like Alan Clarke, who revelled in filming the way his actors walked, Brown wants to get up close and personal. We follow Jumah around school corridors and playing fields, mesmerised by his motion. We feel the angst and desperation peel off him as he witnesses a stabbing on his west London estate. Yet "Sixteen" expertly swerves those urban clichés, the soundtrack is ambient, disconnected like Jumah, not the bass shredding grime of "Kidulthood." The characters make difficult moral choices both on and off screen, we feel their pressure through half-closed doors and half-heard phone conversations all the way through to the excellent, truthful climax.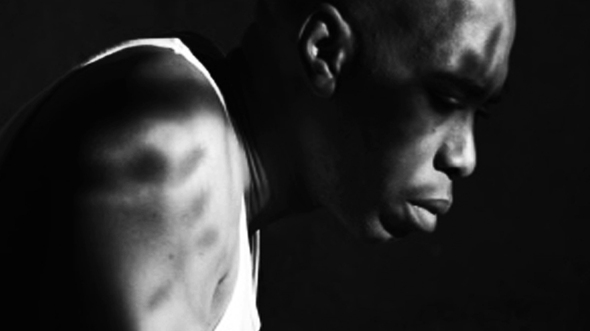 Originally banned in South Africa, "Of Good Report" also features a strong silent type, albeit a psychopathic one in teacher Parker Sithole. The film's opening is from the point of view of a shambling monster picking teeth out of his head, like a horror movie walking onto the set of a Sergio Leone Western. Through seamless flashbacks we stitch together Parker's murky past as a U.N. soldier and a widely respected educator. A drunken liaison with the stunning Nolitha at a bar proves to be the catalyst for the already disturbed Parker to delve into the very depths of depravity when she is later revealed to be of his new pupils.
Jahmil XT Qubeka's filmis startling, not only for the controversial subject matter but also for the sheer audacity and competency of his direction. Parker shouts, growls, bleats, cries and howls but never speaks-some feat when he is in virtually every scene, at times his hang dog face elicits sympathy. A risky sexual encounter with Nolitha in a toilet cubicle turns into nerve-shredding suspense when her friends are locked outside. We should be shouting from the rooftops for Parker to get caught, but instead we are deceived into rooting for him to escape, because Qubeka manipulates his audience just like Parker manipulates an entire community. "Of Good Report" then leaves the same savage aftertaste as "Cold Fish" or Richard Stanley's "Dust Devil" and a character in Parker Sithole as shocking as Travis Bickle or Patrick Bateman.
Hidden abuse is also a feature of Jordi Cadena's stark and unsettling film, "The Fear." The setting is an urban family apartment, modern and well presented. The father gets ready to leave, a series of distorted close-ups reveal his routine but his wife and two children lie frozen in bed as if hiding from the S.S. Their monster is home grown and unpredictable. The son Manel copes by listening to Rap music on his head phones, the daughter Coral confides in her doll. They display the classic signs of having witnessed domestic violence, arriving at school early and leaving as late as possible. Manel's own fear is that he will turn into his father, Coral's is subtler when she asks, "Who do we belong to?"
"The Fear" has a creeping sense of dread that is almost undone with some superfluous flash forwards. Cadena's direction is better when he suggests the tragic inevitability of the family coming to greater harm by some incredible close-ups, especially of the mother when she listens to rock music to drown out her situation. The young leads are incredible, trying to make sense of the ultimate parental betrayal whilst also trying to protect their mum. When the father coldly states, "If you leave, I'll kill you all" we truly believe it. Whether or not "The Fear" should be read, as a brutal parable of the dire economic situation in Spain is open to some debate, as it would give an unwanted excuse for the father's part in the truly barbaric ending.