[rating=4]
Route Irish
In "Route Irish" Ken Loach turns his critical eye to the privatisation of the war in Iraq and the devastating legacy these multi million companies leave behind in that country and in Great Britain. Lured by wages of thousands of pounds, tax-free of course, elite British soldiers ditch the regular army and their pitiful pay packets to baby-sit journalists, building contractors or mine clearance teams.
S.A.S veteran Fergus is one of these private contractors. He lives in a plush, minimal apartment overlooking Liverpool's Albert Dock, wears Y-3 hoddies and Nudie jeans and can flatten bouncers in the blink of an eye. He's also suffering badly from posttraumatic stress disorder. Fergus' latest nightclub altercation means surrendering his passport to the authorities leaving him stranded in his hometown and helpless to intervene directly when his childhood friend Frankie is killed on Route Irish, "The most dangerous road in the world" and the shuttle run between Baghdad airport and the Green Zone.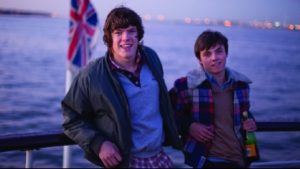 Loach sells Fergus and Frankie's claustrophobic relationship from the off with a flashback title sequence on the Mersey Ferry. This is the 80s of Derek Hatton and the Militants, Thatcher's conservatives, crushing unemployment and the end of a male working class culture. The young Fergus and Frankie dream of escaping the relentless poverty of their city and seeing the world the only way boys could in their situation: on the Queen's shilling.
Fergus' grief then is all the more consuming, crippling him with rage and guilt as he talked Frankie into working with him in Iraq. A scene in the church where Fergus breaks into Frankie's coffin is both unnerving and moving. We never see Frankie's body; an undertaker warns us earlier "He's not complete." So when Fergus removes Frankie's tie, "He hated fucking ties," and holds his dead hand we can only imagine the horrific state his best friend sees him in for the final time.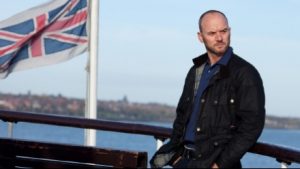 Frankie and Fergus' suave boss Haynes gives a stirring eulogy at the funeral. Haynes waxes lyrical about his deceased employee, "Frankie was a protector, a nation builder," and refers to all private security in Iraq as, "Unsung heroes of our time." Before the wake Walker, Haynes' number two goes through the evidence of Frankie's death with his family and girlfriend Rachel, "He was simply in the wrong place at the wrong time." Fergus doesn't buy it and employs an Iraqi to translate a mobile sent to him by Frankie via their mutual girlfriend.
"Route Irish" is about as close to a conventional thriller as Loach will ever get but the political subtext is just as powerful as "Hidden Agenda" that detailed the Royal Ulster Constabulary's "shoot to kill policy" in Northern Ireland. Loach painfully reveals that by privatising war you bury the grievous evidence away from the British public. In this country the working class suffer, stripped of industry by the financial crisis young men in poor areas sign up for the army. In one school in Barking & Dagenham over 70 students from a cohort of 220 went to an Army fact-finding day. In the past they would have found apprenticeships with Ford.