Though the models of Playboy are often depicted as cartoonish and over-the-top, the magazine is now taking this one step further: Marge Simpson is posing for the magazine. On Friday, newsstands in the U.S. will feature the first ever cartoon cover-girl with the three-page spread, "The Devil in Marge Simpson," in Playboy's November 2009 issue. The tongue-in-cheek spread, which features no actual nudity and instead offers Marge clad in "racy lingerie," will be marketed at an 18-25 years old demographic to commemorate the 20th anniversary of "The Simpsons" appearing on-air.
Clearly, Playboy is hoping to attract not only controversy, but a younger audience who would statistically much rather log-in to a website than buy a magazine. Internet pornography is a vast and seemingly limitless market which offers anonymity, low-cost or free-trial membership, and instant access anywhere, any time. In contrast, the average Playboy subscriber is 35-years old and might prefer the printed medium to the web.
Ecommerce Journal argued in a recent editorial that "Young people, especially teens, tend to subvert accepted standards of beauty. They want to watch porn related to their world, porn that they can purchase online. The adult entertainment industry has nothing to do but jump on the bandwagon and begin promoting for the younger generation."
Lacking a younger audience and plunging into a financial nosedive (along with the rest of the publishing business), Playboy hopes this cover will reverse its downward trends in newsstand sales and subscriptions. CNN noted that the magazine, which at peak circulation boasted 3.1 million magazines sold, recently "came in 200,000 short of its 2.6 million rate base — the minimum circulation a magazine promises to advertisers." In a bid to compete with their online rivals and attract a younger audience, Playboy is even offering the magazine for sale at 7-11 locations in the U.S. This is a savvy marketing strategy and a clear homage to the fictional Kwik-E-Mart. 7-11 locales also have the added benefits of being both less seedy than the typical adult video store and far more likely to have younger teens and adults parading the aisles.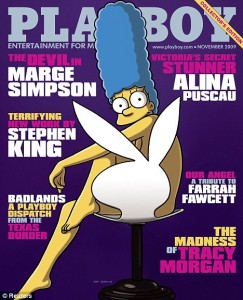 Given the character's conservative demeanor on the show, fans are surprised that Marge would bare all (or, at least, bare some) for the likes of Playboy.
On the other hand, Marge has played much more than homemaker and mother on the show. In twenty seasons, Marge has portrayed many diverse career roles, including a cop, a nuclear technician (with Homer beside her, of course), and even a pretzel-franchise owner. Yet her sexuality is often portrayed as monogamous in the face of extramarital temptation, religious (in the episode "The Haw-Hawed Couple," Marge prays, "Dear Lord, we thank you for the sexual intimacy we are about to enjoy") and conservative in dress and demeanor.
Too often, Marge's "family values" have been pitted against the rowdy behavior of Bart and Homer Simpson. As Bart and Homer revel in excess, law-breaking, and mischievous antics, Marge has only dallied in controversy, and even those storylines (her addiction to gambling, for example) are played for redemption rather than laughs.
Religious author Kenneth Briggs told the Guardian in 2001 that Marge was his personal "candidate for sainthood … She lives in the real world, she lives with crises, with flawed people. She forgives and she makes her own mistakes. She is a forgiving, loving person … absolutely saintly." Given these high moral standards, is it any wonder that Zap2it blog writer Hanh Nguyen announced,
"Yes, the blue-haired matriarch of Springfield has revealed a bit more of that yellow skin than we've ever seen before for an alluring pose that makes us feel, well, kind of disturbed. Check her out: We love Marge, but sexualizing her? That just seems wrong somehow."
The Simpson family, while not ethnically defined, are most often read as Caucasian by viewers. Why, then, did Playboy model Marge's cover after that of another Playboy first, Darine Stern? In October 1971, Stern was the first woman of color to appear on the cover of Playboy. Her iconic image – while never being paid tribute in previous issues – is replicated on this cover by Marge, a cartoon character. Editorial director Jimmy Jellinkek claims,
"We decided to re-create [it] because it's one of our most iconic covers and because Marge's sexy blue beehive immediately made us think of Darine Stern, whose beautiful, voluminous hairdo was front and center on the October 1971 cover."
Is the magazine actually suggesting that hair belonging to women of color most closely resembles a cartoon? Or that only a cartoon character could pay tribute to a woman of color model? This statement, endorsed by the magazine, takes product endorsement and equates it with the experience of a woman living at a critical intersection of race and gender.
Without getting into a debate of sex-positive vs. anti-pornography ideology, I think it's safe to say that the November cover of Playboy is a move based more heavily in consumerist tastes than subversive art. "The Simpsons," which continues to win awards and receive media attention, is also hoping to keep its fan-base interested, titillated, and returning in large droves on Sunday nights to watch the show. A cross-marketing strategy with Playboy might seem risqué, but it's actually more of the same capitalist-publishing which readers of the magazine and viewers of the show alike have come to expect: product placement, the exploitation of people of color, and another ho-hum nod to female sexuality.