MTV Ukraine makes a mockery of domestic violence
Posted on Wednesday, September 17th, 2008 at 3:27 pm
Author: Natalia Antonova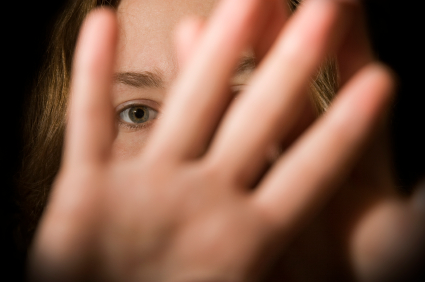 Last weekend, I was sitting in a restaurant in Kyiv, eating barbecue wings, and witnessing a new low in the world of Ukrainian media.
The recently launched MTV Ukraine was showing a translated program – it had something to do with hip hop. At the bottom of the screen there was listed something called "The Topic of the Day" – which is basically a question one can answer by texting an SMS to a certain number, if one is bored enough, I suppose. The answers themselves were being fed directly onto the TV screen.
Though I found it hard to believe at first, the topic was "Can you beat girls?"
Yep, there it was, staring me in the face.
I went up to the TV screen and snapped a couple of pictures with my phone. Meanwhile, my table companions quickly became animated as they realized what I was reacting to.
"You're not going to change anything by being outraged," Miros'ka (not his real name) said. "Anyway, they have a right to ask an honest question of their audience."
"This is not an honest question," Christina (not her real name) argued. "It's like they're making a joke. They're acting as though this discussion is appropriate for a light-hearted forum, as if it's not a serious problem we face. I'm sorry, but would they get away with a question that was more like: 'Is it OK to steal money from the elderly?' NO. Why? Because domestic violence is treated like it's normal."
"The problem is that they would even ask this question to begin with," Borya (not his real name either), the youngest of our group, said.
As you can probably guess by now, I did not take Miros'ka's position. I have no problem with honest surveys, but taking this discussion and turning it into today's entertainment is disrespectful, sexist, and dismissive of the very real issue of domestic violence which Ukraine, like many other countries, is facing.
Did I think that MTV Ukraine were being deliberately misogynist? No, not really. But neither did I think that they shouldn't be held accountable for their actions. The scary thing about misogyny is how we internalize it without thinking, to the point that such an inquiry seems legitimate.
I did not expect this from MTV Ukraine. I did not expect this from MTV in general. Courting controversy is one thing, the normalization of domestic violence is something else entirely.
"You're too politically correct," Miros'ka told me.
"Yeah, that's my problem, you got it!" I snapped at him. "The fact that my aunt finally left her abusive husband this year has NOTHING to do with it! Oh, oh, and I suppose the saying 'if he hits you, it means he loves you' [popular in many segments of our society] has nothing to do with it either!"
He got quiet. We all got quiet. The barbecue wings just weren't going down so well all of a sudden. The responses to the "topic of the day" were pouring in across the screen. Some people took the opportunity to announce their boredom and phone number to any ladies or fellas that may have been reading. Others responded to the question. Many said that beating girls was inappropriate. And yet, many others said yes, and even provided "guidelines" for such behaviour.
If you're up to it, please send an e-mail to mtv [at] mtv [dot] ua, and tell them what idiots they're being, and that an apology is needed. Also, please contact MTV proper; their New York number should be 212-258-8000.
Here are the snapshots I took with my mobile phone (the language is Ukrainian, however, anyone who can read Russian should be able to understand it as well):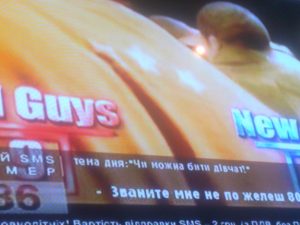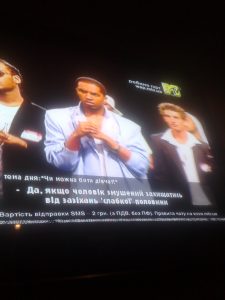 The first picture is a close-up. In the second one, the MTV logo is visible.