Mumbai: some of us didn't die
Posted on Sunday, November 30th, 2008 at 1:52 pm
Author: Feature Writer
Gc contributor: Sanchita Scherezade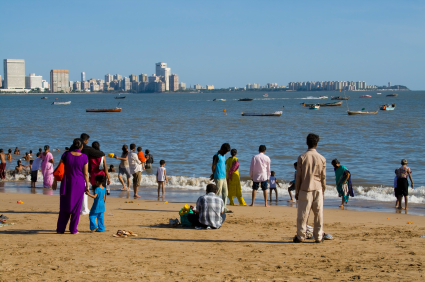 But some of us did. And for those who did, it's important that we seek a revolution in this city. In this country. Recurrent chants of "Bharat Mata ki Jai"(Long Live Mother India) are not going to procure any respite by way of pop patriotism that this country is so well renowned for. It's time for action. Studied and structured. Action.
My beloved city was held hostage at gunpoint for almost three straight days while the f*ckwits who are supposed to lead and guide us swapped accusations, blame and vituperative nonsense. Heinous is a word that not only accurately describes what the terrorists did to us but also what the political machinery of this country has done to us. Such lack of empathy and accountability bewilders me. It enrages me. Sets my heart on fire.
News reports are teeming with obvious gaffes in the professional structure of the security and intelligence agencies of this country: the possibility of this attack was made apparent as far back as October and none paid heed to it.
People have now poured out onto the streets of Mumbai. Because we didn't die and since we are here, we need to ensure that those who died for us aren't forgotten. The ire and invectives will fade, but the memory of this carnage never should. What it represents and who needs to face the political guillotine is what this nation needs to decide.
I have fiddled with this thought before and I am convinced of its dynamism now – Courage is a choice. For the 30 something army Major who was an all rounder sportsman at the National Defence Academy, Pune, it was. For the decorated officers of the Mumbai Police Force Force who lead from the front, not the sidelines, it was a choice. For the almost unguarded DB Marg cops who were in possession of archaic weapons at Girgaum, but still took on the armed-to-the-teeth terrorists because it was, quite literally, about doing or dying, it was a particularly important choice.
We must chose to do something now.
Constantly displayed footage of Major Sandeep Unnikrishnan's mother weeping inconsolably while talking to her dead son, bent over the coffin that carried his body draped in the national tricolor, is a scene I won't forgive in a hurry. Her helplessness, her agony can't be felt by anyone who hasn't lost a young son in the battlefield.
When I juxtapose this image with the state's home minister R.R. Patil's callous response about how such "small incidents" occur quite frequently in cities as large as Mumbai, I want to rip this turgid buffoon's darkened heart out of his chest and tear it to a million pieces. Supplement this almost brutal tactlessness with the ironic visuals of the central Home minister, Shivraj Patil, walking away from the Congress Working Committee's meeting rubbing his hands together as though indicating to the nation that he has officially washed his hands of this tragedy and many others that preceded this one.
He claims to have resigned because he didn't want his party to suffer. Never mind the 195 dead and 300-odd injured people, it's the party he cares about. Such a singularly nauseous display of sycophancy is rarely found.
As of now, the Home Minister has resigned from his post following some serious pressure from his detractors in the Congress/party/the ruling government, though it makes you wonder how different the situation in this country would have been if he had done this a few months ago, when the whole nation was up in flames every second week. This kind of political failure makes one weary and livid at the same time.
We have been deceived by our central intelligence agencies and our politburos in equal measures. You wonder what kind of black-hole ingested their sense of duty to the citizens of this nation when stretchers upon stretchers were wheeled out of the Taj and the Oberoi, carrying the bodies of those who were caught in the gun battles. The stench of flesh at these places made the rescuing commandos dizzy.
The plasma screens across the city, the country and the world beam videos and pictures of abandoned footwear and food, cars turned into flattened metal sieves due to the innumerable bullet holes: the well-coordinated dance of death and destruction rattled the very foundations of Mumbai and the whole country, but we are still without any solid post-trauma action plan. Our government still looks as clueless as it did when the masses brought them to power.
The Prime Minister's national address inspired disdain and not confidence, his ineffectiveness superseded only by his apathy. Brilliant economists don't necessarily translate into capable leaders. Let this be a lesson to democracies everywhere.
Manmohan Singh's apathy is further mirrored by the chief minister of this state of Maharashtra, Vilasrao Deshmukh, and his cabinet cronies: he wasn't even aware of the approximate number of the casualties at even one of the three locations at a press conference. When the heat in the kitchen got slightly unbearable, he did what he well known for – He ran. To a "party meeting". Class act.
The biggest error on part of politicians was their strict inability to present a united front in the face of this national crisis. The poobahs of partisan political beliefs took no time in going for each other's jugular. They could have waited to sling mud until the situation stabilized and we have averted the tragedy. But no! How about a giant scoop of irony with some shavings of self-preservation in our dysfunctional democratic soufflé? You'll like it kids!
As of now the state is in a limbo and so is the country. If these attacks are indication of our preparedness for war – internal or external – then I'd say we are in some seriously troubled waters. The Marine Commandos and the NSG may have rescued us this time, with some significant damages in the bargain, but why did we land ourselves in a mess so capital to begin with? Yes, you can't predict it but can't you at least combat it with less damage.
There are questions galore:
How does a group of 10 hold a whole bloody city to ransom?

Where are the pseudo-intellectuals who aim their guns at the resident police force when it manages to trap terrorists, all in the name of human rights violation? Arundhati Roy – Go take a walk at the Taj Hotel in Mumbai, you will know what violating human rights means in real terms.

Why do our cops have such ancient weapons and communication devices? How can you go head-to-head when you have walkie talkies on one side while the other side is well equipped with satellite phones and cutting edge technology?

How did the trawlers and the mother ship used to transport the terrorists go undetected all the way to the Mumbai dock? Was the coast guard sleeping?

Why didn't the central intelligence agencies act on warning – provided earlier during the year – about the possibility of a fresh batch of terror attacks that could be carried out in the country's economic capital?

Why did the 3 top cops of the Mumbai Police walk into the combat zone with little or no protection and with antiquated weapons? Why wasn't there a more refined and structured approach to this whole situation? Also, why were they all allowed to move ahead in the same vehicle? (This vehicle was later utilized by the terrorists to travel through South Bombay shooting indiscriminately at random civilians and the media.)

Why weren't the NSG commandos given a clear blueprint of the inside of the very hotels they were supposed to comb and sanitize from the terrorists?

Why don't we have a resident NSG commando center set up for Mumbai? At least some deaths could've been avoided if we could cut short the response time between the terrorist takeover of the hotel and the Marcos/ NSG stepping in.

When can we really stand up, as a nation, and make a clear point on the world stage that Pakistan – whether directly or indirectly – is involved in perpetrating terror in India?
These attacks may not find state sponsorship – thought, there is substantial proof that the men sent to destroy Mumbai were in fact trained by ISI and Pak Navy in laying sea mines as well as intense warfare in the waters of the high sea– but their epicenter is the Pak-Afghanistan belt and this needs immediate addressing.
USA needs to get this clear – global warfare on terrorism means Us and Them. Not just Americans. This affects all of us. We need to count too. Our lives matter.
A billion people have a billion questions that our incompetent politicians and bureaucracy will eventually have to face. Yet public memory in this country is fairly short. We forget with ease, we take refuge in the so-called "never say die" attitude that's probably a figment of some bungling pen pusher's imagination. It's not the spirit of the city, it's a need. We have to get up and move on. What other option is there? There is a livelihood that needs to earned. Food that needs to be put on the table for the family of 18 who have lost their sole breadwinners.
Our political nincompoops are smart enough to realize that someone so taken in by the mammoth task of just surviving in this city of dreams (and now, screams and gunshots) will probably have no time to introspect about its safety or its future. We mustn't let them get away with this assumption. Because we didn't die.
This is a spiritual nation, one that doesn't believe in unnecessary violence of bloodshed, so it's even more tragic to watch its streets colored an insidious shade of carmine. My city cried for three whole days. I received text messages from friends who were placed under house arrest while snipers lunged forward from their terraces and balconies, taking aim at the gutless and godless barbarians who wanted to maim and kill and destroy.
I had Coast Guard choppers circle my building and those in that vicinity because the creek is close by and right now the sea is not safe – the sea that inspires, nurtures our dreams and washes away our guilt, our sins. That very sea is suddenly our biggest threat.
Café Leopold has gaping holes in the wall from the shooting, the same size that encumber our political and national security system. The owner of this Mumbai landmark has already commenced repairing it and has decided that they will be back in business in no time while the policy makers and national leaders of this country continue to employ subterfuges. It would inculcate a sense of victory in us if only they would have displayed some passion, a cherished zeal for this country they are poised to ruin to dust.
We must never forget that we didn't die. Because in this country we often do.
Title borrowed from June Jordan's "Some of us did not die" – a collection of essays published after 9/11.