Oedipal Dalek Asylum: Doctor Who and Steven Moffat's Mother Issues
Posted on Monday, September 3rd, 2012 at 12:55 pm
Author: s.e. smith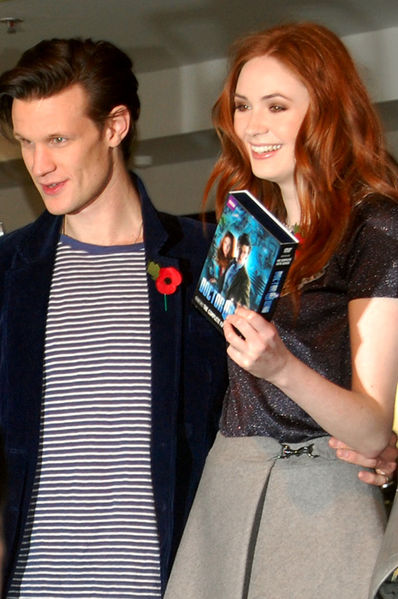 The weekend brought us the return of Steven Moffat's fixation on mothers in 'Aslyum of the Daleks.' The Doctor Who creator cannot seem to tear himself away from this theme, circling around it over and over again in a variety of ways. One wonders how he finds new territory to explore when he's already gone over it so thoroughly.
'Aslyum of the Daleks' took us to a planet used by the Daleks as a dumping ground for their unwanted, an effective prison planet turned mental institution which hadn't proved as secure as the Daleks might have wanted. Even the Daleks, it appears, have an aversion to allowing mentally ill people out in society. The Doctor was reunited with Amy and Rory in this episode as a result of a Dalek plot which took them to the planet in order to lower the forcefield so they could escape, which would also enable the Daleks to destroy it to clean up their security problem. The catch becomes getting off the planet, requiring a delicate dance with a teleporter to escape before the asylum is ripped apart.
A standard Doctor Who plot with the usual amount of tension and familiar pacing, but 'Asylum of the Daleks' also put us squarely into the midst of Amy and Rory's failing marriage. The Doctor, with his usual compulsion to fix everything around him, manufactured a situation that left the two alone in an attempt to force them to work out their differences, which, of course, they did, but what was revealed in the course of the conversation was a fascinating insight into how Moffat views women.
Or it would be, if Moffat hadn't made the point a thousand times already.
Rory asserts that he loves Amy more than she loves him and this has always been the case, a statement many viewers would probably agree with. Rory always seems like the person Amy has settled for since she can't have the Doctor, someone familiar and comfortable but not someone who inspires deep passion in her. While they may have a long history together, it is not a particularly fiery one.
Amy, infuriated, shoots back with the argument that she loves him more; the fracturing of their marriage occurred because she gave him up, not because she left him, as she'd led him to believe. Tearily, Amy explains that she's infertile as a result of the events depicted in 'A Good Man Goes to War,' and because Rory always wanted children, she didn't want to force him to stay in the marriage. In his usual befuddled way, Rory gawped and mooned about on set for a few moments before they reconciled, affirming to viewers that the pairing was not yet dead.
Moffat has a deep and almost troubling obsession with the idea of motherhood, defining many of his female characters around it and often making disturbing assertions about what motherhood means to women. Amy feels inadequate because she can't have children, and rather than discussing the situation with Rory, she isolates herself, making a sacrifice on the assumption that it's what Rory would want. She decides she's unfit for their marriage on the grounds that she can't have children, although she explores this primarily in the context of what she thinks Rory wants, not what she herself might desire in life.
While many viewers may have been thinking that there are, of course, many ways to have children, it's curious that Rory didn't mention any of them in his response to her. There was nothing to affirm the fact that Amy could still be a mother if they wanted to have children together, even if she wouldn't physically bear them, even as he rejected the idea that they should separate because she's infertile. There was an almost sinister acceptance of the premise that Amy can't be a mother, and no discussion at all of whether she even wants to be one. Her main relationship to motherhood here was in the context of not being able to meet Rory's wishes, while hers remained obscured.
All of this drama occurred in the curious absence of their daughter, River Song. River's arc and life story also intersect with Moffat's strange views about women and mothers; she's the product of effectively using Amy as an incubator, and we see her in the series mostly as an adult woman with her own life and pursuits. Amy and Rory never have a chance to raise her even though they are her parents, and she's a distinctly separate entity; she's very much treated as though she isn't Amy's child in any sense because while Amy gave birth to her, she didn't take part in her upbringing.
The conflict around Amy's gynecological history, as it were, reveals some confusion in Moffat's own mind about mothers, parenting, and how women view their bodies and relationships. Amy and Rory already are parents in the genetic sense, much like people who choose to give children up for adoption, and nothing is going to change that. They could still choose to become parents in the sense of raising a child together, it just wouldn't necessarily be their genetic child, depending on the specifics of Amy's situation. The path to motherhood isn't closed for Amy, unless she herself wants it to be, but we don't know what she wants, because she hasn't told us.
For Moffat, of course, Amy's infertility was a convenient plot device to create tension in their marriage, and subsequently in the seventh series. But it's notable that he chose this, specifically, as a plot device, instead of a number of options. Sometimes it's the small, seemingly casual decisions made by creators that reveal the most about them. For Moffat, women begin and end with their childbearing abilities, so it seems entirely natural to use the lack thereof to drive a narrative.