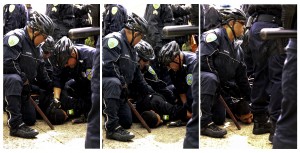 There are no words to describe the feeling of adrenaline spiking through my system right now. There are no words to describe the feeling of being pushed by a police officer, someone who is paid with your tax dollars to serve and protect you.
Yesterday, in San Francisco, on the 6th anniversary of the US invasion of Iraq, what started out as a peaceful demonstration against war and oppression rapidly escalated into a violent clash between aggressive riot police and the substantially outnumbered and unarmed civilian demonstrators. The demonstration, sponsored by ANSWER (Act Now to Stop War and End Racism), was peaceful and calm. It was not unlike many other anti-war demonstrations that have taken place there on many occasions. Sadly, yesterday was different.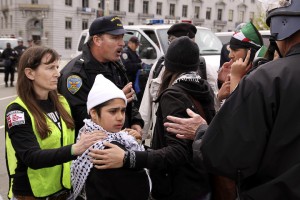 The chaos broke out after a boy who was probably between 8 and 10 years old was detained under suspicion of carrying rocks in his backpack. I never saw a rock in anyone's hand, for that matter. We are in San Francisco after all, not Palestine.
I didn't actually see what happened that caused the police to single the boy out, but I watched as he stood crying between two police officers and several ANSWER organizers who were arguing about whether or not he was going to be arrested. Then, suddenly and without cause, the police began charging the crowd with their batons.
The police were yelling "Get back! Get on the sidewalk! NOW!"- All while pushing people with their batons. Because there was an old subway entrance on the edge of the sidewalk, there was no place for people to go, even if they could have stepped back. The police proceeded to knock people over and violently shove them with their batons up against the metal fence of the old subway entrance.
There were several demonstrators and ANSWER organizers on the ground, the police were pushing against the demonstrators, and the demonstrators were desperately trying to retreat but had nowhere to retreat to. People were screaming, cops were swinging their batons, and all the while a line of baton toting officers was forming around this small area, thus sealing us off from the rest of the rally. It was then that I noticed that the majority of people quarantined in this police pit were Arab American youth.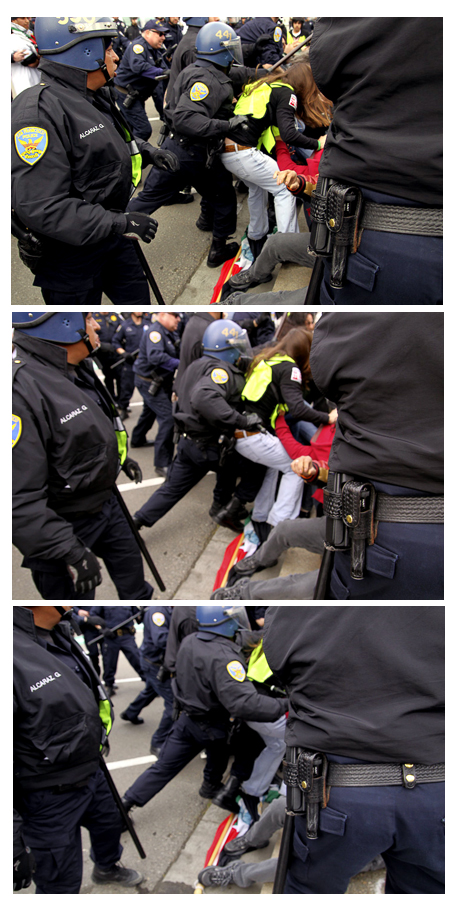 Anyone watching the chaos unfold at yesterday's march could see that the group of Arab American youth who were being corralled were no match for the throngs of well trained, baton-wielding cops. Furthermore, I believe the tactic of trapping us with a flanking line was a method of provocation and thus the cause of further altercations.
Anyone with any common sense would know that physically barricading a group of frightened and angered young people will only serve to escalate a situation. I myself was inside this police barricade and when I politely attempted to exit, I was yelled at and told to find a different exit. This was impossible given the fact that this small area was completely surrounded.
Coincidentally, this place was directly across the street from the Zionist counter-protest. Given the outrageously large number of police officers stationed in front of the counter-protest, I cannot help but wonder if this violent attack by the police was instigated by a local Zionist lobby.
What's more is that earlier during the event, when several Arab American youths made their way over to the counter protest, the police pushed and shoved them back to the other side of the street. But when a counter-protester made his way into the ANSWER rally and began taunting people, the police stood by and did nothing. The blatantly hypocritical stance of the police was despicable. This, coupled with the outright police brutality against Arab American youths, is evidence of systematic bigotry within the San Francisco Police Department.
I have been attending protests for my entire life. Until yesterday, I had never been pushed, shoved, charged, or otherwise aggressively touched by a police officer. It saddens me that on the 6th anniversary of the Iraq war, instead of successfully raising awareness about ending the war and freeing the Middle East, we must struggle to survive something as simple as our right to freedom of assembly.
How are we supposed to feel safe when the people who are responsible for our safety are intimidating and hurting us? How are we supposed to exercise our constitutional rights to freedom of speech and freedom of assembly when there is a government police force standing by to punish us for it? Who are these people who make up the San Francisco Police Department, and every police department for that matter, who see demonstrators as a menace that need to be physically squashed for the good of society? Where is the justice?