Pots and Pans Protest: The Montreal Student Strikes
Posted on Thursday, May 31st, 2012 at 12:15 am
Author: Sarah Jaffe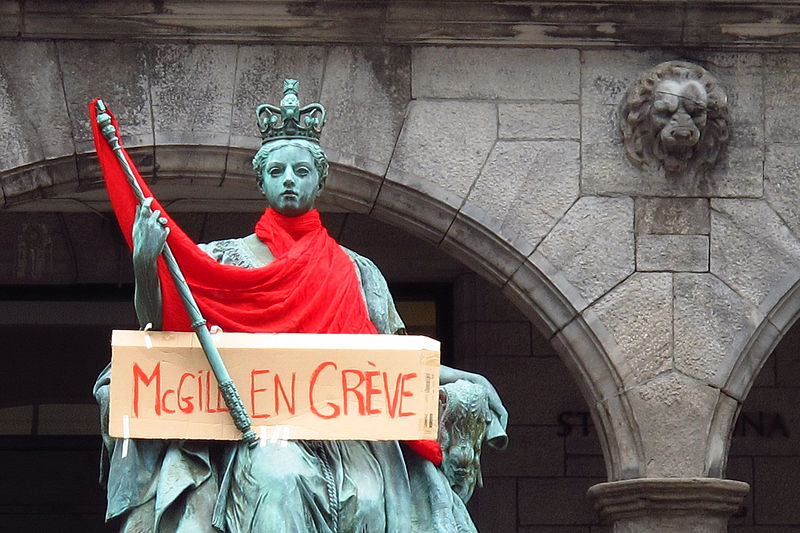 We saw them dotting the streets as we drove into town; here and there, the red squares pinned to shirts, bags, occasionally hats, pots and pans in hand. Little handfuls of them, walking together.
We saw the police, too—passed a line of police cars as we parked our rental, my friends and I, and we watched where they were going with eyes made extra wary by nine months of Occupy Wall Street-related clashes and plenty of recent Montreal news items. We'd driven up that day after a spontaneous decision that we were too close, mentally, emotionally, and yes physically, to Montreal not to go.
Me, I had one of my dearest college friends living there, I'd been to visit her several times and fallen in love with the town, and my mother's half of my family is from Quebec. Jacob Remes, professor of history and public affairs, who'd lived in Montreal the year before and studies Canadian as well as US history, had found us a place to stay, and Melissa Gira Grant, journalist and author of a book on the Occupy Wall Street library, and Tommy Moore, amateur scholar of revolution, played DJ in the backseat throughout upstate New York. One conversation over dinner, a flurry of texts, emails and phone calls, and we took off less than 12 hours after deciding to go.
Less than 24 hours after our decision we parked, got out of the car, and heard the clanging, banging of pots and pans. Tommy darted in the direction of the noise and the rest of us followed, running down an alley in time to see them emerging from the overpass like a conquering army—red squares dotting their breasts, Quebec flags, blue with white fleurs-de-lis, worn as capes or flying above along with red or red and black ones, and nearly all of them banging on pots and pans.
Some of the pans were dented nearly beyond recognition, others looked new just for the casseroles. A grey-haired grandmotherly woman marched solemnly by me as I leaned on the railing separating us from the march. We looked at one another, eyes sparkling. "Should we join?" Jacob asked, but he was already hopping the barricade.
I wasn't on assignment and didn't want to pay international roaming fees for data service, so I wasn't tweeting the march as we walked. I was just a participant. Hundreds marched ahead of us, hundreds more behind—if I'd had to guess at how many were on that first, spontaneous march I'd say 500 but I have no way of knowing for sure because smaller casseroles melted into larger ones all the time (ironically the Montreal police, avid users of Twitter as well as pepper spray, are one of the best ways to find marches to join). We moved down Rue Saint-Denis, grinning like children, as the people in the restaurants and cafes with wide-open doors on the street waved and banged their water glasses, joined in chants and stood up from their seats to cheer.
Montreal and the rest of Quebec were ringing with protest because the government, under Quebec Premier Jean Charest, in its attempt to crush student strikes nearly 100 days old, had enacted Law 78, called by protesters the "loi matraque" or truncheon law—which, among other things, criminalizes marches or gatherings of more than 50 people unless they submit their route for approval 8 hours ahead of time. Aaron Bady at The New Inquiry commented on the law:
In a way, it's actually a lot worse than explicitly making protest illegal, because that would at least be a law that could be consistently applied. If you want to argue that society must be defended, do so. Because then, at least, the principle of legality would still exist. What this is, and should be seen as, is an expressed commitment on the part of the Québec government to put into place whatever legal mechanisms are necessary to stop a specific set of protest. If you want to argue that a specific law is necessitated by some kind of universal principle, you cannot then change basic principles to match the perceived needs of the moment without admitting, pretty clearly, that principles are irrelevant, window dressing, the lipstick you put on the pig when it's not being slaughtered.
The government's plan couldn't have backfired any harder had it been trying to grow the protests rather than stifle them. Not only did Law 78 bring out those in the city who hadn't joined the students' fight against tuition hikes; no, it also woke up the international media. Student strikes are a new thing to most of the world—the Quebec model of student unions, radically democratic, organized by department and employing actual organizers, is so different from anything that most of us understand (not to mention the idea of mass strikes of hundreds of thousands of people seems out of reach here in the US despite recent "general strikes" called by Occupy).
But repression by the police and crackdowns on free speech and association seem to be a language we understand.
May 22nd, just days after the law was passed, saw some 400,000 in the streets in Quebec, and the casseroles have been growing each night. New York and other cities have held solidarity actions, and for months now student activists at CUNY and other schools have been studying the success of the Quebec students in rallying a nation to their cause.
Our hosts, Anna and Graeme, founded a volunteer collective blog, Translating the Printemps Érable, to translate francophone media into English for international audiences as well as the rest of Canada. They were quickly overwhelmed with offers to help translate—and requests for more translations. The blog not only provides hard news, but also cultural commentary, poetry, personal reflections, carrying the spirit of the protests to the widest possible audience.
The red square, which comes from the saying 'carrément dans le rouge,' or 'squarely in the red', the movement's most visible symbol, struck a chord with me when I first heard of it—when I was gifted with one by student activist Biola Jeje, who'd just returned from Montreal—because debt, particularly student debt, has been at the core of the world's uprisings in the past couple of years, from the UK to the US and, now, to Quebec and to Mexico. Because I've spent much of the past six months talking about, writing about, and thinking about student debt and why attacks on college students seem the epitome of the neoliberal ideology bearing down on us all like a wounded, wild animal that doesn't have the sense to know it's dying.
In Quebec, the students know that giving in to a small tuition increase is tantamount to giving in to the idea that education is a private investment, not a social good. It's the idea that US universities are built around, that even some arguments against rising tuition and debt seem to embrace. CLASSE, the most radical of the student unions (and the largest), is calling not only to stop the tuition increase, but to eliminate tuition entirely.
These students understand education as labor and organize as workers who have an equal part in the running of the university—and by striking, hard-picketing classrooms, and taking the streets, they have proved that they have the right and the ability to shut the universities down. And yet, how do you force someone to go back and take part in something that you've framed as a commodity they are purchasing? By the very action of trying to force the students back to class—the same way the Canadian government just voted to force striking CP Rail workers back to work–the government admits that they are equal participants in the functioning of the system, and concedes part of their argument to them. They have proved they are necessary to the system, and the government's desperation to force them back to class proves that society as a whole needs them.
Here at home I have been exhausted trying to connect the dots between students on campus, some of them extraordinary and radical, and those who have graduated or left school, drowning in debt and looking at a thankless system that has nothing to offer them. In Quebec, in the streets, maybe I found the answer.
If there is a secret, it's in the language of the pots and pans, the ordinary people lining the streets in residential districts, red squares pasted in their windows, red sheets or blankets hanging over balconies. It's in the smiles of children banging spoons on pots as their parents grin and wave at protesters, in the graffiti that reads "La Grève Est Étudiante, La Lutte Est Populaire!" (the strike is students, the struggle is everyone's) splashed in red spraypaint on the side of an overpass, stuck on stickers on lampposts and walls around town.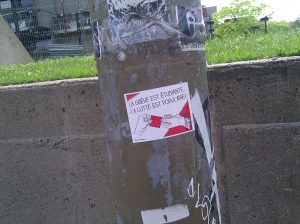 The secret is in the smiles of men on the terasse of a gay bar, who cheered as Anarchopanda, the movement's anti-mascot, posed for photographs and hugged strangers just outside. It is in a city that has embraced the student movement, not without tensions, but has understood that in cracking down on the students, the government is consolidating its own power at the expense of the people, and that only means more neoliberalism to come. (Another bit of graffiti we saw referred to Charest's infamous comment that the students could get jobs in the North as part of the multi-billion-dollar plan to "develop" Quebec's North. The graffiti offers Charest not a job, but a tomb in the North.)
In a city divided by a language barrier, the symbols of this protest are nonverbal; clanging and banging rather than chants, red squares rather than slogans or names. They allowed traveling Anglos like us to step in and be part of the technically-illegal marches, simply by picking up a pot and a spoon.
On Sunday night as we walked back from eating poutine for dinner, as the clock turned 8 PM, we heard the clanging of a pot and spoon. Two young men stood on a balcony banging. Then another, from somewhere down the street. We dashed inside for gear and came back out, standing on a corner, six of us, and others joined us—across the street, walking by, as the neighborhood rang with the sound of disobedience, the sound of solidarity. Cars passing by honked in support—or some had their own pots and pans in the car and hung out the windows, banging along.
It was impossible to escape the feeling that the movement was everywhere; in middle-class neighborhoods as well as student ones, in gay bars and sports bars and antique shops that had red squares in their windows and cafes with protest-related slogans on chalkboards.
On Monday night, back in Brooklyn, Melissa and I sat on another friend's porch and told him about our weekend, and as the clock turned to 8 PM she pulled out the red bell she'd bought in Montreal and our friend retrieved a pot and spoon from his kitchen, and we had our own little casserole in solidarity.
And tonight, New York has called for its own casseroles in the street.