"Shutter Island": trust no one
Posted on Monday, March 15th, 2010 at 8:11 pm
Author: Mark Farnsworth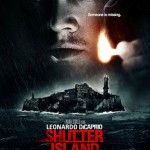 Boston Harbour Islands, 1954. Music, dreadful and foreboding, starts up like impending doom. A ferry is lashed by slate grey weather, the opening bars of an orchestral hurricane to come. Puking his guts up is US Marshall Teddy Daniels, a man who has clearly forgot to pack his sea legs.
"Water," Teddy gasps, trying to get a grip of himself as Scorsese drenches his adaptation of "Shutter Island" in gallons of the stuff. Black eyes, sweating greasy beads of perspiration, chain-smoking Teddy's in bad shape. In contrast his new partner, Chuck sits easily on deck, eager to work with the "legend." Some legend.
Is Teddy even up to the case? A patient from the Ashecliffe Hospital for the criminally insane has absconded from her cell, "evaporated" through the walls, and the guards are spooked. Heavily armed, they wait on the dock like the S.S. storm troopers in The Night of the Long Knives sequence from "The Damned." The score pounds the audience into submission.
Or is it the doors of hell locking you in for eternity? The guards surround Teddy and Chuck and disarm them. "Protocol," they're told, but we've seen this before and it never turns out well. "You act like insanity is catching," says Teddy as the guards press them just a little too close for comfort.
Like a latter day Torquemada, Scorsese keeps us firmly on the rack. We can almost hear the rope creaking as he tightens his grip on Teddy and Chuck, who are whisked to the hospital, an old civil war fortress that commands the skyline. The director makes this simple journey an abject lesson in terror, and if Teddy and Chuck are going-we're going too.
"Shutter Island" is a gothic noir nightmare interpreted by the world's pre-eminent film scholar. Scorsese packs it full of male trauma, A-Bomb paranoia and future shock.
Does the United States Government fund Nazi doctors replicating their hideous death camp experiments on the island, or is this a figment of Teddy's hatred for all things German? What is the significance of a ghostly femme fatale appearing in Teddy's "Rosemary's Baby" style dreams? Why doesn't the cultured and urbane Doctor Cawley agree to release vital information to Teddy and Chuck?

Like any discourse on madness, everything in "Shutter Island" can be read as unreliable. No one is to be trusted, and all perception is relative. Ashecliffe's smoking rooms, dungeons, and hospital wards all conspire against us like an inanimate character, oozing fear and loathing from every brick and ceiling tile as Teddy gradually peels back the layers of this increasingly bizarre case.
Laeta Kalogridis labyrinth script does come dangerously close to eating itself after a breathtaking first half an hour. Does it drag? Its tempting to say so, but "Shutter Island's" stunning ending demands we re-evaluate what we've just seen. It won't leave you alone as you exit the theatre, and one suspects that repeat viewings will turn Scorsese's movie into a minor noir masterpiece along the lines of "Angel Heart" and "Out of the Past."
Until then, trust no one and smoke your own cigarettes.