And so I find myself alone. Hours of luxurious solitude stretch ahead… and it takes about thirty seconds for dirty thoughts to materialize. I draw the curtains, loosen my clothes, light a candle in makeshift holder (long drunk JD, not mine) and pour a Glenlivet.
I start looking up the names that usually elicit scowls, the girls I never got to know over whiskey and coke; some all sugar fizz and gut-pop, stopping you on dancefloors for whispers, eyelashes licking your cheek when you brush a fraction closer; others all soul and colour, spectacles and books, hearts and lungs thumping while they stare you down in the poetry aisle.
First for cheap and cheerful. I know in an instant what to expect with Ellie Goulding, dirty blonde hair scruffed to perfection, vocals flung through candy and polished to Mouseketeer standards. Her face is pasted over London town, vacant and vacuous in a way that, say, Aria Giovanni would be fired for.
Aping Frou Frou, she serves a purpose; hers is the space in between the floorfiller and the comedown. Play 'Starry Eyed' between 'Bulletproof' and 'Star Guitar' to show up all her terrible weaknesses. Pop that lacks sparkle, feels forced to fit, confuses.
Or take 'The Writer', and her demand, "Why don't you be the artist, and make me out of clay? Why don't you be the writer and decide the words I say?" poised at a figure she'll never really talk to. Wait – WAIT – I'm hearing that and thinking of all the things wrong with this, her need to be sculpted and created by an object of affection. She isn't robbed of her agency, she's just giving it away for free.
It is not for now. Now is for the flirtatious voices, the ones that remind me of people I want to know. Ellie reminds me of girls I want to forget I took home. I move on.
Marina stares up and back, eyes dark and pulling. Me. Closer. Close enough to be stamped by the Monty Python art direction, which charms me and almost makes me forget that, oh, yes, her hair is splayed like my pillow's a thought away and all angles lead to her lips.
Marina And The Diamonds, deliciously named, are all found in facets. Her voice is forced into a tumble that vaults stairs and levels dustbins. She sings in specifics that sidestep seduction, but manages to be oh so incredibly attractive instead. She'd fight me as soon as chat, and I like that. We start to move, along 'Mowgli's Road', and it feels purposeful. I'm led down alleys blind, bumping near and linking palms but never really touching.
Come 'Obsessions' it's clear that what's burned her isn't victimhood but strength of feeling. Deft explanations, clarity, driving and direct, she belts out her words to fill the ears of thousands. 'Guilty' finds a destination, voice looping and she slinks forward. Teeth bared, she wants to bruise me. This isn't an emotional demand; she wants people to be before her. She wants me for my body just as much as she wants you.
It means the music is just a thing that hides the places her voice can't reach.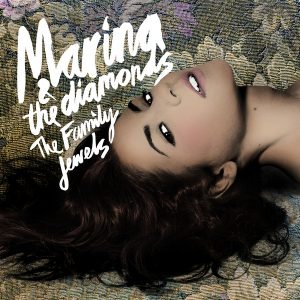 By now I'm searching for something that feels a little more tender, something slow to sink into. I want seduction by lyricism, complexity, something closer to a kiss. Gabby Young & Other Animals leaps from the screen, red hair blistering my face (making me blush?), dancing and frolicking. I want to jive.
Her first words are "Uh-uh-uh-uh-uh-ummmmm…", stuttering and jumping and – like eyelid flutters across the room – breaking my heart. She smoulders. Horns slink while her percussion walks from a Belle-ville Rendezvous and paints dance steps in the air. This lady has soul.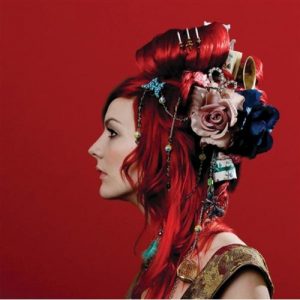 And so we dance. Hand in hand there's a skip and whirl, 'Whose House' hosting a marvelous romp that refers to more pain than it ever betrays. As the song tumbles and sways she reveals with a swoon that "you hold me close to the flame, and my skin is burning." I glance to my candle, then back to the screen, I don't know where to go next, I fumble for progression. 'Ask you a question' meanders by the Seine, chasing gypsies, brash and kicking when I maybe wanted to step a little nearer. This lady, burned before, is not afraid to stomp and fling frills.
But when I don't expect it, when she lets me in close, I'm floored: 'Too Young To Die' she sings. The faces of the circus about her sink, fireworks whistle into the night behind her as she walks away, backlit, ashen faced. The girl has been places, "And I'm fighting to stay here," she says. I map it to what I know: she almost lost her voice to thyroid cancer. She's breaking my heart.
As Young melts away a frenzy starts: no one voice is enough. I Google names I haven't thought of in years; Lily Allen's dismissal rings in my ears; Florence has gone quiet; once-pariah Kate Nash's erotic screech of 'I Just Love You More' teases me to the point of climax before I stay three minutes too long and 'Do Wah Doo' makes me sick. Maybe I'll start looking westward-
My laptop dies.
As I close the lid the inevitable guilt crawls up my stomach. I'm a bit ashamed, a bit disappointed in myself. I'm not sure what I expected, but the voice in the back of my head telling me to be ashamed should have made the list. I feel like every click and hush sold out someone dearer. (Kylie, I'm sorry, forgive me?)
The candle wick burns out and slips into the empty bottle of Jack. Its sparks against the dribble of whiskey lying in the base and finally gutters out. The tendrils of smoke puff and flow inside, never quite creeping up the neck, and the room goes dark.