It starts with Kylie, Kylie and Doctor Who. Kylie is The Doctor; her former self died and a new model rose in its place. She's not the only one either. 00's music was a parade of regeneration – more complex than the reinvention of old – something that required the artist to have the confidence to shrug off suggestions that their former selves were better. The decade's battle-lines weren't drawn between authenticity and gloss or "indie" and "pop". The fight was between those whose histories were played out in public against others who emerged fully formed, accepting no questions, offering no explanations. This line in the sand pitted Kylie against the X Factor, Gorillaz against Blur, The Horrors against themselves and Lady Gaga against the world. It was magnificent.
"I'm through with the past, ain't no point in looking back; the future will be."
It starts with Kylie. Well, it starts with 'Light Years'. From the year 2000 onwards Kylie Minogue whips through some intergalactic plane aboard a ship come festival come stadium live show, surrounded by her own army of nu-pop vagrants. She called them to arms with "Your Disco Needs You", and they are braced for laser shows, glitter bombs and explosions; her one-woman war on pop attracting a tremendous following since her regeneration.
This is not your older brother's Kylie, the lad-mag daydream starlet, stabbing at singing after slinking away from "Neighbours," super-producers pulling her strings. This is the new Kylie; the Morley-Christened robot, endlessly looping through future soundscapes in a bid to erase mediocrity and conquer the broadcast signal; the one true popstar whose live show rolls through space and time with furries, drag queens, Daleks and the spirit of New Order; the woman who beat cancer; the Madonna that time forgot.
Kylie, post-regeneration, is super-confident, storming through the future in pop videos and tours. The music is astounding, frenetic stuff, melodies breaking through charts and onto dancefloors. Her singles are instant classics that trigger blogs, books and scholarly writing. For ten years, everything she does sounds new.
"And no matter how I take it, there's no way I'm gonna fake it; 'cause it's gotta be real."
Damon Albarn ended the nineties looking and sounding like a caricature of himself (an echo of which can been seen absently strumming away on John Dower's Britpop dissection "Live Forever"). Unable to escape hackneyed mockneyism, and with Blur's "American explosion" confined to college radio and nostalgic Anglophiles, Albarn runs away to Reykjavik. There he starts slinging back shots with Jamie Hewlett, the two of them plotting something awful. Between sketchbooks and four tracks an idea takes shape, something that looks like pop but darker.
Gorillaz launch with low-key release "Tomorrow Comes Today." Hiding behind 2-D, Murdoc, Russell and Noodle make an odd hodge-podge of an album that treats sounds like Lego, building something new out of something familiar. Everybody knows it's Albarn, but for a time, the press and and the listeners entertain the notion that something else can thrive for a while. In gigs, there are screens that mask the men and women behind the cartoons while fictional histories blur with marketing and imagined lairs blend with websites. Somehow it all works.
In no time at all, a puppet of Murdoc delivers the Alternative Queen's Speech and the creative team take the circus-like Monkey: Journey to the West to The Royal Opera House. It's the shape of a band, drawn to industrial proportions and given a place in the Guinness Book of World Records. Gorillaz repeatedly fracture the truth of pop, and through the gaps you can see Kylie grinning.
It allows Damon Albarn to change gears. By becoming a cartoon for a while he's allowed to grow up and get on with things. He thrives on music that clashes cultures, with Mali Music and The Good, The Bad and The Queen doing for a new generation of listeners what Strummer's Mescaleros did for another. When Blur come back with Think Tank they don't have to come with an anthem, they don't have to respond to who they used to be; they just get on with it. Damon Albarn, former King of Britpop, became a genuine cultural icon as pop ate itself.
"Threw away my old clothes, got myself a better wardrobe; I got something to say."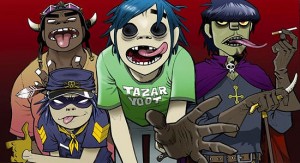 No surprise that Albarn asked The Horrors to appear on 'Plastic Beach', the third Gorillaz album. In an older incarnation, while the frustrated frontman snapped the charts with cartoon fists, the London five piece started touring as a snotty goth-pop act in London and Southend. When people (like Simon Reynolds) write about the death of music in the 00's they manage to be right and wrong: certainly a collection of backward looking musicians picked up their parents' CD collections and built micro-scenes without direction in regional enclaves.
Sunderland's The Futureheads, Leeds' Kaiser Chiefs, Glasgow's Franz Ferdinand, Southampton's Delays, Sheffield's Long Blondes and many many more stomped up and down Britain in the wake of The Libertines success, telling stories about themselves in territories they knew as their own. These bands coveted attention from the music press, both on and offline, gossiping, bitching and biting at heels in an effort to stay ahead of their contemporaries and describe their right to the hallowed halls of pop. The Horrors caught the flapping coat-tails of that and held on tight for two years, spilling in public every little thought that might get a journalist's attention, before suddenly going quiet.
Two years later, completely forgotten and initially ignored, The Horrors returned. This regeneration (although in their case 'repossession' might be more fitting) wasn't supposed to happen; they were supposed to fade like so many of their contemporaries, but they instead snuck out 'Primary Colours'. It's an album swamped in texture, one that sounds like doom and crying. Bitter and funny and dismissive beyond their years it sounded like The Horrors had gone home, washed off the make-up and taken a long hard look in the mirror. Just to piss people off, they put out the eight minute "Sea Within A Sea" as the lead single, a track lacking any real structure or chorus, and it stalked the internet looking for telegraph poles and empty car parks. In live sets, they ignored their early material, in interviews they stayed quiet. They implicitly asked their audience to disregard their former selves, and the audience just smiled in understanding.
Of course, in isolation that means nothing, but when the same story can be written about Alex Ebert (from Ima Robot to Edward Sharpe and The Magnetic Zeroes), Benjamin Curtis (Secret Machines to School of Seven Bells) and Alex Turner (Arctic Monkeys to The Last Shadowpuppets and back again) its clear that a certain brand of frontman isn't too fussed about staying rooted in any one place. None of these musicians had Albarn's stature, none of them had Kylie's empire behind them, but all of them were accepted in their disparate ventures without question. The public enjoyed what they were doing, and didn't care to know more.
"I'm breaking it down, I'm not the same. I know you're feeling me 'cause you like it like this!"
Meanwhile, an ocean away, Katy Perry did the same thing. And Lady Gaga. But it started with Kylie. In England, The Ting Tings followed suit and nobody blinked. Acts pitching for glitter-pop pomp were launched within fully formed packages, any early motions towards stardom remaining only a footnote in a Wikipedia entry. Nobody wanted the endless historiography of Britney and her fellow Mouseketeers, not least because the lives of others were being so comprehensively covered elsewhere.
The yearly cycle of reality TV contestants, alongside their near ubiquitous number one records, gave the public a surfeit of backstory. The wannabes' lives were raked over in intimate detail in interview upon interview, with their capabilities placed on an even level with their childhood drama. Batches of contestants came closer and closer to some generic Everyman template, their personal kinks and quirks ironed out prior to broadcast and dished out in bland informatics.
The backdrop is record labels in freefall, a decade of sluggish majors haemorrhaging sales figures and cash while listeners settle for faster, cheaper options; performers creating spectacles to coax in punters, emphasising content at any cost; social media and micro-blogging making and breaking stars in the space of a trending topic; citizen journalism making professionals out of everyone with a camera-phone and broadband connection; Total Coverage.
With the lives of most of the glitteratti detailed as comprehensively as that it must have been a breath of fresh air to see Lady Gaga waltzing through techno landscapes with the nonchalant ease of Kylie. Nobody minded not being able to read her poker face, so long as she made them dance.
"And did I forget to mention that I found a new direction; and it leads back to me."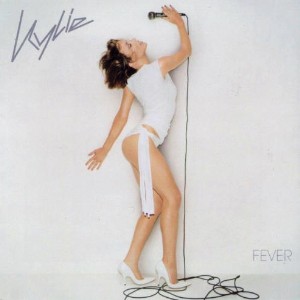 It's January 2007, and in the hangar that is Wembley Arena I'm perched, watching Kylie, along with thousands of others. As she draws the night to a close there is a whirling whoosh; an eerie and familiar echo of retro-future that conjures images of Daleks, Cybermen and the back of the sofa.
Emerging from the rear of the stage while extras and stand-ins pour out in plated armour is Kylie; Time Lord, Showgirl, Queen of Pop. The 'Space Prequel' sequence of the night apes Doctor Who's famous BBC Radiophonic Orchestra soundtrack. The crowd roars, while fading in alongside the wheezing, groaning sound of the TARDIS is that 'La-la-la, la-la la-la-laa'. We just can't get it out of our heads.
If you'd even noticed Impossible Princess, Kylie's stillborn "artistic" effort from 1997, then all this must have seemed, well, impossible. But the decade asked for something more from its performers, the 00's asked for the definitive product. Everybody can reinvent themselves, but it takes someone special to pull off regeneration.