"Survivor Samoa" episode V: food challenge and punishment
Posted on Sunday, October 18th, 2009 at 3:54 pm
Author: Renee Martin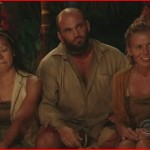 This episode began at camp Galu, as Shambo is isolated. Shambo, we must remember, was the only person to vote for Monica. Though Shambo has been working hard to fit in, she is like a square peg trying to fit into a round hole. Even the ocean seemed to feel Shambo's pain, because the waves crashed high on the shore, making it to unpredictable to interact with. As Erick tried to wash himself, he quickly learned that nature is his master.
"This ocean is a real bitch. You try to go out there and it hits you with massive tides and waves that suck you and pull you, spin you all over the place. I've never seen an object animate or inanimate that was as angry and fickle as this ocean."
When the reward challenge tree mail arrived at Foa Foa, it was clear that the survivors were going to partake in a food challenge. After all, what would a game of "Survivor" be without forcing the contestants to eat something gross? Liz immediately relayed her fears regarding Ashley's ability to compete to Russell Hantz. What would seem a normal conversation to others is always construed as strategizing by Russell, and this was no exception. In conversation with Mick and Jaison, he reports that Liz "is trying to spread little seeds to stay up in everyone's head."
Russell does not like intelligent women because he views them as a threat and this put Liz on Russell's watch list. Speaking privately to the camera, Russell declared,
"She could be dangerous for me if she is able to sway people to go her way instead of my way. So as soon as I see someone playing that mind game on other people they are a huge threat. 'Cause that is what this game is all about; it's mind games. I gotta be the only mind game player here."
When the contestants arrived for the reward challenge, Jeff proudly displayed a table full of "food" from the sea. If the contestants are able to drink what Probes refers to as "Samoa smoothies," comprised of sea slug guts, sea noodles, sea snail, sea urchin, octopus, giant clam, fresh seaweed, jelly fish, and sea cucumber, they will win a reward. Yep, Probes had no problem insinuating that Samoans eat "weird food," which is so unlike Americans. Just as Liz predicted, Ashley was the only member of Foa Foa unable to drink her smoothie. Galu, therefore, beat Foa Foa and won steaks and sausages. Thank goodness for good ol' American food.
As the winner of the reward challenge, Russell Swan sent Shambo over to Foa Foa to observe and search for the immunity idol. When Shambo requested a reprieve because she has already visited the tribe and the trip meant no barbecue, Russell said no. For Russell, it was important that Shambo pay a price for losing the chicken won during the previous reward challenge.
Upon arrival to Foa Foa, Shambo decided to share the clue to the immunity idol with the tribe. She searched the big tree where Russell Hantz found the idol days ago and cane away with nothing. Speculation began as to whether or not Ben was eliminated with the idol, because from the clues, it seemed clear that the idol could not have been hidden elsewhere.
Liz decided to question Russell Hantz about the idol, firm in the belief that he has it in his possession. Hantz once again saw her actions as threatening to him. The men whom he has aligned himself with are unable to see the ways in which they are being manipulated, however. The women who he clearly threatens are actually well aware of what type of game Hantz is playing. When Liz accused Hantz of lying about the idol, he asked her if she wants to be the one to go next. Hantz is clearly the type of man that is used to bullying women to have his way:
"Liz she gets it. She knows what's going on. But why in the world would you threaten me? It's like slapping me in the face. You don't think I'm gonna get back at you?"
All Liz did was call this man out on his lies. In no way did she threaten him. In fact, he was the one to threaten her. For Russell, women must remain silent and obtuse to be acceptable. It is his absolute reliance on undeserved male privilege that made Liz's actions seem threatening. In Hantz's mind, women are not meant to be his equal.
Bearing in mind the threat from Hantz, Liz knew that she had to go into the challenge as strong as possible. It was an endurance challenge and she proved that not only is she smart, but physically strong as well. She outlasted Hantz, even gaining respect from Galu for refusing to give up. Unfortunately, Liz was finally overwhelmed and the tribe lost the elimination challenge.
Back at Foa Foa, the tribe sat huddled in the shelter because of the torrential rain. This frustrated Russell Hantz to no end because he was unable to put a plan into action to eliminate Liz. He asked if anyone would volunteer to go home and got a resounding "NO."
At the tribal council, everyone stated how much they trusted each other. Ashley realized that she was on shaky ground because of her inability to complete the reward challenge and deftly declared how much she trusted Russell Hantz. Despite her verbal show of trust, she was eliminated from the game.
Women that make Russell Hantz aware that they are on to the game that he is playing find themselves eliminated from the game. So far, it seems that the women of "Survivor Samoa" are particularly vulnerable. Shambo was punished by Russell Swan, the leader of Galu, as though all of his contributions to the tribe have been perfect. How quickly he forgets that his tribe is suffering from the torrential downpour because he did not have the good sense to choose a tarp to cover their shelter, for example. Where is his punishment for that?
It appears that only women are held accountable on "Survivor." Just as in the real world, "Survivor" is a boys' club, in which all women who want entry must pay a certain price.