Stephan Faris is the author of Forecast: The Consequences of Climate Change, from the Amazon to the Arctic, from Darfur to Napa Valley, a new book that takes a look at the way that climate change is already affecting our world. Jonathan Mok's review follows his interview with the author.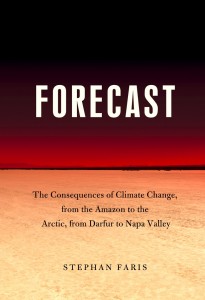 Jonathan Mok: First of all, what motivated you to write this book?
Stephan Faris: I first started thinking about climate change after visiting refugee camps just outside of Darfur, where I was covering the beginning of the conflict for Time Magazine. Though it was clear to me even then that the fighting had environmental origins, it was only later that I came across the idea that those origins were rooted in the emissions from our cars, power plants and factories.
So this book basically began as an attempt to see how strong a case could be made for the links between climate change and the conflict in Darfur. And as you see in the book, I think the case is pretty strong. And its implications on other parts of the world are pretty serious.
I then became interested in exploring how climate change was affecting our lives in other ways. If it can have that strong an impact in a place like Darfur, how is it being felt in other areas? So I went to look at the American Gulf Coast, where the fear of more violent storms has driven up insurance rates and consequently threatens to drive people from their homes. I visited Europe, where climate change is raising immigration pressures, and the Arctic, where the melting ice is redrawing geopolitical boundaries. I also looked into the potential of climate change to cause outbreaks of disease, to change the taste of wine, and to spark catastrophe in places like South Asia.
Jonathan: You talk about how the neo-fascist British National Party has tried to embrace environmentalism in its call for restricting immigration, while green activists have become divided about advocating the call for controlling immigration and population. You mention that the marriage between environmentalism and the left has rather been a recent phenomenon. Can you talk about that more?