"I used to be a Bible-banging homophobe. I'm sorry." Thus read a sign carried by Andrew Marin of the eponymous Marin Foundation at the Chicago gay pride parade on Sunday. But despite his somewhat unfortunate imagery, Marin's still out there banging … his Bible. He's just keeping it on the down low.
And the Foundation's display of "I'm sorry" merchandise (t-shirts available for $20!) went over swimmingly – just look at the tender moment captured on the sidebar. However, many, including noted columnist Dan Savage started to question the Foundation's motives. As Savage put it, "I don't want … to discover that these guys came to pride to deliver the same old love-the-sinner-hate-the-sin message …"
Sadly, while Marin is very coy on his website – sticking to feel-good rhetoric and a nebulous desire to improve relations with the LGBT community – his real views are never far below the surface. His personal blog includes a link to an infamous "pray away the gay" group – the Institute for Sexual Identity at Pat Robertson's Regent University.
Marin's allegiances become even more obvious while reading his book Love is an Orientation. Marin is clear that "Bible believing Christians" such as himself who take a "traditional Christian hermeneutical interpretation" of the Bible are "against same sex behavior of any kind." However, he believes that "love the sinner, hate the sin" (a fully accurate description of his ministry) should be "remove[d] … from our vocabulary" because it might cause LGBT individuals to "build up their defenses."
And this is Marin's principle message throughout the book – don't argue about things like civil rights, biblical interpretation, gay marriage, etc. because you'll only make those sensitive homosexuals mad. And we're trying to "elevate the conversation" and "build a bridge" between the LGBT and evangelical communities so that we can get them fixed and Saved.
And that's what it's about for Andrew Marin. That's the endgame. Getting 'em to repent, come to Christ, and change their ways. While he is very careful to sidestep the question of whether or not he believes that LGBT individuals can change their orientation, he does say that:
The metric of change in relation to a GLBT person's faith journey … can cover a number of variables: secular to spiritual, non-Christian to Christian, sexually active to celibate, gay to straight …
In this vein, Marin provides many personal success stories where his love and encouragement has helped grateful LGBT folks make all of the above journeys. He says that "sticking to the facts" of these stories "diffuses the weight of opinion-based answers." One might also add that no one has been able to reproduce the results claimed in his anecdotes in any peer-reviewed scientific study. But that would be a whole other article. And I'm lazy.
The one thing that all the LGBT folks he meets in his book have in common is that they are all miserable, and most of them have HIV/AIDS. They are prostitutes, junkies, burnt-out workaholics, depressed, often suicidal, with no meaning in their lives. Until their great savior (Marin, or Jesus of Nazareth, still not sure which) comes along and listens to their feelings. And treats them like a real human being. With a gayness problem, of course.
And they're so grateful. In fact, Marin's Foundation (which along with his associated book and speaking engagements provides most of his income) received a lot of its initial funding from the gay folks of Chicago's "Boystown" neighborhood, where Marin lived and obsessively attended gay dance clubs at the urging of the Lord.
And just as Marin was kind to the gay bar patrons, the bars have in turn provided great opportunities for the Foundation – as my friend Luke says, "give, and it shall be given unto you." Marin decided that other fundamentalist Christians should see how real and human the gays could be and organized a continuing event for Christian groups called "Out Night" where they could go down to Boystown and observe the LGBT community in a sympathetic forum they could easily relate to – good, wholesome fun like the Friday Night Shower Contest and Saturday Night Lube Wrestling (no, I am not making that up).
After the unqualified success of "Out Night," many expected Marin to attempt to further heal religious tensions by taking Christian youth groups to experience "authentic" Islamic culture at a Hezbollah training camp, but he instead decided to continue "bridging the divide" by teaching a class on "Immersion into the Gay and Lesbian Community" at the fundamentalist Moody Bible Institute's graduate school.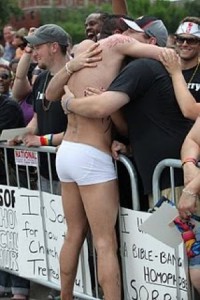 If the class is anything like Marin's book, he teaches the kids at Moody not to directly criticize gay sex because "sexual behavior is gay identity". All those silly, sensitive old gay folks get mad when you trash talk their buttsex because that's all they do all day – it's who they are. It's not like they have meaningful, healthy romantic relationships or anything – they're all miserable hookers. But because that would make them mad and stop us from working together to "make a difference for the Kingdom."
Marin also spends a lot of time talking about "Gay Christian" and "Christian" theology so that his pupils won't get fooled by sneaky homosexual deviations like original languages and historical context. And even though Marin realizes that "too much damage has been done on both sides for some quick patchwork," he has some great tricks on how to get those pesky gays to listen to you. After you've stopped saying controversial stuff:
Find a gay church with a gay pastor; ask to get together with them so you can listen and learn … next, invite GLBT people to your church … and just watch what happens as that little step inaugurates life-altering redemptive conversations about the things of God with the GLBT community.
Inspiring, that. And I understand why Marin doesn't want to talk about the icky parts of his theology. It's not fun. But before anyone starts "elevating the conversation" with him, he needs to explicitly, and unequivocally confirm that LGBT individuals – and their relationships – have a place in his church and deserve equal protection under the law. Because you can't really ignore the "tough questions" he wishes to avoid when they call your basic humanity into question. And Andrew Marin can't change that simple fact. Even if he's really nice. Even if he wears all the "I'm Sorry" shirts in (what he assures me to be) his massive inventory.
On a personal note, during my time in Mississippi I attended a bible study at a southern Presbyterian church with a lovely girl of African-American ancestry. We drew more than a few stares. And you know what, we deserved to ask for (and receive) the unambiguous, unconditional affirmation of the pastor before we engaged in any more dialogue with that community. And all the LGBT folks out there deserve that as well. I know, because I'm a Christian. As are the welcoming folks at the Epiphany United Church of Christ in Chicago, who are among the Marin Foundation's many donors. Let's all work together to truly make a difference for the Kingdom.
The author is a Baptist seminarian at the Brite Divinity School in Fort Worth, TX.