Driving home from work this evening, I head the news that Corey Haim was dead. I guessed it was a drug overdose, but I didn't guess how I would feel. Gutted. Stupid, I know, considering I've really only seen him in about three decent movies. The rest of his later dross I saw by mistake in bleary-eyed snippets after some heavy nights out.
When I crashed in front of the television, Haim appeared to me as a grotesque straight-to-video caricature of himself. I couldn't tell you the titles. Jesus, I might have dreamt them up, but then, like today, all I could think was – this little f*cker used to be the bollocks. He made me laugh. That quiff, the long coat with the collar turned up, the way he peeked over his sunglasses, the singing in the bath and that classic line, "What are ya, the flying nun?"
Or was that the other Corey?
You see, the chances of two young stars called Corey breaking out at the exact same time in the 80s seemed a million to one shot. I lived in Essex, and the most exotic name I knew was Dave. When Feldman rocked up with Haim in "The Lost Boys," it was like two for one night at "Raquel's" nightclub – cheap and cheerful, with the promise of extreme violence.
"Sleep all day. Party all night. Never grow old. Never die. It's fun to be a vampire."
That was the tagline for "The Lost Boys," and the two Corey's certainly did their best to live up to that reputation. Booze, drugs, birds and brawls – the gruesome twosome fell into the trap of countless teenage stars. Who could blame them? I'm a year younger than Haim, and god knows what I would have done in Hollywood at that age given half the chance.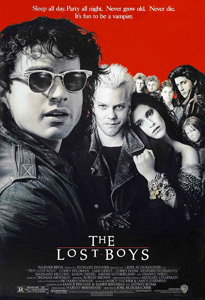 It's not the Hollywood legends that get you when they die, it's the minor stars who you grew up with or discovered in dusty video shops and guarded jealously from others. Before the Internet, you had to work hard for your heroes. You had to wash cars to see them, not click 'download.' Who cares if they were in titles as terrible as "Prayer of the Rollerboys," there were always "License to Drive" and the touching "Lucas."
Corey Haim is dead. I'm gutted. I'm gutted, but I'm happy.
Thinking of Corey reminds me of Ralph Macchio and C. Thomas Howell, boys that couldn't grow up, but will always be "The Karate Kid" or Ponyboy in "The Outsiders." More than that, Haim reminds me of making rap music in the summer holidays on an old four-track recorder. He reminds me of a mate's mum, who would do the "Here's one I made earlier" stuff she saw on "Blue Peter," just to see our bemused reactions.
Most of all, he reminds me of why I love movies in the first place. The sheer joy of them. So may he rest in peace.