When is a cooking lesson worth the same as a dental cleaning? Or a tree stump removal worth the same as a hand-hammered silver bracelet? When both services are provided as part of a time exchange, or time bank. Time banking isn't a new concept–it's been around at least since the late 1980s. But now that most people's wallets are looking more threadbare than at any time since the Great Depression, this creative concept is catching on.
Autumn Congrove, co-founder of the Athens, Ohio Time Exchange, says a time bank is a system whereby people can log hours as a service provider in order to receive services from others. Hers is one of the newer time exchanges among a national network of such organizations. A national group called Time Banks USA, founded by Edgar Cahn, provides software tools, training, and ongoing support for its network of time banks in 42 states.
"It's been really amazing," Congrove said of her experience with time banking. "One of the core values is 'all time is equal.' It's not about what you're doing for someone. It doesn't matter if you're ironing their clothes or rewiring their house. It's not about what the market value of that is. You're giving hours of your life to someone else. And that's the currency."
So instead of a one-on-one bartering exchange or swap, a time exchange can include many participants, each putting in hours and receiving the same number of hours' worth of services. It doesn't assign monetary value to the work or anything produced, so there's no tax liability.
The Athens group's initial efforts have paid off: The Athens Time Bank has been open for less than a year, and, says Congrove, "for the size of our city, we have more members than the New Orleans Time Exchange. So that's kind of impressive." Congrove adds that most of the members who have done at least one exchange "have had wonderful experiences. The folks that are pretty active in it, that keep the hours rolling, are happy with it."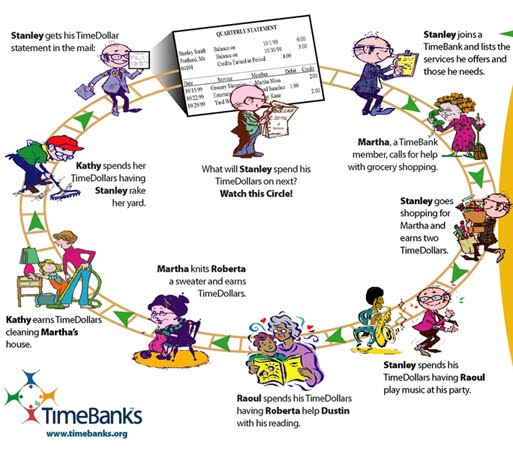 If you've heard enough and are ready to scrape together a little cash and some hardy souls to run your own time exchange, you're in luck. The Time Banks USA network offers resources for getting one up and running, including a paid software subscription for time bank start-ups. (Some time banks, including the one in Athens, charge members a minimal annual fee to cover the cost of the subscription. Congrove says the Athens Time Exchange fee is $5 per year.) It hosts periodic conference calls so that time bank administrators can tap into the knowledge base of others who have been in the game for a while.
Congrove, meanwhile, has some tips for potential time bank start-ups. "If people want to get one going in their area," she says, "the main thing is to have a small core of people that are willing to get the groundwork done and share the load. It can't just be one person."
That's because running a time exchange for a medium-sized town like Athens requires a substantial ongoing time commitment, she says. Once it is up and running, administrators can expect to put in five to ten hours per week with conference calls, troubleshooting and new member orientations. And that's after the initial phase of establishing the time exchange, testing it with a pilot group and creating the orientation process, all of which Congrove says can take up to a year.
But since time banks are based on a spirit of generosity, Congrove says, the work isn't unpleasant and knowledge sharing is the norm. "The folks that are running successful time banks are usually willing to talk to you and give you advice," she says. "We've done our best to return that favor."
Congrove says the work you put in to lay the foundation for the time bank will pay off if the members are active, and if the administrators don't burn out.
"We did some research on failed time exchanges to see why they failed," she said of herself and her co-administrators. "The main reason was administrator burnout. So we realized early on that we would have to allow a lot of room for delegation and autonomy and be realistic about what we could take on as coordinators."
Testing the time exchange concept on a smaller pilot group is one way to avoid pitfalls later on, says Congrove. "We started out with about 15 people and did exchanges just to see where some of the sticking points were," she says, "so that we could come up with a good orientation process for new members when we opened it up."
One such "sticking point" was the issue of travel. "We have a lot of members in Athens city, but there are a lot that live in the next county over. If I make a special trip to someone's house and it takes 20 minutes, [the recipients] need to credit the time." The Athens Time Exchange now encourages members to include travel time in their logs, and to consider reimbursing the provider of a service for the money he or she spent on gas. "Work out as many of the details as possible in advance, so you both arrive at the exchange with the same expectations," is Congrove's rule of thumb.
Safety could be another potential trouble spot in starting a time bank. After all, members are agreeing to meet up with a stranger to exchange services, sometimes at the home of either party. How do you know the person you're dealing with isn't a threat? Congrove said that in her research, she found "some of the other groups were doing background checks–they had paid staff that looked into people." But, she adds, to keep costs down, "we don't run background checks on people. We try to remind people that they are responsible for their personal safety without scaring them. We haven't had any dangerous situations, and we hope it remains that way."
Despite the potential pitfalls, time banks can build a sense of community in a way that other website-based swapping or bartering systems can't, says Congrove. "You build a level of trust with the other people," she says. "It's not like Craigslist where you sell someone a couch and you never really see them again.
"I've lived here for 27 years," she adds. "After you live in a small area for so long, you sort of assume that you've met all the people that you have enough in common with to sit down for a meal. It's been really amazing to me to meet people [through the time exchange] that have lived here for a really long time too that I've never crossed paths with–and never would have–that have turned out to be very good friends. Those are the effects that a lot of us that are active in the time exchange really value."