As a holiday gift to myself and readers, I sat down recently to speak to my friend, translator, and Ukrainian feminist, Maria Dmytrieva, who's famous as Mary Xmas in LiveJournal circles. What follows is a look at modern Ukraine, modern Ukrainian women, and, perhaps most importantly, how to deal with insecure teenagers when teaching them how to stand up for themselves.
Natalia: Here's a rhetorical question to start us off, IS there feminism in Ukraine?
Maria: That's not a rhetorical question, that's a difficult, philosophical question. The most common belief is that feminism is "not needed" in Ukraine, that Ukrainian women have all the rights they need and that we furthermore have a matriarchy. Contrast that, for a moment, with the fact that there less than 8% of members of parliament are female.
Women's organizations are terrified of the word "feminism." Right now, Ukraine has seriously begun to tackle the issue of gender equality; there is a sub-commission on it in the government commission on human rights. The media, however, is very careful to differentiate between "gender equality" and "feminism," because feminists are hellish, castrating creatures, or so everyone thinks.
And why are we so terrified of a single word?
The word "feminism" is a bit like the word "nationalism" here. They are mythologized as destructive and inhumane. The Soviet system equated both feminism and nationalism with the lifestyle of the bourgeoisie. In modern Ukraine, we also spread rumors about how feminism works in, say, the U.S. There is a popular belief that if you come to America, and happen to open a door for a woman, she'll sue you for everything you've got. I've been to the U.S., and I know that's not true, but people enjoy their caricatures.
Can we talk about feminism in the context of nationalism? That's kind of an alien concept, to me.

It's a difficult topic for me. I'm a Ukrainian nationalist, but I know that our nationalism is not progressive. One of the many problems with it is the idea that a woman is a kind of keeper of the household and of national identity. In this role, she gets blamed for everything that goes wrong in the country. "Our women are bitches who f*ck foreigners and ruin our gene pool," does that sound familiar?
Yes.
People want to build a better nation on the backs of women, and that's not going to work. I call myself a nationalist because I believe in developing and bettering Ukraine, but how can I reconcile that with putting fellow women down?
I see eerie similarities between Ukrainian nationalism and National Socialism. Like the Kinder, Küche, Kirche slogan, I find that it's similar to the kind of rhetoric that Ukrainian nationalists spew.
We need to get rid of both sexism and xenophobia, but we don't have critical mass right now.
Speaking of critical mass, what do you think of Yulia Tymoshenko?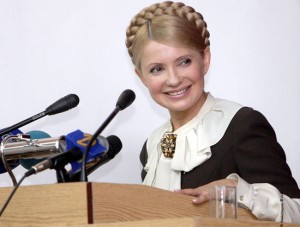 I think it's great that we have a prominent, powerful woman in government, someone who has a real chance of winning the presidency, but I think we can't talk about Yulia Tymoshenko without mentioning the issue of tokenism. Right now, it's too easy for people to say, "what are you complaining about? You have Yulia!" That's beside the fact that every time Yulia makes a mistake, all women collectively are blamed. It really makes me wonder about whether or not quotas for women in government will be useful. Quotas, of course, can result in us having a class of female puppets sitting in parliament, but at the end of the day, I think they will help even out the power imbalance.
Here's something I've been dying to ask a Ukrainian feminist: what do I tell my teenage cousin who says that boys won't like her if she becomes a feminist? She's smart, she's young, she's fit, she wants to have a social life, and she doesn't want to be ostracized.
Let me start off by saying that when I was a teenager, I knew I was unattractive. My classmates wore make-up, and were fashionable, and I wasn't anything like that. However, I started approaching the most attractive boys at all the school dances. They were so surprised, that they usually said "yes." I ended up having a lot of fun. I developed a sense of confidence, and rejection didn't hurt me, because I just moved on. Confidence is key. As the result of having it, I was never bereft of male attention.
You should remind your cousin that feminist women don't dehumanize men. A feminist woman doesn't need a superhero, and guess what? Most men like that. People who don't have unrealistic expectations of one another tend to fight less. And if a man is, say, turned off by your cousin's intelligence, tell her to ask herself if she needs a guy like that in the first place. If a smart woman digs deep enough, the answer is always "no."
When you mentioned superheroes, it made me think about how sexism hurts men too. I know guys who have to be alpha males in all areas of life, 24/7, and if they don't, it's a safe bet their wife or girlfriend will be horribly dissatisfied. I think that really sucks.
I come home to my husband and say, "thank God I have you, thank God we have each other," because I couldn't stand it if our relationship was built on that model. I don't know how anyone could put up with that, male or female.
Women who don't have someone in their lives are pitied, of course. I think so many women in abusive relationships don't leave, because men around here are seriously over-valued.

Well, women in more developed nations also have a hard time leaving abusive relationships, because of Stockholm Syndrome. But I think you're on to something, in regards to how men are over-valued in countries like Ukraine, in Russia, etc. Entire generations of men were wiped out by a series of horrific conflicts, and that sort of thing has consequences on society. It's almost like a reflex by now.
How do we get rid of the reflex?
I don't think anything is going to change for as long as girls are taught that their youth and beauty are the best they can offer the world. Also, the demographic crisis in the country plays its part, because people's knee-jerk response to that is to treat women like baby-making machines. If we curbed the infant mortality rate and the rate at which men die of alcoholism and alcoholism-related illnesses or injuries, our demographic situation would improve. Of course, this solution is more time-consuming and less slapdash than demanding that women just "produce" babies. Once again, it's about building a better nation on the backs of women, and it's not going to work.
I find that the cavalier attitude many in society have toward child-bearing and bringing up kids plays a huge part in keeping women down.
There's a popular saying, "if God gives you children, God will give you the means to support those children." I hate it. I hate it especially because it's usually uttered by people who won't lift a finger to help, say, a single mother in trouble. A child is a responsibility, and it's often shared unequally. I wish people would stop saying that, especially now that there is a financial crisis in this country. All it does is shame people who have nothing to be ashamed about.
Also, it's somehow considered "natural" for men to abandon their families. I mean, it's considered "unfortunate" as well, but it's something that doesn't really shock anyone, does it?
You also have to understand that there are no mechanisms that would allow parents to share custody. Not to mention the fact that there are many situations in which it would be better for the kids to be left with the father, but that option isn't even on the table, because the mother will then be pecked to death. She'll be pecked by her own family, by her neighbours, by her colleagues. She'll be torn apart, because she's "neglecting her duty," even if it's a situation in which everyone would benefit if the kids stayed with the dad.
Because I'd like to end this on a cheerful note, I want to talk about rich husbands. That's all I ever hear about in Ukraine, these days. "Natalia, Natalia, get yourself a rich husband, quick. Before they all get snapped up."
[laughs] Remember, if you marry a man for his money and property, there's no guarantee that it won't be thrown back in your face later!