Under pressure from Israel, Greece blocks the Gaza Flotilla 2.0
Posted on Saturday, July 2nd, 2011 at 5:24 am
Author: Feature Writer
Gc contributor: Anna Lekas Miller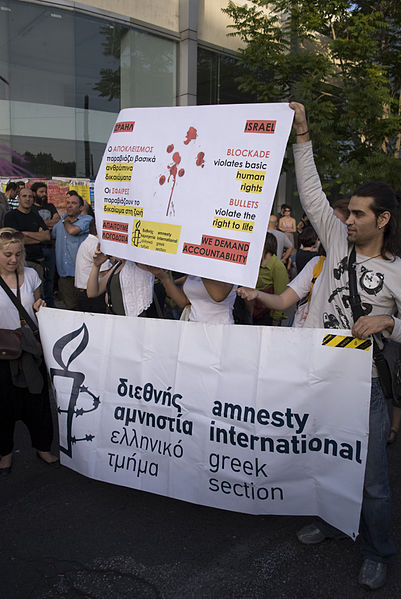 "Funny, I thought that all this would happen in the middle of the night and it would be done by masked Israeli soldiers," tweeted Joseph Dana, The Nation Magazine's correspondent aboard the US Boat to Gaza.
Little could anyone predict that it would actually be the Greek Coast Guard that stopped the boat and demand its return to Piraeus Port in Athens.
Flotilla 2.0, as it is beginning to be called across the Internet, finally left Greece this afternoon after a tumultuous week of delayed departure due to multiple investigations for suspected chemical weapons, a (semi-successful) mechanical sabotage performed by deep sea divers, and the violent riots against austerity measures that erupted throughout the streets of Athens.
Thirty minutes after its long-awaited departure, the boat was stopped by the Greek Coast Guard. Not the Israeli Coast Guard. The Greeks. Commandos pointed weapons at the passengers. Greek commandos, not Israeli commandos.  The Greek government then announced that all ships were officially banned from sailing to Gaza.
Wait a moment. The Greek economy is in a state of immediate crisis –the people are literally destroying central Athens. The Greek Ministry of Finance is in flames. Subway cars and shop windows are being smashed. Trashcans are being lit on fire. Ambulances are unable to enter what has quickly become a civilian war zone, due to the cloud of tear gas and chemicals. Protestors are fainting, bleeding, and in desperate need of absent medical attention. Not to mention the reasons that they are protesting –despite months of protesting, the Papandreou government has passed heinous austerity measures. These will translate to budget cuts imposed on a country where forty-two percent of the youth are unemployed and twenty-five percent of the population lives below the poverty line. How could the Greek government's priority possibly be halting a flotilla of non-violent activists bound for Gaza?
Israel is holding Greece in an economic chokehold.
After last year's Flotilla incident, and Israel's consequent diplomatic and economic rupture with Turkey, Israel conveniently shifted most of its previously Turkish trade arrangements to Greece's almost identical Mediterranean export-based economy. Greece welcomed this trade relationship, and a budding (eventually abusive) romance blossomed between the two countries. Now, Greece is in no position to negotiate, Israel threatened to revoke this trade agreement if Greece allowed the ships to sail.
Greece is in no position to negotiate. The Greek Parliament voted overwhelmingly to forbid the Flotilla from sailing any further, enforcing this ban with their own commandos.
After a half-hour long face-off, and failed negotiation with Greek commandos, the US Boat to Gaza returned to Athens. The passengers are being held in custody on the ship.
Did Israel just outsource its diplomatic and military operations to Greece?
More importantly, did it just work?
It seemed obvious before the Flotilla set sail. If something happened with this Flotilla –meaning, Israeli Defense Force soldiers stopped the boat in the middle of the Mediterranean Sea with either actual or threatened violence –their international reputation would plummet. Even if this Flotilla never reached Gaza the political fallout was supposed to eternally condemn Israel and galvanize international support for Palestine.
But Israel was able to stop the Flotilla without deploying a single IDF soldier. This is frightening.
Although there were armed military commandos, there was no drama, violence, or bloodshed. There was no one to victimize and no one to demonize. No one will radically change their opinion of Israel after this incident. To a casual reader skimming the headlines, it appears that Greece, not Israel, was the perpetrator. The story itself lasted only thirty minutes and its political and economic framework only appeals to those with a specialized interest in politics, rather than the universal drama of a human rights catastrophe.
Amidst the confusion, disillusionment, and effort towards placing the blame, there is one key fact that many are ignoring:
Gaza is still under siege.
Photo of Greek protesters of last year's Gaza flotilla massacre by Andreas Kontokanis, licensed under the Creative Commons Attribution-Share Alike 2.0 Generic license.