They clink their empty plates every night,
to inspire speculation from neighbours
that they have food, that they eat too.
ii.
They save their best dress
Not for church, not for a dance.
They wear it when someone
in the family dies
so it'll get some sun.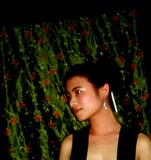 Tammy Ho Lai-ming is a Hong Kong-born writer currently based in London, United Kingdom. She is a founding co-editor of the first and only Hong Kong-based literary publication, Cha: An Asian Literary Journal. You can find out more about the author by visiting www.sighming.com.