Think about Islam and what women wear, and most people with think of the burqa. With France having already banned covering of the face, Muslim women in France report a rise in abuse, even if only wearing a veil or headscarf. With this in mind, the general public may have mixed views towards Islam, but this is not stopping the fashion world from getting involved in Islamic clothing. However, not all is smooth sailing, particularly as fashion VIP Pierre Bergé has recently spoken negatively about fashion designers who are creating ranges of Islamic clothing and headscarves, stating that they are contributing to the "enslavement of women."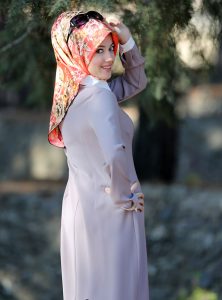 He went on to say, "Designers are there to make women more beautiful, to give them their freedom, not to collaborate with this dictatorship which imposes this abominable thing by which we hide women and make them live a hidden life."
But are Bergé and others barking up the wrong tree?
Western meets Islamic
There are certainly many other that do not share his viewpoint; Dolce and Gabbana have recently launched an up-market range of abayas, being one of the first Western fashion brands to aim directly at the Islamic customer. H&M followed quick on their heels, even using a Muslim woman in their marketing campaign, while Marks and Spencer are publicising their cover-up 'burkini'. D&G are adding the finishing touch by adding lace hems to sheer fabrics, making them lightweight so that they drape beautifully. Their spring range of hijabs are adorned with flowers, making them extra feminine and delightful.
But in light of Bergé's negative comments, what is the general view on Islamic fashion being taken up by some of the fashion giants? Fashion blogger Dina Torkia has referred to the fear factor surrounding the hijab and how people react to it negatively. However, of those that love the new Islamic range coming to High Street, some have commented on the great prices and styles – whether they are Muslim women or not.
Others have sided with Bergé's negative comments. Some critics have attacked the High Street fashion giants, accusing them of using Islamic fashion as a pure and simple marketing tactic.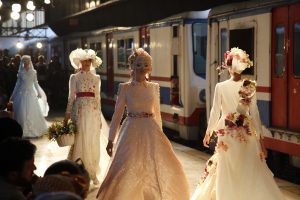 But this poses the question, why does the West have a negative knee-jerk reaction to Islamic fashion? Is it just the case that anything to do with Islam or the Muslim world is seen as something Westerners should automatically steer clear of? The media are not blameless when it comes to this stereotypical viewpoint;  just take a look at some of the anti-Islamic headlines from recent times, automatically linking Islam with terrorism, and the war of hate and racism has plenty of fuel for the fire. But should the fashion world cow-tow to this negative backlash that sees everything Islamic as bad and to be avoided at all costs? The answer has to be a very firm and resounding, "No!" After all, fashion has never been dictated to by politics or mainstream opinion. Think back to the '60s and all that was fabulous about fashion at that time. It was all about bucking the trend, standing up for what fashion and women wanted and not being restrained or confined by consensus of opinion. If it could happen in the '60s, why not now?
Why Islamic fashion?
The fashion world is certainly not being held back by this unpleasant reaction to feminine Islamic fashion, so what is their goal? If it really is all about money, how could they gain by stocking an Islamic range of clothing and accessories? If we look at the UK market and also the fact that over 50,000 visitors from the Gulf come to London in the summer, then stores like D&G, H&M and Marks and Spencer are going to certainly make some money. Even Mango got involved at Eid, and launched a collection of long gowns and loose wide-leg trousers, which they sold as an attractive alternative to wearing chadors and abayas. After all, as long as they allow women to cover up and still look stylish, why should Muslim women not try out a few options? Islamic fashion does have to be modest, but that does not mean that it is limited in its design. And whether you are Muslim or not, many of us like the look of longer tunics over trousers; the style can be practical and elegant at the same time.
Which way to go?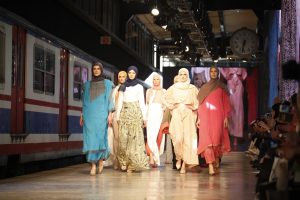 Currently the Muslim population within the UK is 5.4% and rising.  Add to this our regular influx of visitors looking for suitably moderate attire and you may ask yourself why fashion brands have not linked into the Islamic clothing ranges before.
So it would seem that Pierre Bergé is wrong about Muslim wear for women when he states, "Creators should have nothing to do with Islamic fashion." Islamic clothes for women can be feminine, glorious to look at and affordable, even for those who are not Muslim.
Images courtesy Modanisa.