The World Body Painting Festival
Posted on Sunday, August 19th, 2012 at 9:57 pm
Author: Feature Writer
Gc contributor: Victoria Aitken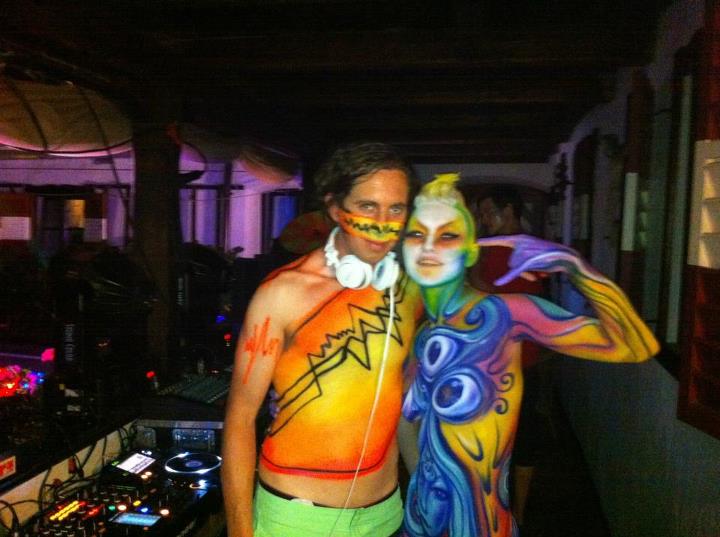 Body painting has such an artistic romantic and dreamy ring to it that when I was invited to sing at the world body painting festival, I couldn't say no.  One of the world's most unusual festivals, the event is held at a beautiful town called Portschach am Worthersee in southern Austria, where Austria, Italy and Slovenia come together. The surrounding area is absolutely stunning, a picturesque town on a beautiful lake, with beautiful cycle paths and the weather is unbelievable at 30 degrees.
The history around Klagenfurt is amazing; there are hundreds of castles and art galleries for history buffs. I stayed at Schloss Leonstain, right in the centre of town – a stunning hotel with beautiful rooms and its own lakeside beach. The hotel even offers cycles and boats for its guests to go and explore the surrounding area.
One part of the beautiful town had been transformed into to body painting city, for a week.  There are the competitions with the World Championships, some special awards and some amateur awards, as well as art and photo exhibitions, exhibitors, special side events, photo areas, video projectsions, interacitve studios for visitors, model shows, fashion shows and couture award.  Hundreds of artists, models and photographers from around the world gathered to showcase their art form.  Delicious food was on offer all around the festival site, and what an energy there was, and what incredible music.
The first few days before the festival started, various workshops were given- from body painting for beginners to learning about extreme fashion make-up.  I attended one on the history of body painting and it was amazing to see thousands of slides from tribes around the world and how each of their styles differ.  Body painting has been practiced for centuries amongst tribes around the world, each offering their own style and coloring.  Traditionally, much body painting shows a map of somebody's life, signaling what that person had achieved, how many children they had, had they been brave.  In a way, they are a life map and therefore very personal, a ritualistic endeavor showcasing momentous lifetime events such as birth, death and marriage, marking the transformation from one state to another. Examples of different styles are tribes in South Papua New Guinea, which favor many colors, to the other side of the spectrum South chimbu (sumbu), who style themselves with skeletons, while the Chinese have no blue in their pallet for body painting. Today, body painting is an art form and skill primarily in the  commercial sense, although body painting does still exist amongst tribes around the world.
It was also intriguing to see how artistic masters of body painting such as Yves Klein painted women only in electric blue, who then spread themselves over a canvas.  Similarly xyz, a Korean woman, paints life with music almost as if in a trance, while the famous supermodel Veruska  painted herself into the background of nature. Her amazing books are sadly very hard to find.
The workshops on offer are fascinating for anyone in any kind of artistic field.  Being a singer, I also took a workshop on performance with Shlomit Migay, an experienced performer who has her own show in Vienna called The Alternative Paint Cabaret. There I learnt how to walk in a catwalk show, and every little detail to how to move your arms, fingers and even toes.  After a few days of workshops, Artists, models and anyone else wanting to come and celebrate the circus for the body and facepainting artists, one of the craziest parties awaited. The dress code stated: shrill, fancy, bizarre, freaky, burlesque, simply surreal.
At 5 pm in preparation I was fortunate enough to being painted by world champion body artist Peter Tronser.  I was transformed into a florescent UV disco diva ready for the night hosted appropriately in Castle Leonstain, which had been transformed into a vampish red and white fairytale. Bodies danced in a regal piazza with a stage on one side, while gods of DJs overlooked from balconies above. The music was incredible, and the DJs set the dance floor alight especially Marc JB.  But the people and the costumes were one of the most amazing things I've ever seen, with artists bringing their fantasies alight – the masks, the costumes, the fantasy fashion on some of the sexiest men and women I've ever seen.  From police woman to Snow Whites to aliens to incredible designs of other worldliness, the whole party was painted in some kind of surrealistic costume and thank God it was only a painted costume as the weather was so hot! There's something about being in disguise that makes a crowd wild, never before have I seen 600 people never stop dancing for a moment – even when it started to pour with rain, nobody stopped – the whistles and the music just got louder.
The following day the festival opened, the stage was set against a beautiful backdrop of the lake, in various tents around the festival city. Beautiful model bodies were being painting, for all visitors to see live body painting in action, they then strutted their work to the photo area and then finally on stage to go the jury. Alex, the owner of the body painting festival, told me that the jury judges on:
Quality, technique and ability
The use and application of Special Effects (in the Special Effects Categories)
Interpretation of the theme, idea and originality
Composition of the work, overall impression
Stage Performance (in the night contest for UV effects only)"
This year 30000 visitors came to admire the wonderful work of the artists who came from 44 different countries.   The first night was the UV competition shown at night, a program of beautiful colors, dance and music. Kristina Elizarova won, her designs were stunning. Alex says her "design in the UV Effect was an explosive mix of bodypainting and effects with different materials, special effects and the amazing performances of her models… the concept based on the theme of that day 'Inner Fears – battle the invisible.'"
The following days the other catagories competed (sponge , face painting and airbrush) and the crowd went wild to incredible music, amazing artwork and performances. For an unusual weekend, check out the body painting festival next year, it's a one of a lifetime kind of festival for an art that is distinctly under-appreciated.
Check out my new song "BODY' inspired by the body painting festival