Avengers Assemble!
Posted on Thursday, May 3rd, 2012 at 12:56 pm
Author: Mark Farnsworth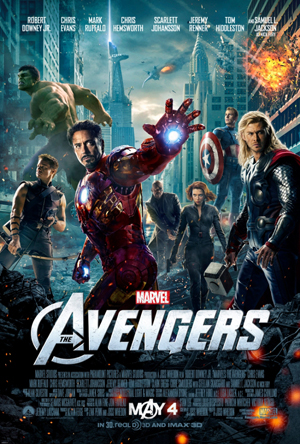 Bow down puny mortals to a world in which the uber-franchise is king. Where the yellowing pages of ancient comic books are bombarded with CGI radiation. Where heroes and villains escape the clutches of X-Ray Specs and the amazing Sea-Monkeys to leap forth and battle for the future of the Earth (and the best Disney action figure). Brace yourself for the Marvel universe in three dimensions. Stand to attention as the "Avengers Assemble."
The Avengers Initiative is the brainchild of Nick Fury super-spy and director of S.H.I.E.L.D., "To bring together a group of remarkable people, so when we needed them, they could fight the battles we never could." This time the threat is Loki, Thor's wayward brother. He's stolen the Tesseract and wants to open a portal to let his slimy new allies the Chitauri blow the hell out of New York.
Fury would have made a great Real Madrid president in the Galacticos era as he signs up a Marvel dream team: Iron Man, Thor, The Hulk, Captain America, Black Widow and Hawkeye. Like Florentino Perez before him Fury wants an immediate return from his expensive squad and so do the movie executives. Perhaps the real villain the Avengers are recruited to defeat is the incoming behemoth of The Dark Knight Rises–a blockbuster so powerful that other films quake in the shadow of its release date.
There may be safety in numbers but don't be fooled, the only numbers that really count are the ones on the end of the dollar signs. There's nothing wrong with that but this time Marvel have neglected their audience. Avengers is certainly bright and breezy and funny in places but ultimately it lacks the menace of Nolan's recent Batman movies. If Loki is such a force to be reckoned with then why doesn't anyone treat him seriously?
Thor wants to cuddle him, Iron Man sasses him and Black Widow outfoxes him. The paradox facing The Avengers is that Loki is by far the most interesting character in the film. Tom Hiddleston invests him with a petulant charm and looks like a young Tim Roth, spiky and angular. We never quite buy Loki's despotic designs over the human race when he says, "you were made to be ruled." Again, the subtext really points to the audience who have been bullied into their seats by Disney's mastery of the dark arts of media synergy.
This mass offensive on all fronts by the Marvel Universe is fast in danger of becoming an occupying force rather than one of liberation under a benign Stan Lee. Their most interesting entries, The Hulk and Thor both had intriguing directors in Ang Lee and Kenneth Brannagh respectively but Marvel have fallen into the trap of pitching to the lowest common denominator in their quest for global supremacy. Joss Whedon is a safe pair of hands but he is no Christopher Nolan. In contrast the Batman reboot has stuck (so far) to its ideal of a finite trilogy rather than a contagious disease of ever diminishing narratives.
Avengers isn't bad but it is indifferent. It never feels like an ensemble cast but rather a collection of individuals who have all wandered into the same set. Of course that's partly the point as this is the creation of the team but Whedon could have done worse than look at how The Magnificent Seven or The Dirty Dozen expertly crafted its macho men into cohesive units that we all rooted for. Of course in this day and age male bonding has to happen in the midst of towering CGI super set pieces but hell, if that's what you want, look how Predator accomplishes this feat effortlessly under fire.
As it stands there's a touch of banter between the heroes but none of the subtle rivalry of Yul Brynner or Steve McQueen trying to steal scenes from one another in The Magnificent Seven. Robert Downey Jr as Iron Man obviously thinks the picture belongs to him through his clumsy dialogue with Chris Evans' stoic Captain America. Chris Hemsworth as Thor has totally lost the Shakespearian lunacy that made Brannagh's take on that character so much fun and Scarlett Johansson's Black Widow is there to make up the numbers.
Samuel L Jackson's Nick Fury materialises like the ghost of Jules Winnfield past and even though Mark Ruffalo's mo-cap green monster grabs the biggest laughs it still begs the question why would anyone want to play the Hulk? Only Jeremy Renner as Hawkeye truly captures the imagination with his world-weary assassin is the closest link to McQueen and his like. The Avengers will no doubt spawn another sequel but loveable old Stan should heed the words of Agent Phil Coulson, "I think we need to time-out."