Picture the scene: a woman goes to a railway track, determined to self-harm. Eventually, after negotiation with police officers, she resists the urge to hurt herself and leaves the scene.
Relief all round.
Or, a month in jail.
This is what happened to Gillian Fairgreave, a woman from Doncaster in the north of England. After three attempts to self-harm, which took place on a railway track, on a railway bridge, and on a footbridge over a road, Fairgreave was charged with causing a nuisance to the public. The scant media coverage focused on the disruption this caused — delays to travellers and costs to railway authorities — without displaying any empathy in considering the distress within Fairgreave herself that caused the incidents.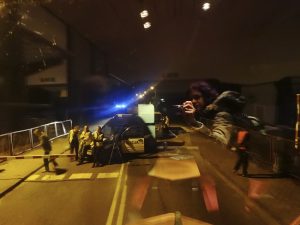 There is no denying that train delays and road closures cause frustration. But, when compared to a human life in danger, people's priorities must remain compassionate. Fairgreave would not have set out to cause disruption to commuters — her intentions appear to be self-destructive, above all.
As a society, we must realise that criminalising a woman for her mental distress is abhorrent. It does not resolve the problem; her distress remains or is exacerbated by her criminal conviction. It simply serves to stigmatise her even further and punish her for her pain.
This comes in the context of a nation in the midst of an 'austerity' plan that has seen the country's mental health services being devastated by cuts.
Patients are losing in the austerity fight
Mental health charity Mind reported last year that funding for services had been cut by eight percent, which translates to almost £600 million. At times, there is not a single adult psychiatric hospital bed available in the country.
Mind's Chief Executive describes the problem: 'The impact of these cuts falls squarely on patient care. Bed shortages, cuts to frontline nursing posts and long waiting times for therapy have been well-documented in the last couple of years and, at the same time, demand has been increasing as more and more people come forward and seek help. The treatment gap for mental health is huge – 75 percent of people with mental health problems get no help at all. Meanwhile, many more are being turned away from services when they need them the most, left to cope alone with self-harm and suicidal thoughts.'
Less than one in five people who underwent mental health crisis services last year felt that they had received appropriate care, and poor reports of community care are rife. As services lose funding, and pressures associated with decreased social security spending and other public sector cuts rise, patients are losing out.
Lynn Harrison, a mental health activist and wellbeing service worker, told me that people experiencing mental distress are being referred for a mental health assessment for which they wait months, and then they are not offered a service.
Rather than enabling people to get support, they're actually closing the doors.

I can only say that the people that I've spoken to, locally and nationally, who experience mental distress, are just thinking that there isn't any point in actually asking for help. They're not going to get any.
And so, did Gillian Fairgreave have a range of support options open to her? Harrison imagines she didn't.
'I would suspect that she has been asking for help, but she's probably spent a long time having doors shut in her face, for whatever reason, to get to that. You don't choose to do something like that to cause annoyance to other people.'
For some people, their only chance of getting adequate mental health support is to commit a crime and have the court mandate treatment as part of a sentence.
Was this the case for Fairgreave? Was probationary mental health provision a reason to plead guilty?
Suicide and the law
Dr Maniam, a University professor in Malaysia, where suicide is illegal, argues that such a law deters people who want to die from seeking help. Avani Tewari, writing about the equivalent law in India, states that: 'Punishment would also fail in helping a person who has suicidal tendencies since the individuals might fear in speaking about their problem, which leads them to commit suicide.'
Suicide is not illegal in the UK. In the past, people could be sent to prison for attempting it, but since the law changed in 1961, it remains stigmatised but is no longer against the law. But with convictions like that of Fairgreave, the risk is similar. Would she seek assistance next time she wanted to hurt herself? Or would she go ahead, to avoid legal consequences?
As Lynn Harrison says, 'Someone like that lady, the public's response, which is reflected in the press, is one that they are causing everybody else inconvenience, rather than being one of compassion.
'Everything is measured in terms of cost to the economy.'
Rather than reducing Fairgreave's distress to the cost to a train company and delays to travellers, offering compassion is far more likely to reduce the risk of her feeling this way again and taking similar action. Self-harm is an act of desperation and anguish, with the goal of self-destruction or self-preservation. It is a personal act that can have public consequences, but calling Fairgreave a criminal and putting her in prison is not the solution for this, or any other, person in distress.
Photo: Peter O'Connor/Creative Commons