Running June 10-19th at NYC's Film Society of Lincoln Center and the IFC Center, this year's Human Rights Watch Film Festival is spotlighting films both by female documentarians (over half the lineup is directed or co-directed by women) and focusing on women's rights issues. The 27th edition will open with Nanfu Fang's Hooligan Sparrow, which follows Chinese activist Ye Haiyan, nom de guerre "Hooligan Sparrow," as the subject herself (along with filmmaker Fang, who rightly will receive the festival's 2016 Nestor Almendros Award for courage in filmmaking) is likewise trailed by the secret police. Speaking out against a corrupt government system – which has allowed a school headmaster to get away with pimping out several of his young students (to government officials, naturally) – Sparrow proves as fearless as her friend Ai Weiwei. Though lacking in the international art world stardom that can often serve as a protective shield.
Closing the fest will be another female-helmed Sundance darling – that festival's Grand Jury Prize winner – Rokhsareh Ghaem Maghami's Sonita, about a teenage rapper in Iran (a country that prohibits women from singing solo) who fights both for her right to rhyme and against becoming a child bride. (Though, truth be told, male director Mehrdad Oskouei's Starless Dreams, a probing yet nonintrusive portrait of the castaway girls who reside in an Iranian juvenile detention center – which took both the Grand Jury Award and the Inspiration Award at the Full Frame Documentary Film Festival, where I caught it in April – is that country's cinematic nonfiction standout this year.) In between these girl power bookends is a lineup chockfull of sisters maintaining dignity in the face of patriarchal adversity. And often right here on these shores.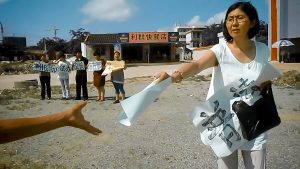 While Tatiana Huezo's Tempestad is a deeply poetic journey into the lives of two Mexican mothers, both victims and survivors of cartel lawlessness and government injustice, a pair of U.S. docs, Maisie Crow's Jackson and Joanna Sokolowski & Kate Trumbull-LaValle's Ovarian Psycos, also caught my eye. Both films feature everyday heroes as subjects, the former in conservative Mississippi, and the latter in East L.A. The main characters of Jackson are battling to keep the state's last abortion clinic open, while the young Latinas of Ovarian Psycos are taking back their barrio on bicycles. What the two flicks have in common are tenacious feminist filmmakers behind the lens.
"I certainly see myself as a feminist filmmaker," Trumbull-LaValle agreed when I caught up with her and her Ovarian Psycos co-director a week before their film's NYC premiere. "It's not all that I am, but I definitely view filmmaking and storytelling through a feminist lens."
"But I also believe the definition of feminism needs to evolve, to continue to be challenged, complicated and expanded," she continued. "For me, being a feminist isn't only about gender equality, it's also about recognizing the relationship between gender, race, class, sexuality, power and privilege. When we tell stories that leave out women and girls' participation or experiences, it's a problem. But it's also a problem when stories ignore the experiences of women of color, poor women, immigrant women, trans folks, and other marginalized voices."
Added Sokolowski, "I am proud of any contribution we have made to the canon of feminist film, and do consider myself a feminist filmmaker. I am also excited to see where and how feminist filmmakers are able to push the boundaries of what constitutes the genre – including the intersections of race, class, gender, power and oppression. It will be interesting to see where and how artists are able to reflect and portray the complexities of today's movements, and I hope to continue to challenge and be challenged as the term expands and evolves."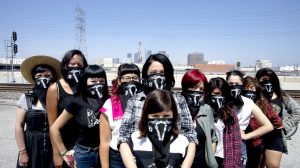 As for whether gender affects the duo's filmmaking process and choice of subject matter, Trumbull-LaValle is unequivocal. "I would definitely say that gender, and specifically its relationship to the issues of race, class, sexuality, and culture, most certainly affect my choice of subject and the stories I'm drawn to as a documentary filmmaker. I'm particularly attuned to stories about the extraordinary lives of strong, everyday women and girls, I think because so often their experiences, stories, challenges and contributions, both today and in history, have been ignored, minimized, trivialized, or erased."
"Kate and I met in grad school and were looking to make a film together," Sokolowski elaborated. "We were coming from a (UC Santa Cruz) program run by badass women – B. Ruby Rich and Renee Tajima-Peña. Not only is their personal work inspiring, but they fostered an environment that changed my vision of what feminist films and filmmakers could achieve."
"Before we'd ever heard about the Ovarian Psycos, Kate and I talked a lot about the gaps of representation in filmmaking, and the type of women we always wanted to see onscreen – but whose stories seemed to be ignored, marginalized or erased completely," Sokolowski continued. "Gender undoubtedly played a huge role in my connection and interest in the Ovarian Psycos. When we first heard about the Ovas we were hooked. It's the type of film I always wanted to see when I was growing up, and I think it's the type of film that folks who rarely see themselves onscreen will be able to connect with."
For more information on the Human Rights Watch Film Festival, including complete lineup and schedule, check out their website.
Photos via Human Rights Watch.