France's burqa ban: in the name of freedom?
Posted on Wednesday, June 24th, 2009 at 4:05 pm
Author: Renee Martin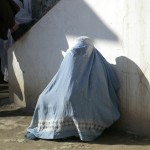 France, like most Western countries, prides itself on individual freedoms. It has a long history of dissent and uprising when these norms are threatened or minimized in anyway. Immigrants change French social structures because they bring with them their own cultural norms and traditions. The transition is not always smooth, as hardliners often aggressively push to maintain traditional norms, thus clashing with those who want to assimilate. Now, in the name of freedom, the Republic of France has decided to limit the options on what women wear. France is now considering banning the wearing of a burqa in public.
Contrary to popular belief, the Q'uran calls for both men and women to be modest in dress, but does not specifically demand the wearing of either the burqa or the niqab. There are countless women who are forced to wear these garments against their will; however, many women today consider the burqa or the niqab a part of their observation of faith and a commitment to modesty.
At Versailles this week, President Sarkozy stated,
"In our country, we cannot accept that women be prisoners behind a screen, cut off from all social life, deprived of all identity. The burqa is not a religious sign, it's a sign of subservience, a sign of debasement — I want to say it solemnly. It will not be welcome on the territory of the French Republic."
Sarkozy employs colonialist rhetoric even as he uses the words freedom and liberation. Western nations have often spoken about elevating those that they deem as marginalized bodies, even as they imposed values or traditions that are offensive and operate to maintain Western privilege. Many of the women wearing the burqa in France originate from Africa, and this, to some degree, legitimizes the white man's burden in the eyes of men like Sarkozy. The third-world woman is always denied her agency as a means of paternalistic oppression; her stated desires are always discounted. Freedom comes from the ability to choose your own means of self-expression, not from being forced into what is deemed 'liberating' clothing.
If this law passes, these same women that the French government is supposedly attempting to empower will not be able to leave their homes because it is unacceptable for them to appear burqa-less in the presence of males that they are not related to.  If interaction with the public is reduced, it becomes even less likely that any potential abuse that they are suffering will come to light. Allowing women to negotiate the terms of interaction further presents opportunities to exchange cultural ideas that will not happen if the rules of engagement are set only by Western standards.
Why does freedom for the women in the West routinely mean the shedding of clothing? We have normalized bikinis, high heeled shoes and short skirts; throughout the Western hemisphere, these items still function as a form of female uniform.  The high heel is known to have damaging health effects, and yet we still promote this shoe as a form of standardized beauty. We view this fashion as liberation and choice, and yet as any socially aware woman will tell you, failure to perform femininity is not without consequence. The Western world is not more liberated; it simply has normalized its oppression through the normalization of different cultures as uniquely impinging upon women's rights.
Banning women from wearing the burqa is not about freedom, it is about the normalization of the Western performance of femininity. Though this law has received support from some feminist groups, this does not grant the decision any greater legitimacy, as patriarchy has become reliant on women to assert its power and privilege. Without the collusion of women, patriarchy would be unable to act in such a totalizing manner. The support of women's groups for this proposed law is based on maintaining a hierarchy of bodies, in that their approval allows them to assert power thereby reinforcing that the bodies and or ideas that matter are strictly Western. As is often the case, if it can be understood that marginalizing members of our own group will allow the traditionally powerless to express power, hierarchy is quickly reaffirmed. No one wants to be at the bottom of the social pyramid.
It is tempting to assert our privilege and play upon the understanding of those that wear the burqa as uniquely oppressed, however if we allow this sentiment to prevail we are devaluing the very bodies we claim to be concerned about. Agency can only be affirmed though the promotion of choice and a respect for the ways in which we differ. A monolithic construct of femininity is something we should uniformly fight against as it is the basis of all woman centered oppression.