The catastrophic Syrian civil war and the clashes between Islamist and secular militants that have gone on since 2011 have razed what used to be a middle-income country of 20 million people to the ground. The numbers are stark. 320,000 people have died — around 12,000 children included — and 1.5 million people have been wounded or permanently disabled.
For a chance at a better life, 4.7 million Syrians have fled to the neighboring countries of Lebanon, Jordan, Turkey, Iraq, and Egypt. In Lebanon, one in five people is a Syrian refugee now, and the country's social infrastructure is experiencing enormous pressure. As a result, last October Lebanon closed its borders to all but the most extreme humanitarian cases. Critics claim the nearby Gulf States are allegedly doing very little, though Saudi Arabia alone says it has admitted 500,000 as migrant workers since 2011, and the Gulf has contributed nearly $900 million in aid through charitable donations.
The sheer number of migrants seeking refuge is overwhelming neighboring countries, and the Syrian people's survival has rested upon reaching the shores of a nearby continent: Europe (with the mass exodus to Europe magnified by the promises German Chancellor Angela Merkel made back in fall 2015 that Germany would adopt an open-door policy toward Syrian refugees and help them with a generous array of benefits — promises not exactly kept in the ensuing months). Migration-wise, Europe today resembles the post-WWII Europe: In 2015, 897,000 Syrians sought asylum and 1.5 million migrants seeped into its mainland from different countries rife with conflict or poverty (like Afghanistan, Iraq, Eritrea, or Somalia).
Until a month ago, these Europe-bound migrants were going through Turkey to Greece, and then crossing Greece's northern borders — often on foot — making their way to Northern Europe. In early March, though, countries to the North of Greece shut the transit corridor, leaving 52,000 refugees and migrants stranded in Greece.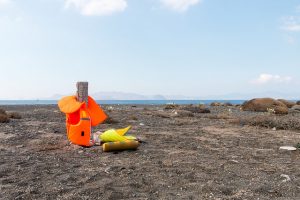 To tackle an unfolding humanitarian crisis at its Southern borders, the EU turned to Turkey. On March 18, a deal was struck between Turkey and the EU, stating that all migrants arriving in Greece after March 20 would be deported to Turkey, while for every returned refugee, one vetted refugee would be resettled into another EU nation (up to a ceiling of 72,000). Turkey accepted the deal in exchange for six billion euros until the end of 2018, early visa-free travel, and advancement in its EU membership negotiations. The first three boats carrying 200 migrants sailed from Lesbos to the Turkish port of Dikili on Monday, April fourth. On Friday the eighth, two boats with about 220 migrants plied across the Eastern Aegean again.
From a detached, technocratic standpoint, the deal is bearing fruit. For instance, the number of migrants that approached Greece from Turkey plummeted from 225 on April fifth to 25 on April sixth, a striking decline when compared to a typical October 2015 day, when arrivals neared 9,200!
However, and as a measure taken in panic, the concerns over its legal, organizational and ethical footing, and, mostly, its sustainability are rising. 
What is a refugee?
The 1951 Geneva Convention on Refugees defines an asylum seeker as "A person who is outside their country of citizenship because they have well-founded grounds for fear of persecution because of their race, religion, nationality, membership of a particular social group or political opinion, and is unable to obtain sanctuary from their home country…," urging the Contracting State to examine whether the individual asylum seeker should be granted refugee status with surgical precision. Intuitively, we all tend to associate the word refugee with the Syrian ethnicity nowadays.
Yet, apart from Syrians, nationals of Eritrea, Afghanistan, Iraq, or Congo come from countries also torn apart, either by war, dictatorial oppression, or religious extremism. Aren't they eligible for asylum under the Geneva Convention clauses? Of course many of the migrants of the first blanket returns to Turkey probably ignored this (it is estimated that such "knowledge" would send the total proportion of migrants eligible for asylum soaring to well over 70 percent). But news travels fast. NGOs assisting migrants and refugees on the Greek islands reportedly advised people to petition for asylum immediately after the first day of deportation. On Lesbos only, more than 3,000 migrants have requested asylum ever since — once an application is submitted, the Greek government is obligated to review it, and thus "freeze" deportations.
Greece is in fiscal and social crisis, and cannot take the challenge
Fiscally troubled Greece has only 295 employees at its various "hot spots" to deal with these bulging numbers of asylum requests and procedures that may take months or years to resolve. Even if the new European Union emergency assistance scheme alleviates fiscal pressures related to the migration crisis — channeling €500 million to the country until 2018 — things will be far from smooth sailing over the next few years. With national governance handed over to the Troika, an alarming number of Greeks are viewing the 52,000 refugees and migrants trapped in 31 Greek detention centers as the last nail in the coffin of national sovereignty.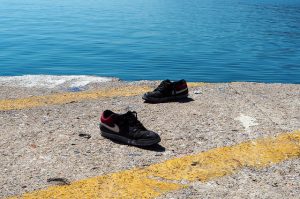 Recently, violent clashes between far-right Golden Dawn and far-left groups erupted near the Piraeus camp. History has repeatedly shown how people with identities strongly attached to the notion of nation swing to violent patriotic extremism in times of national crises. One can only hope that is not the case here.
The EU-Turkey agreement states that in the case it is determined that a claimant came via a "safe third country", they will be considered "irregular" and subject to deportation. How safe is the transit country of Turkey, nonetheless?
According to an NGO, Turkish authorities rounded up and expelled groups of around 100 Syrian men, women and children back to war-torn Syria in the past few months, while Turkish border guards have been accused of shooting refugees trying to cross the borders.  In addition, Turkey is already hosting 3 million registered refugees. The atmosphere is already taut in Dikili, where locals feel now it's their turn to shoulder the burden of the refugee crisis to ensure Northern European prosperity — a feeling they surprisingly share in common with Greeks.
At the root of the evil lie the criminal syndicates of smuggling
Human smuggling syndicates gross $150 million a year, shipping human beings across borders just like they do weapons and drugs. So well-networked are these criminal gangs that they function on multiple levels of a nation's sociopolitical pyramid, from rustics, who talk up life in Europe to a "naïve" local in exchange for a few bucks, to corrupt public officials, who issue visas in exchange for generous bribes.
Smuggling networks are also adroit at reinventing themselves; the closure of the Balkan route in March tempted them to explore other criminal shipping routes. Early this week, the Italian coast guard rescued 1,850 migrants in eight operations in the Strait of Sicily. Smugglers might be willing to use the most dangerous route across the Central Mediterranean to carry people through Libya and Egypt, and migrants might be willing to risk life and limb for a chance in the "European dream".
The other day I got to interview a migrant from Afghanistan in Elliniko camp. "Would you do it again?" I asked (in all probability, he will be deported). "Of course I will," he answered. "I'd rather drown in the sea than go back there".
The new EU-deal might be a drop in the ocean of complex problems relating to the most serious humanitarian crisis of the time.
Photo: Phil Mike Jones/Creative Commons