Networks of racist hatred, the hidden side of the European Union
Posted on Tuesday, February 21st, 2012 at 11:34 pm
Author: Feature Writer
Gc contributor: Flavia Dzodan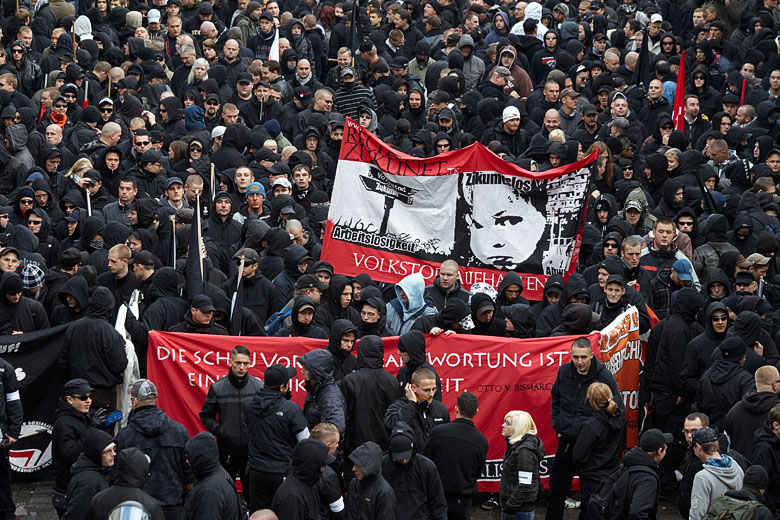 Beate Zschäpe had two cats. Originally named Heidi and Lily, they are now only known by number identifiers in the German shelter that has been tasked with feeding them and procuring for their well being. This week, it has been reported that the shelter has already paid over one thousand euros to take care of these two animals since Zschäpe's arrest in November. These cats are not regular strays but two parties of interest in a criminal investigation, treated as potential evidence to link their owner to one of the most cruel and hateful series of murders that Germany has witnessed since World War II. Beate Zschäpe is currently being investigated as an alleged founding member of the so called National Socialist Underground, a lose network of neo-Nazi criminals that is, according to police investigators, responsible for ten racist murders.
This week, it has also been announced that German police officially requested help from the FBI to further their inquiry into the extent of Zschäpe's participation in the Neo-Nazi network.
German investigators are particularly interested in a Youtube account from Zschäpe in which she used the username "Liese1111″. Investigators from the Federal Office of Criminal Investigation want to find out what Zschäpe viewed on that account and if she uploaded any videos to the site.
Even though Beate Zschäpe has been in police custody for months, police still grapple to unveil the extent of her participation in the crimes that have shaken the country due to the racist and xenophobic nature. The murders, which started in 2000 extended for years due to what some media consider a lax police attitude and a willful determination not to connect the crimes to each other. As a result of the murderous spree, nine immigrants (eight Turkish and one Greek) and a German Police woman were killed. In addition, the extremist cell is also believed to have mounted two bomb attacks in the western city of Cologne in 2001 and 2004, wounding a total of 23 people, and staged a series of armed bank hold-ups. This National Socialist Underground (NSU) group was only uncovered when two men, Uwe Mundlos and Uwe Böhnhardt, were found dead in an apparent murder-suicide pact following a failed bank robbery. Beate Zschäpe turned herself in to police a few days later. Several other men have since been arrested in connection with the group.
The crimes have also exposed a deeply racist stance in German media, quick to dub them "the Doner Murders", in reference to the Turkish dish Doner Kebab. Back in November, Stefan Kuzmany wrote at Spiegel Online:
The phrase "doner killing" is a sad indication of the degree of latent racism permeating German society. By calling the murder spree "doner killings," the victims are condescendingly dehumanized, as if they had no names or occupations. […] More than that, though, the term feeds stereotypes about foreigners being disproportionately responsible for crime. The police committee investigating the murder series was tellingly codenamed "Bosphorus." They long assumed, as did the media, that the murders were somehow connected to organized crime stemming from Turkey.
Another report this week, points to organized crime of a different nature, a Pan European network of right wing supporters supplying weapons and logistics across borders as well as sharing ideologies of hatred:
In a separate development, Swiss police at Zürich airport have arrested a man with suspected links to a Czech-made pistol that later became one of the murder weapons used by the National Socialist Underground. Authorities say the man is being investigated on suspicion of supporting a criminal organization. Detectives found a 7.65 mm calibre Browning in the caravan that Böhnhardt and Mundlos set on fire before taking their own lives last November. In all, the NSU had about 20 weapons, one being a ČZ 83 pistol of the same calibre with a silencer. Detectives said the gun came from a Swiss shop and believe that Swiss ultra-right extremists probably helped the NSU to acquire it.
While Beate Zschäpe has so far refused to cooperate with police and share her knowledge of how the NSU operated, these lose networks of hatred across Europe deserve a closer look. Back in July 2011, when Anders Behring Breivik went on a murderous rampage in Norway, leaving a trail of 77 dead and numerous injured he also left behind a manifest that hinted to his connection with like minded individuals and groups across Europe. He spoke extensively of his extreme right wing sympathies and mentioned his contacts with others across the continent. Authorities investigated the links and found that he had been in touch with groups in the US and the UK. The arrest in Zurich this week, in connection with the German NSU, though not related to Breivik, does indicate a certain pattern. These connections across borders point to a modus operandi that is replicated across hate groups who are united by a common goal and racist rhetoric. While politicians debate the future of the European Union as a project of political unity, seemingly isolated hate groups operate across borders, sharing ideologies, belief systems and a common view of deeply racist and xenophobic hatred. Social media and the ubiquitous ease of electronic communication facilitate these exchanges and unite criminals under a common perceived enemy. The unintended consequences of a continent united by financial ties might as well be that racism and hatred can spread at ease, no longer impaired by border controls but fostered by a mutual ideological feedback loop rooted on hatred and violence.
These days, politicians across the EU debate the future of the Euro as a sociopolitical and cultural project. Little or no attention is paid to the underground ties manufactured across the Union on the basis of hatred. While media is saturated with news of economic vows shared by all member States and discussions between heads of governments, little is said of the associations forged across nations by those who feel united in their disenfranchisement and are quick to blame immigrants for their anger. In turn, mainstream media are quick to perpetuate and inflame the anti immigrant sentiment, with well reputed publications like the above quoted Spiegel joining the "Doner Killings" moniker bandwagon. This media coverage and subsequent suggestion that foreigners are responsible for the crimes of which they are victims,  in turn reinforces a racist narrative that remains strong within the public at large. While the officially sanctioned political ties between member States are the unquestioned topic of news and debate, we should perhaps focus on a different kind of clandestine alliance forged throughout the European Union, as hate and racism seem to unite more than love for the Euro.
Front page photo: Neo-nazi demonstration in Leipzig, Germany, October 2009. Photo by Herder 3, licensed under the Creative Commons Attribution-Share Alike 3.0 Unported license.