Review: Tyrannosaur
Posted on Sunday, February 5th, 2012 at 9:47 am
Author: Mark Farnsworth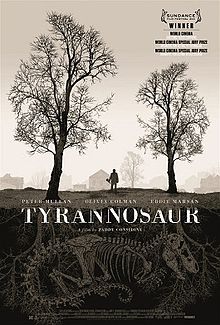 Joseph is a rampaging shambles of a man, a wounded dinosaur looking for a tar pit to curl up and die in. His meteor hit long ago throwing up a black cloud of hate that blots out the Sun and the spectre of extinction looms large over his nameless Northern home. He wears the universal uniform of a dangerous nutter: tracksuit bottoms with boots and a donkey jacket.
He's thrown out of everywhere and detests everyone. Vicious, unbridled rage leads him to kick his dog to death over a lost bet. For a nation of dog lovers it's a hard scene to swallow, it's even harder to fathom when we see Joseph place a loving hand on his dog's dead paw. We now know that Joseph is fully committed to hurting the ones he loves the most and that Paddy Considine's debut feature, Tyrannosaur will be a difficult film to watch.
Guilt racks his pitiful soul in a spiral of drink and violence. He masquerades as a shoe bomber to an Asian Post Office owner but shrinks into a coward behind the glass divide when his pitiful racism is challenged. Spoiling for trouble Joseph attacks three young men in a pub before retreating into the second hand clothing rails of a charity shop crushed and out of control.
Beyond the jigsaws, vinyl and outdated electrical goods sings a voice of goodness, measured calm and tranquillity, "Would you like a cup of tea?" The national drink can do anything but can it cure the scales of hate that cling to Joseph's skin? Hannah is persistent, "Would you like me to pray for you?' Now that is unusual in England, offering prayer as an alternative remedy to a cuppa. Is Hannah mad?
We see her endure a tirade of abuse from Joseph who tries to destroy her caring nature with his repulsive ranting. Hannah breaks down but wont be curtailed. The camera follows her home on the bus via the park where she longingly watches a mother and her kids. Home is a leafy middle-class suburb, neat and tidy, red wine and driveways. Her husband James is out. She crashes out on the sofa. When he returns he humiliates her in her sleep setting off a staggering chain of events.
Considine like his long-term friend and fellow director Shane Meadows turns to the working class estates he grew up on for his inspiration. Similar to Meadows at his best Considine counters his brutal and unflinching subject matter with glimmers of hope and laughter. In fact Joseph and the charity shop setting demands direct comparison to the troubled outsider in Meadows' "A Room For Romeo Brass" played brilliantly by Considine himself.
However weighty and well-executed Tyrannosaur's themes of domestic abuse, violence and loss are it then seems disingenuous to call this a "safe" choice for Considine. As an actor he's tread this ground before and we could almost guess this kind of kitchen sink drama would be his calling card. Still his direction is assured and his script achingly human and compassionate aided by a committed and universally excellent cast: Peter Mullan as Joseph, Eddie Marsan as James and the sensational Olivia Colman as Hannah.