For many westerners living in Hong Kong, the Kowloon Peninsula has long been referred to as the "Dark Side".
Across the harbor from more "expat friendly" neighborhoods on Hong Kong Island — stumbling around Mid-Level one could easily believe they've wandered onto a European pub scene — Kowloon is the grittier, pushier, and more unapologetically Hong Kong Chinese side of the region. For so long, Kowloon was viewed by western residents (or westernized residents) as, "a faraway land only ventured into when dreaded visitors appear demanding to go there…and even then, the temptation to hand them a map…and claim other priorities often enters our minds!"
But Kowloon's image has been changing for years. Thought it was once considered "social suicide" to move to the "Dark Side", the rise in major western restaurants, shops, and businesses moving in (among them Morgan Stanley, The Ritz-Carlton Hong Kong, and Deutsche Bank in the West Kowloon International Commerce Centre alone) have made the peninsula suddenly more appealing, not to mention affordable, to higher income individuals and expats.
While this boom in interest in Kowloon property may benefit the Hong Kong economy, what does it mean for Kowloon's working class neighborhoods?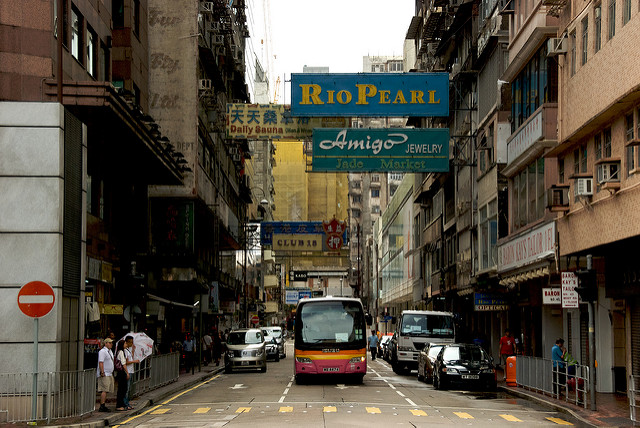 Slowly, traditionally working class Chinese neighborhoods in such areas as the Yau Tsim Mong District to the north of West Kowloon and Sham Shui Po in northwestern Kowloon are seeing the effects of gentrification. Driven by the lure of getting larger flats for less money, more and more wealthy westerners are moving into such neighborhoods and driving up rental prices. Combined with Hong Kong's move toward "urban renewal" in more "intense" neighborhoods like Mong Kok (named "the busiest place on earth") and Sham Shui Po, working class Hong Kongers who have lived in those neighborhoods for generations are being driven out.
With an income gap greater than any other major economy and Hong Kong's lowest earners barely seeing a raise in minimum wage over the past decade, there is almost no way for working class residents to compete in the steadily rising real estate market. But more than just the rich ousting the poor, there is a distinctly western expat bent to the changes in Hong Kong's residential areas. Expat opinion on Kowloon, and the demographic's "willingness" to settle in previously undesirable districts, are huge influences on the future of a neighborhood.
Even the term "expat", so casually thrown about in Hong Kong culture is problematic. European, American, Australian — typically white and affluent — foreign residents are referred to as expats both by themselves and by Hong Kong Chinese. More often than not, persons of color, especially of non-western birth are referred to as "immigrants", regardless of economic status. There is privilege attached to the word "expat". Should locals worry if their neighborhood is suddenly on the map as "expat friendly"?
What happens to a neighborhood when the expats move in?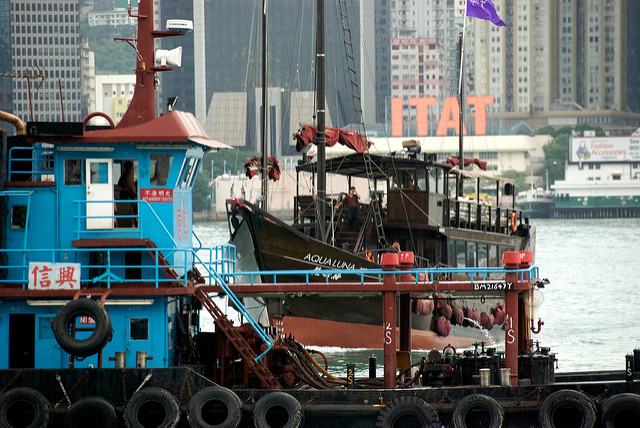 If neighborhoods like Mong Kok and Jordan in Yau Tsim Mong are any indication, the change is gradual but unmistakable. Perhaps that's what makes gentrification like this so insidious? The uniqueness of a neighborhood is gobbled up so slowly that its residents are lulled into acceptance, unable to pinpoint exactly when the point of no return was passed.
Amidst wet markets and thousands of locally owned shops and restaurants, a dazzling shopping mall rises up on Argyle Street in the heart of Mong Kok. Boasting such shops as H&M, a Levis Store, a Converse Store, and numerous western and international eateries, the mall seems tailormade for a western-centric clientele. Beyond the mall on the streets of Mong Kok, American and European brand names fight for prominence among Chinese signage and ages-old shops.
While Mong Kok is still considered a rather intimidating place for locals and expats alike, evidence of western gentrification is creeping in. And even though Mong Kok's residential rental prices remain low, approximately 49% lower than on Hong Kong side, the prices are incrementally, but steadily sliding up.
South of Mong Kok, in the predominantly Chinese, Pakistani, Indian, and Nepalese neighborhood of Jordan, the evidence of western gentrification may be less grand but still present — and growing.
Small shops, the equivalent of Hong Kong "mom and pop" shops shutter, to be replaced with shiny businesses that blatantly appeal to an expat sensibility (English signage, advertising, menu options with little-to-no Chinese). In a neighborhood that is historically lower income, more and more shops and restaurants are opening that are pushing the limits of what the average person might be able to pay. Though there are few obviously upscale restaurants, the "middle class" of trendy dining is on the rise.
Some might argue that this is a "rebirth" of the area, that with adjacent West Kowloon's rise in affluence and the International Commerce Center, Jordan has become more appealing to expats looking for a safe and affordable place to live. So prices in Jordan rise, and many expats are there to pay the rising prices.
But who actually pays the price of gentrification?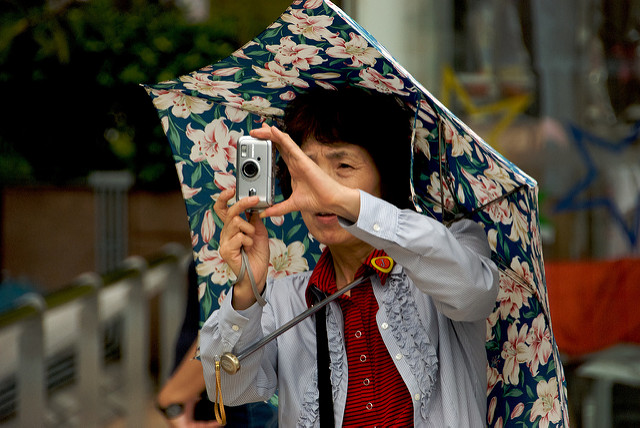 Is its possible to stop western culture from devouring or at the very least muddying Kowloon's culture? With Hong Kong culture and western culture being so historically intertwined (much to the chagrin of many born and raised Hong Kong Chinese), can such lines even be drawn? Should lines be drawn?
Some would argue that drawing such lines would only further segregate Hong Kong. Others would say that in order to preserve the Hong Kong so many people from all over the world have come to love and call home, efforts to protect neighborhoods from the crush of "progress" or "renewal" must be made. The answer is not an easy one.
Cultural critic John Batten once said: "Kowloon is Hong Kong's true soul".  That soul, the people who comprise it, are still very much alive in the streets of Kowloon; in businesses, in family homes. But if western culture continues to consume Kowloon, what will become of that "true soul"?
Photo: Payton Chung/Creative Commons